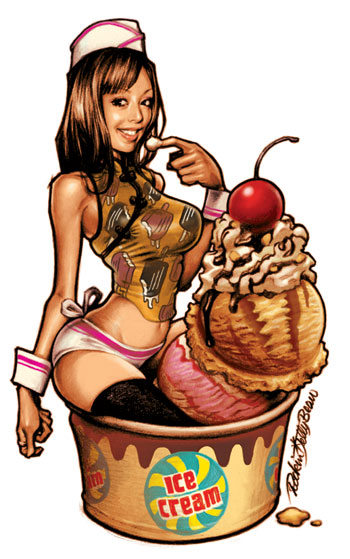 Girls! Monsters! Girls! Monsters! Girls! Ah, who are we kidding? There's girls everywhere in the world of Japanese artist, Rockin' Jelly Bean. Even when he makes public appearances, sporting Mexican wrestling masks, there's always a girl or two at his side (JB girls!). Is he just a mysterious playboy with a growing gift of the brush and a stylized love for the dimensions of the ladies? Or is this some sort of garage superhero, complete with a nom de plume and a double alias as a way out surf rock bassist? Perhaps all of the above.

Driving a style that mashes pin-up with pin striping, the '60s with the '70s, cheerleaders with custom car culture, and of course a fascination with horror, RJB lives a life of all he loves to illustrate. But it just doesn't stop there. There's vinyl toy designs with Rumble Monsters (creating the first Pharaohs figure), a series of 3 "Barba Rockets" action figures for Medicom, the Oysters band figures from Sony Time Capsule, and an upcoming rendition of the Fantastic Four's Invisible Woman. Not to mention his t-shirt designs for the Rolling Stones, Velvet Revolver, Hysteric Glamour, BBC / Ice Cream, and BAPE. And of course, there is the Rockin Jelly Bean shop, Erostika, in the Harajuku district of Tokyo, full of RJB merchandise for boys and girls! An amazingly talented and smart individual, he plays non-stop. Did we mention anything about the Girls? —CE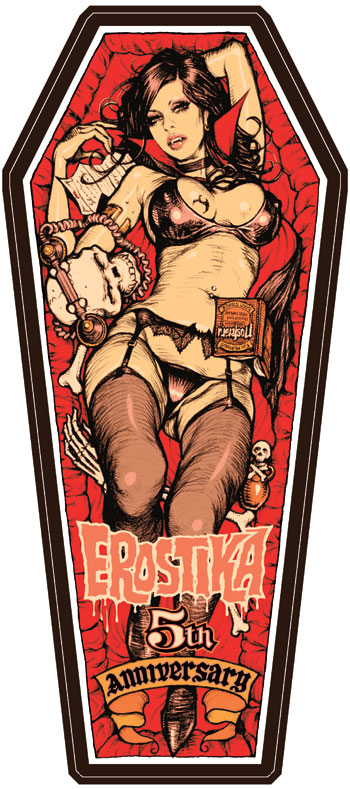 CE: What seems to be unique about your style is that it is really unlike anything in Japan, but still has a Japanese feel to it. What influenced you towards this technique?

Rockin' Jelly Bean: I'm glad that you think so. That's probably because of my DNA. I always thought that I was influenced hugely by the good old American "Pop" style culture. But at the same time, there's a great deal of influence from Kyoto where I spent my childhood, and also the world's view through "Zen". Specifically, gargoyles from temples, Ukiyo-e,and the Modernism of hanging scrolls.

Are your images painted or created digitally, or both?

Both. Most of my current work is done first by pencil, all the line details, then I add color using a computer program. If the time allows, I like to paint with Liquitex. All canvas work is done that way.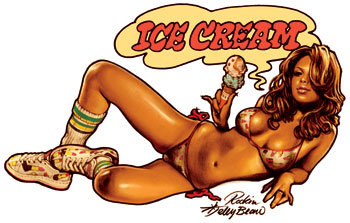 There is a realism starting to show through in your "girls," especially the color pieces. How elaborate is your technique when assembling one of these paintings?

I like to draw Tim's (Biskup) cute and sexy girls with bold lines, or cartoon style girls by Dan De Carlo and Bill Wenzel. But, I cannot do it well. I don't have any special techniques, but I try to express a girl's soft skin texture and flexibility by studying through models and resources. Then I just work at it until you can feel the reality.

When you are creating your girls, do you have references for shadows and tones, faces, figures, and poses?

The most important element is the overall balance, and that's the interesting part. For example, "baby face with voluptuous body" or "drawing realistic un-doable pose," there needs to be balance. The second important part is the face. To bring out the personality of the character on her face. I value "good-nature" in girls! Snobbish and with an attitude, yet she would make coffee for you in the morning. Girls without livelihood isn't sexy to me.

The Hysteric mini towel that was made of your painting was amazing! Now there is the "bikini Snatch Monster" towel that is just as crazy. Are you happy with the final result with the items you make for the retail market?

When I was little, I showed a huge interest in food packaging and the drawings in children's books. I like fine art, but I'm more drawn to something like a bunch of Campbell soup cans stacked on Von's supermarket shelves. I prefer to have my drawings printed on many girls panties, rather than have my prints hanging on someone's house wall.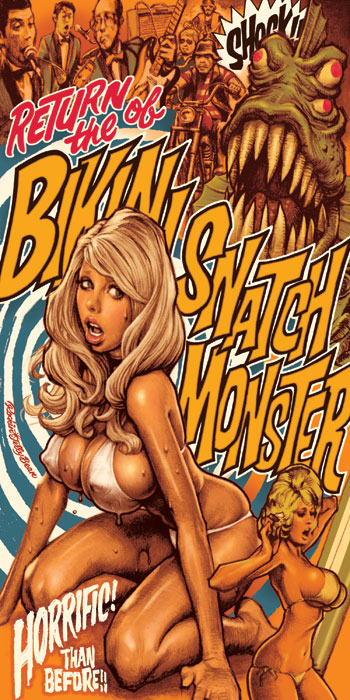 You have quite the boutique business going, with the Erostika shop in Harajuku, and online sales. Do you feel it necessary as an artist to create product to help you survive?

Well, I'm not sure. As I mentioned before, I like package designs and that's my kind of art. Erostika is a wonderful innovation, you could see all my work throughout the years all in one spot, and I enjoyed it very much. It's easier to make clothing based on the limited budget. However, I would like to make other products such as skateboards and small objects. I feel it's very important to continue making products for me and my staff's survival.

Speaking of which, Akio told me years ago that the two of you were assembling a book of your art. What ever happened to that?

It's been extremely busy, and I haven't been able to collect all the drawings, but I would like to publish it next year.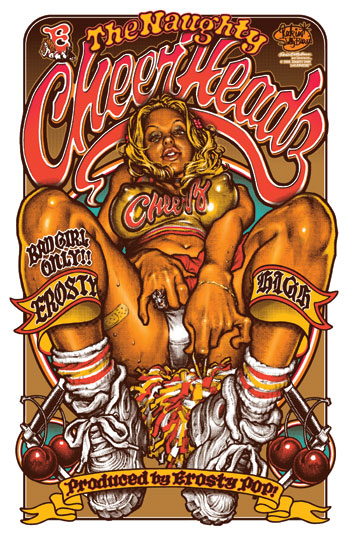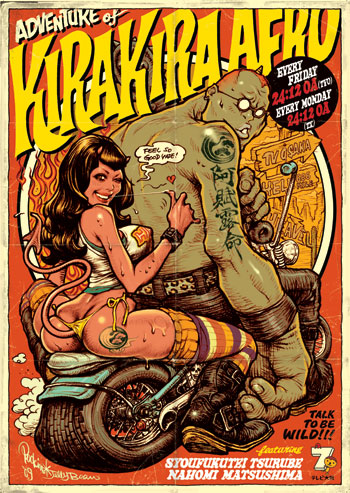 You were one of the last artists to show at the BAPE Gallery in Tokyo. But the strange thing about that exhibit is almost all of your paintings were silk-screened reproductions on canvas. Are you of the traditional Japanese belief of not selling your original artwork?

It's not my belief, but if possible, I don't want to give any of my artwork to some strangers.

How has the art scene changed in Tokyo and Japan since you first became interested in creating artwork?

Japan is such a small country and it has its "trends". Super real, lowbrow art, avant-garde; styles change through generations.
However, there's never been a custom to purchase or acquire original artworks from the Edo-era. It's only been a recent trend since Anime, cartoons, or action figures have brought attention from the outside world. We are enjoying this new trend that was created by the Japanese culture.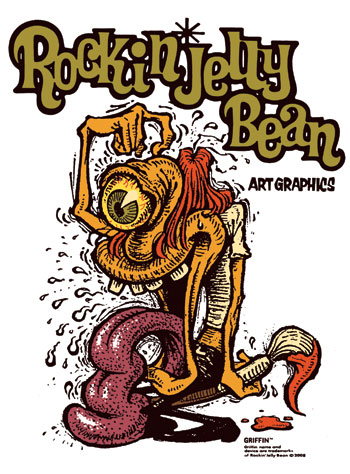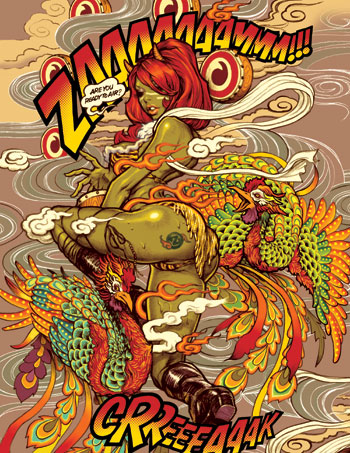 Besides the silk-screened posters, does your music and artwork ever crossover? Do you listen to the same genre of music when you create your work?

Since my name is "Rockin", I mostly listen to "Rockin" music while I work (haha). When I'm extremely busy, I like to listen to Japanese Euro Beat
(the kind of music with high pitch that's playing at Pachinko shops!). But that's a secret...

With the BBC/Ice Cream tees to the BAPE goods, are you starting to be commercially accepted for your talent in Japan? What about overseas?

When I came back to Japan, I realized that this is such a hyper-active country and especially young people are thirsty for foreign cultures. For that reason, when I'm home, I get so many interesting projects and that keeps me very busy.

What's really hot right now is that the 1st "Invisible Woman", collaboration with Marvel Comics. It will be released in September.
The 2nd series is currently in production and that's going to be really hot as well. We have been invited to work with NY's leading figure, A-Bone, and also the legendary SF band, The Mummies, and those projects will keep me busy the rest of this year.

Now all that's done, I'm going to put all my effort in the art book production. It will be released in USA and also Europe, so please look forward to it.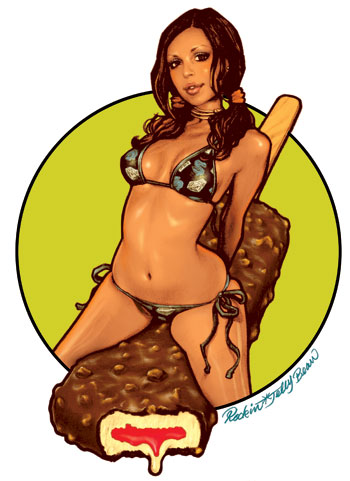 What do you like working on more, the girls or the monsters?

That's enough! I don't want to work on anything else. Last year, I worked on a project, "Fudo-Myo-Oh (acala naatha)" for a German group gallery exhibit, and that was really interesting. I would like to draw such old Japanese buddha figures. Also planning to work on 3D collaboration with other artists as well.


For more information about Rockin' Jelly Bean, contact Rockinjellybean.com.