Image Gallery
ROA in Gambia for Wide Open Walls 2011
Juxtapoz // Friday, 07 Oct 2011
1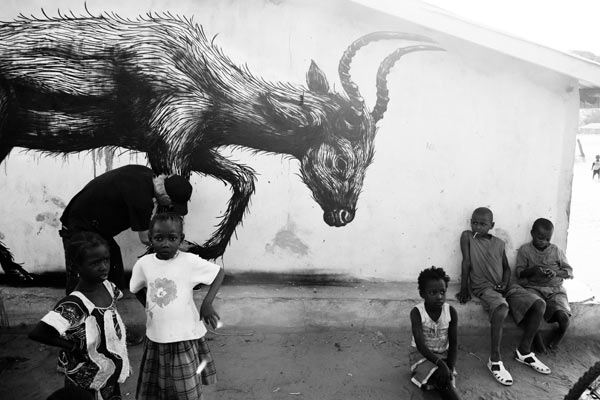 Belgian-based artist
ROA
continues his busy, world traveling year with a project in Gambia with
Wide Open Walls 2011
. The mural and street artist completed what appears to be many walls, and a video documents ROA's work for WOW.
Here is a statement from WOW:
Wide Open Walls was founded by Lawrence Williams, one of the owners of Makasutu, a conservation project home to a set of magnificent river lodges at Mandina in The Gambia, West Africa. Lawrence, a keen artist, has been working with local artists on a project called Bushdwellers for a number of years and has always wanted to expand the project into something more, something lasting that could both function as a valid art installation in itself and at the same time promote The Gambia as a tourist destination. The basic idea was to turn villages in the area (falling under the Ballabu Conservation Project) into a living art project. This year saw the first time collaboration between Wide Open Walls and Write on Africa, a South African based organization started by Ricky Lee Gordon (a.k.a Freddy Sam). "Write On Africa" is a community art project based in Cape Town South Africa. It's main focus being to encourage inspiration and urban rejuvenation through special events, initiatives and art in public space to "inspire ourselves to inspire others to inspire change".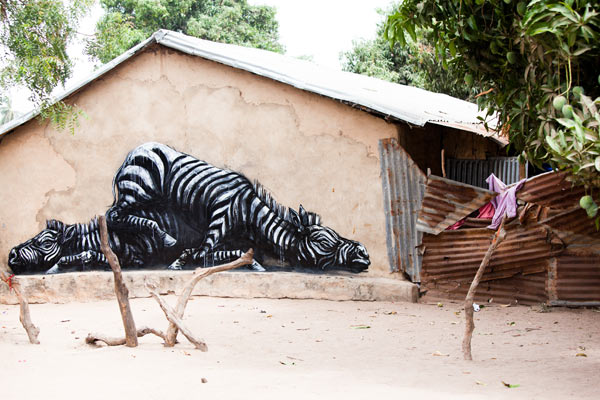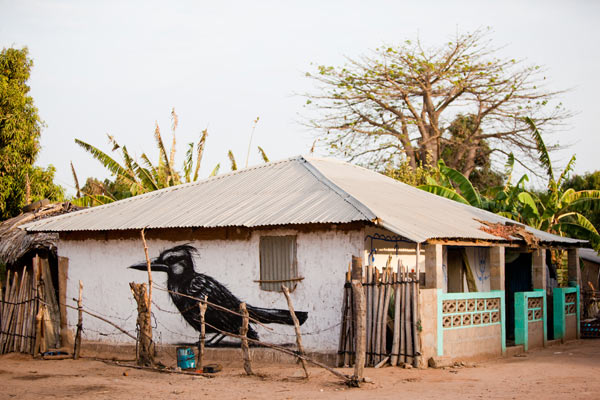 When ROA wrote us last night, he told us he would like to thank Lawrence, and mention his work is in memory of James and Malang, two people that just died that ROA knew from Gambia.
The pictures are almost all from Jonx Pillemer and some from Sydelle Willow Smith.