RIP Louise Bourgeois, mother of American feminist identity art
Juxtapoz // Tuesday, 01 Jun 2010
1
According to NPR:
"I really want to worry people, to bother people," she told The Washington Post in 1984. "They say they are bothered by the double genitalia in my new work. Well, I have been bothered by it my whole life. I once said to my children, `It's only physiological, you know, the sex drive.' That was a lie. It's much more than that."
Bourgeois' work was almost unknown to the wider art world until she was 70, when New York's Museum of Modern Art presented a solo show of her career in 1982.
"This is not a show that is easy to digest," New York Times critic Grace Glueck wrote. "The reward is an intense encounter with an artist who explores her psyche at considerable risk."
In his book American Visions, Time art critic Robert Hughes called her "the mother of American feminist identity art. ... Bourgeois's influence on young artists has been enormous."
RIP, Louise.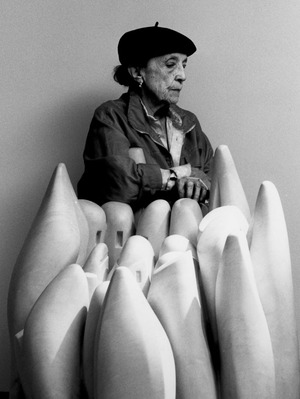 Full article here.