Richard Colman: Keep Out the Light
Juxtapoz // Monday, 10 May 2010
1
In this most recent body of work, Colman shows the struggles of the architect working "behind the scenes" of the elaborate; both beautiful and claustrophobic among landscapes and artifacts.
Richard's work demonstrates a unique language drawing on the intricacies of an Indian Miniature, to the antiquity of the more abstract and symbolic nature of Byzantine art.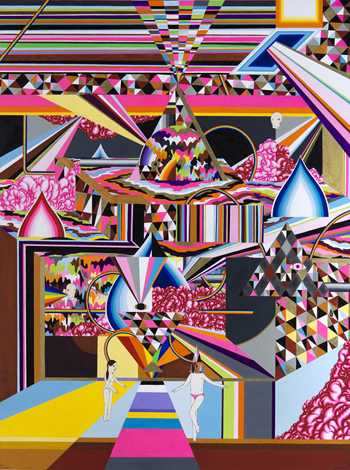 Colman's patterns have the repetition and geometry associated with Islamic tiles and mosaics. Narratives depict day-glo orgies, fusing the sinister with the comical. A pantheon of internalized imagery and shared iconography comes into play in the shape of occult symbols, silhouettes, and rainbow sprays of color, piles of viscera, in a concoction of violence and ecstasy.
The subjects of his paintings—from headless bears to naked men—are presented in a theatrical way, like actors in a play, standing in formation. The work captures the feeling of being frozen on stage, anticipating what will come next and never quite finding out.
The title of the show, Keep Out the Light, references the density of Colman's work, as well as his obsessive work habits, serving as a sort of escape for the artist. The works in this new exhibition exhibit the strength of obsessive patterning and imagery to drive away the delusions of everyday life.
Colman will be constructing a space within the gallery that will both highlight the work and invite viewers to step into the art and explore and experience the landscape of Keep Out the Light.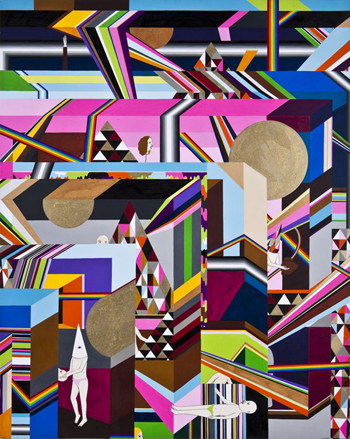 Reception will take place on May 21, 7-10 p.m. at New Image Art, 7908 Santa Monica Boulevard, West Hollywood, CA 90046.
The exhibition runs through July 3, 2010.
About Richard Colman
Colman was born in 1976 and grew up in Bethesda, Maryland, a suburb of Washington, D.C.
Colman graduated from the School of the Museum of Fine Arts, Boston, Massachusetts, in 2002. He has exhibited internationally and in 2006, Gingko Press released a book cataloging his work titled "I Was Just Leaving."
Colman currently lives and works in San Francisco, California.
More at www.richardcolmanart.com