Revok x Seventh Letter LA Billboard Project
Juxtapoz // Monday, 12 Oct 2009
1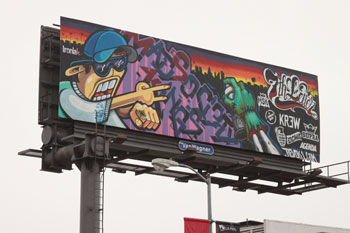 Revok and the Seventh Letter Crew (Juxtapoz #78) have given Los Angeles (another) an uppercut of graffiti greatness. An instillation of original hand painted billboards in Los Angeles featuring work from the world's most renowned graffiti artists provides a teaser of what's to come to the land down under at the "Clash of the Titans" Contest at the end of this month.

The project is a result of many days and many minds coming together graffiti spirit to bring one extraordinary event concept to life.
The billboards are located at 3rd St/ Fairfax and Sunset/Alta Vista will be profiled throughout the month of October, and highlight the works of amazing artists REVOK, RIME, RETNA, RISK, EWOK, AUGOR, ABEL, and WITNES.

"Both the Clash of the Titans event and the creation of the billboards in LA are dream projects that my friends and I sat around having "what if" conversations about for years… a way to bring our underappreciated and often misunderstood art form to the masses in a light in which hopefully they can value is both an honor and a privilege." - REVOK

THE Enterprises based in Melbourne, Australia is producing this first-of-it's kind graffiti art competition conceived by Revok which will bring the best of the best from around the globe in a one day 20,000 dollar winner-takes-all battle of the burners for graffiti supremacy. The competitors are 10 international graffiti all-stars including AROE, ASKEW, CES DEMS, DMOTE, EWOK, POSE, RIME, SOFLE, VANS who will be judged by 5 international old school heavyweights CAN2, MERDA, PUZLE, RISK, and WANE.

The event will take place on October 31st in Melbourne, Australia in conjunction with THE Enterprises Concert featuring Lil' Jon and the Wutang Clan, and is Sponsored by Australia based specialty paint company IRONLAK.