Retna in the Great 'Sprint' on Cover of Sept 2010 Issue with Intro by Jeffrey Deitch
Juxtapoz // Monday, 06 Sep 2010
1
"One of the most exciting exhibitions that I have seen this year, anywhere, was Retna's exhibition at New Image Art," writes Jeffrey Deitch in his interview to Retna's cover article. "During one of my visits to Los Angeles in the transition period prior to coming on as Director of MOCA I asked that, Marsea, director at New Image, see what the show was that evening, and she said RETNA. I had never heard of him, but went because I trust Marsea's program. I walked in while Retna was still setting up at the last minute and was about to paint the interior of the inner-room. I thought the work was extraordinary, some of the freshest work I had seen all year.
[…]
"What amazed me was how fast and effortless it all seemed. The approach to his work is so internalized that Retna doesn't have to agonize, and thinking, what do I do next? He just starts in the upper left corner and moves across a surface. The only other artist that I know who was able to do that was Keith Haring. The vocabulary was just so internalized. I compare it to a great jazz musician as well, who improvises within a framework. Having a composition in mind, he starts with just one note, and shaping it as they form an aesthetic structure developed over years of practice. Retna is able to do that from an artistic visual point of view, improvising quickly, and flowing through.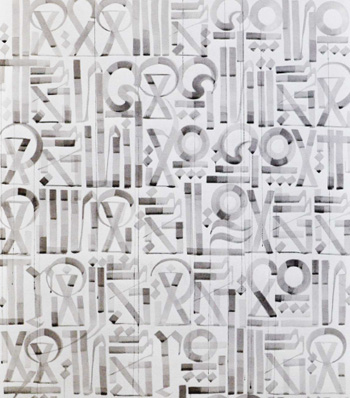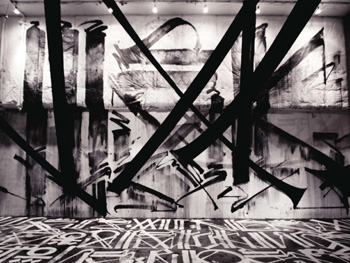 "I always like an artist who can fuse different media, and Retna fuses poetry, painting, and drawing. The words within are tough, reflecting his life, and mixed with the painting, redefine concrete poetry from a street-oriented perspective. The work is totally contemporary, but traces back to ancient script. It draws on Egyptian hieroglyphics, and Mayan glyphs, as well as Mexican and pre-Columbian heritage. He filters those traditions through the tradition of tagging and graffiti that has been seen in Los Angeles since the 1970s. Within these traditions, he has come up with something entirely his own.
"All the best art is past, present, and future combined, and this is what Retna is doing." —Jeffrey Deitch
Read the entire interview with Retna in our current September 2010 issue.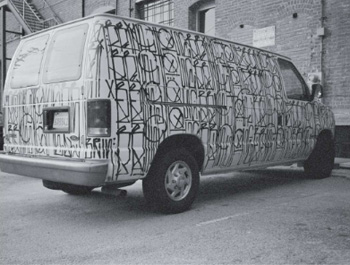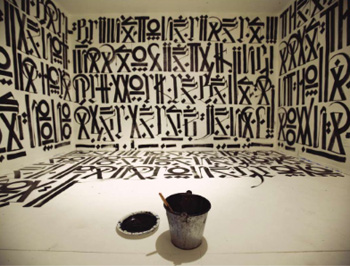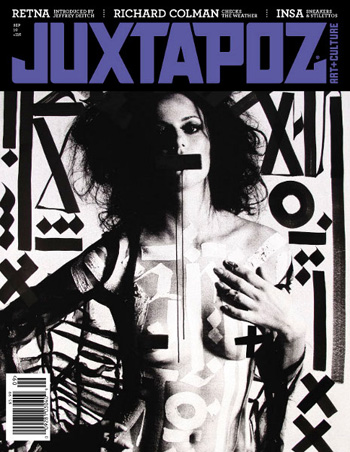 Portrait of Retna by Cat Cult.