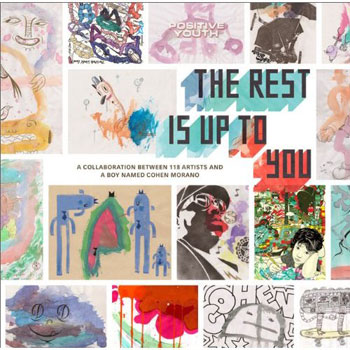 This is either going to very inspiring or very frustrating. Like many kids, first-grader Cohen Morano likes to watercolor. What's different about his paintings is that his father, Aye Jay, sends them out into the world to be added to and altered by a stellar roster of lowbrow artists, children's illustrators, and street and graffiti artists. The resulting collaborations between Cohen and everyone from Gary Baseman to Shepard Fairey to Paul Frank form a stunning and playful body of work, with a focus on the creativity of childhood.
Cohen Morano is an eight-year-old elementary school student from Chico, California. From the age of two, he's painted and collaborated with artists from all over the world. In addition, he has designed a skateboard for Foundation and has had several solo art shows. His likes include Star Wars, Gardenburgers, playing at the park, cartoons, mac and cheese, and Legos. His dislikes include mayonnaise and meat. When he grows up Cohen would like to be a 'moviemaker.' This is his first book.

Rest is Up to You: A Boy Named Cohen Morano, 118 Artists, and a Watercolor Revolution from Chronicle Books.