Remembering Brendan Scanlon aka SOLVE
Juxtapoz // Thursday, 10 Jul 2008
1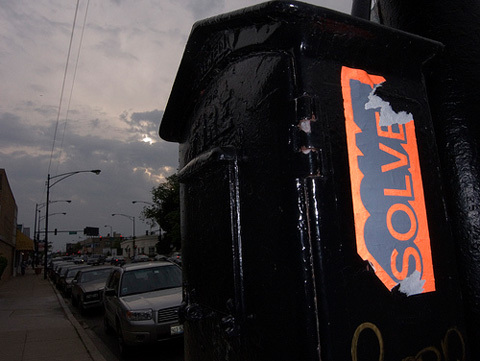 About three years ago, Brendan Scanlon etched himself into the canvas of street artists that struggle to stay up in Chicago. He towered at 6'5—and had the arms to match. "When we first met him, we joked around that the reason he got up so much was because he didn't need to leave the block he was on—he would just reach around the corner with his massive long arms," laughs his friend and colleague, Nice-one.

Brendan quit graffiti for a while before he left Wisconsin for art school in Chicago, but eventually found his way back to the streets. And he picked the alias "Solve."

"As soon as he started making his signature stickers, he knew what he was about, he knew what he wanted to say," Nice-one says. And that was that "everyone has something to solve. And he wanted people to know it. Not to just go on, not doing anything about it."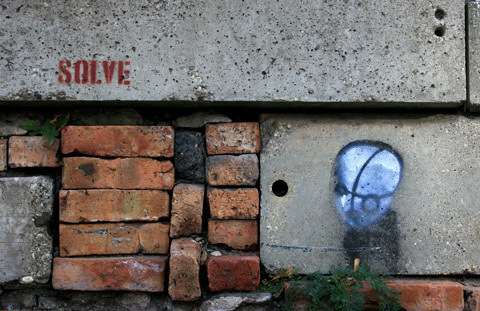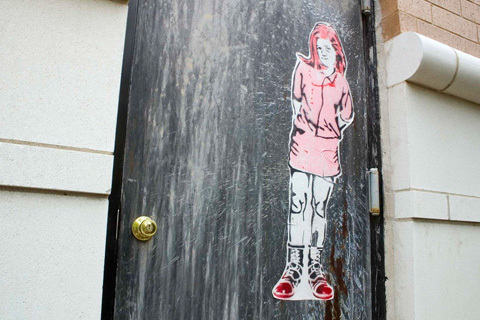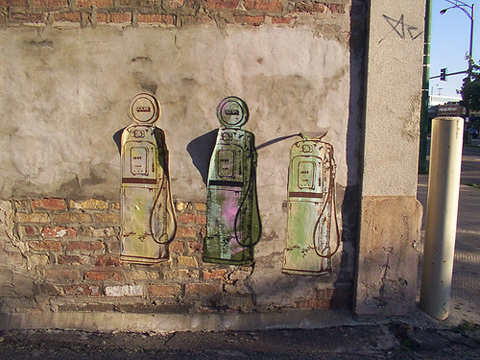 On June 14, Brendan Scanlon, aka Solve, a 24-year-old graphic designer, fell to an act of senseless violence that shook the walls of the street art community, and devastated his family and friends. Much like his art, he was taken down too soon.

His friends have been throwing up his stickers and tributes all over the streets (and their bodies)—from Chicago to his hometown of Madison—and on July 3 held an art show in Chicago where they put his art, and his memory, back up on the walls. Pieces that displayed not only his trademark logo, but his characters, his collaborations, his convictions, his screenprints, which found their way onto many a paste-up, board and article of clothing. And pieces that displayed his adeptness with a wrench to swipe city street signage—and even his sewing skills. "He used to always make fun of me because I sewed—calling the little pail I had all my sewing in my "Gay Pail." But he still respected it, and wanted to learn how," Nice-one says. "He wanted to harness every skill possible; I think that was very influential on me."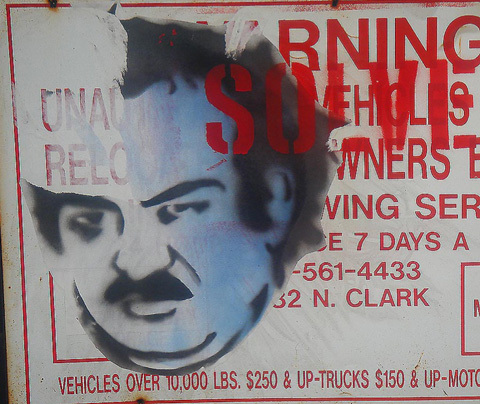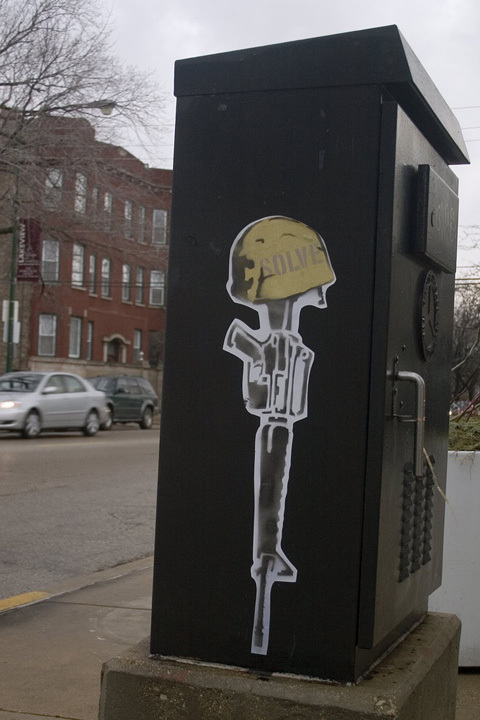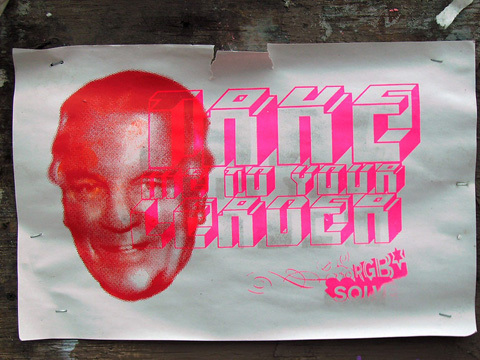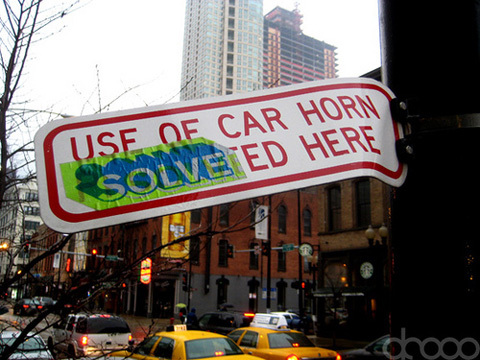 At the show we checked out Brendan's handiwork in the form of these rad stylized purple clouds that hung in one corner of the Swim Café, from a show about unlocking alternate realities. Near the door hung a piece of canvas that in black letters on a white background read: "Abysmally Deep and Highly Clever Title. By: Brendan Scanlon," the title placard for the show.

In a far corner hung some of Brendan's old screens, graceful symbols of the tools of a dedicated artist, the light shining through the negative space casting ghostlike shadows on the wall behind them. Like one of the Chicago "mayor for life" Richard M Daley (who has spearheaded a pretty heavy anti-graffiti push), an image that Brendan printed in various forms, one exalting the phrase "Take Me to Your Leader." A well-recognized piece he did depicted the alleged 9/11 mastermind Khalid Sheikh Mohammed. And there was his memorial to fallen soldiers.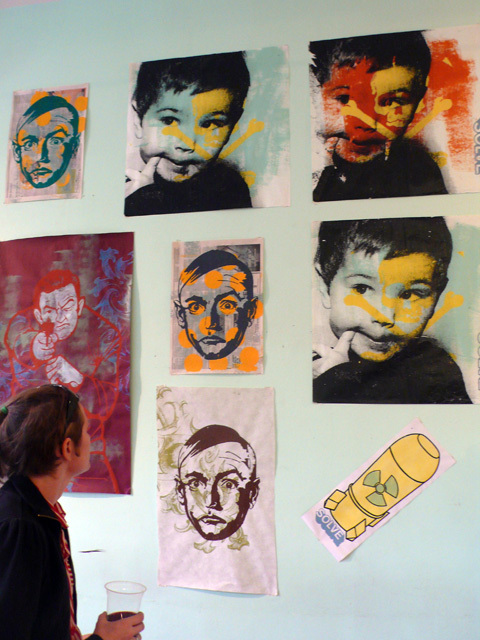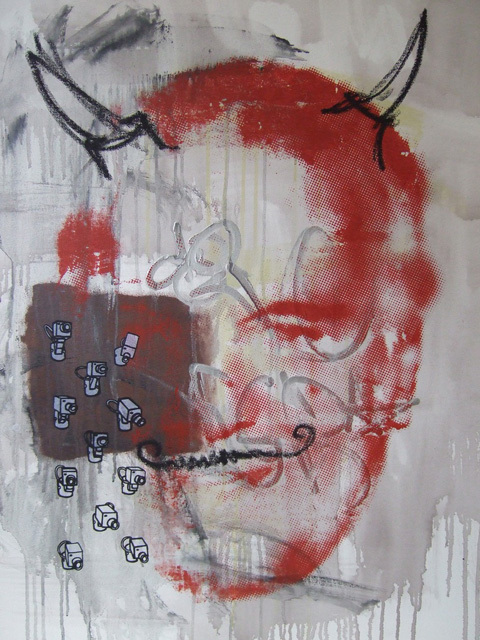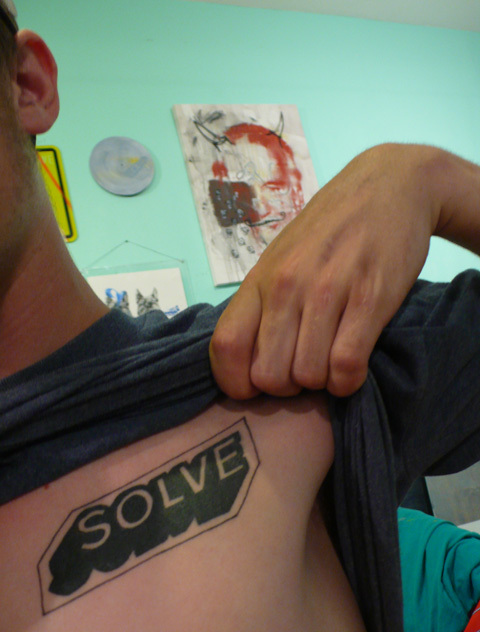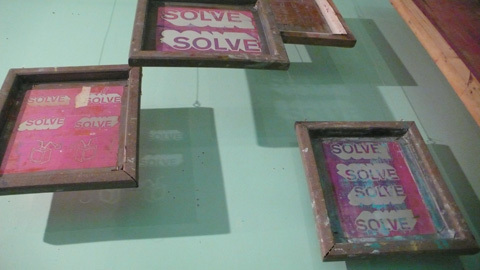 "Each kind of image or piece I do tends to have a different message…a lot of the messages aren't very direct…I don't have any answers, I don't think any of my pieces give an answer, they just present a problem," Brendan commented in an interview his friend Swiv conducted for a book project. He goes on to say that he also put his art out there just so other people can enjoy it.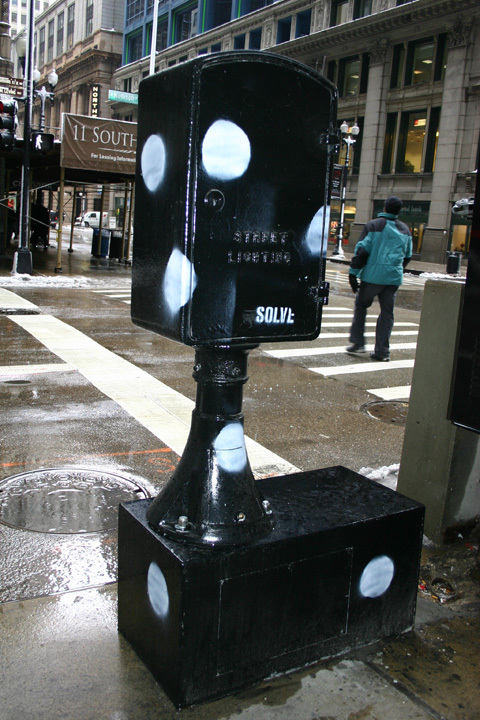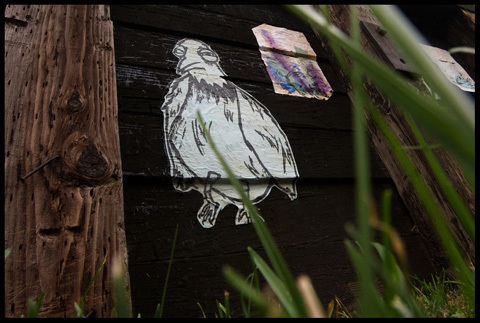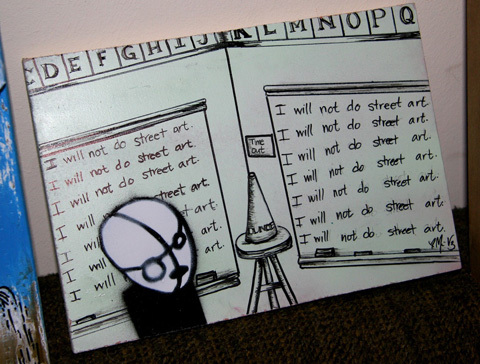 There's the pigeons. The subdued alien-looking guy who might remind you to perk up and stop being so drab. The innocent looking girl in combat boots. The cartoony gangster guy pointing a gun at you. His Solve stickers placed with a sly strategy—like one slapped over a "no-biking" street sign. Or the slick gas pump. Many of his placements showcased his keen eye as a designer, a rising star in his field. And then there were the random streetlight boxes he swabbed with polka-dots just because he thought "something just had to be done about those ugly black boxes."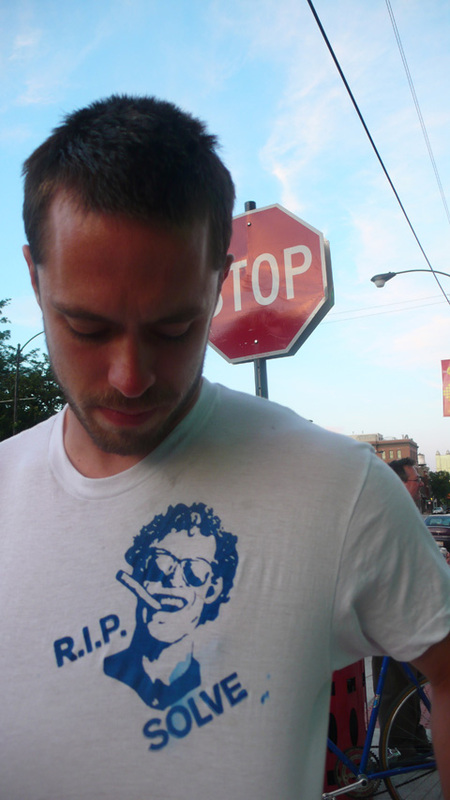 "He was such a light... He wasn't trying to be somebody, he wasn't trying to have a style. He was just trying to connect with people—that was his art," says his childhood friend and fellow artist Dan Flanagan. "And that's why he did street art, because he thought that was the best way he could do it. And he did really connect with people…for as long as I knew him he never had any enemies. It's easy to see the worst in others, but he knew there was another level…that's why he picked 'Solve.'"

There were also the interactive gallery pieces, like the ones he created as part of the RGB art collective. Like the Arrow Chair, a yellow chair flecked with black painted arrows; for the opening Brendan cut a ton of arrows out of foam and gathered them near one of the legs, and by the end of the night they were kicked across the floor in a whole new formation.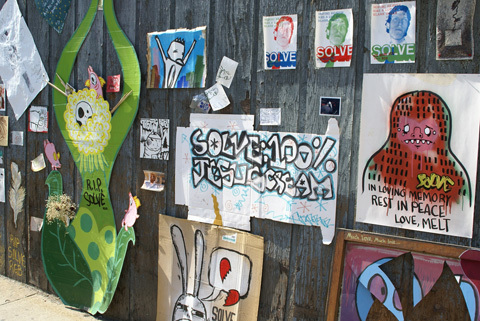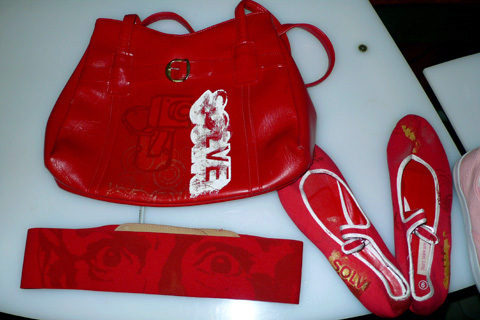 And remnants of an RGB performance piece called The Pointless FactorTy, an attempt to "make pointless art just like how people have pointless jobs." Brendan took on the position as "hiring manager" and got to jump up and yell at people—not for writing on the walls—but for using blue ink instead of black on their application. That night he had three girls—one in red, one in green and one in blue—showcase some of his screenprinted fashion art. The red belt, purse and shoes that hung at the show caught our eye; not just the genius placement, but the partial image of a print he had done on the belt—combining the images of five historical people who are considered evil—on the red background; offset by the "Solve" in white and gold on the purse and shoes.

Brendan wrote the RGB collective's mission statement which features the great line: "We choose to combine our talents, skills—and occasional weaknesses—to achieve things we could not necessarily achieve as individuals."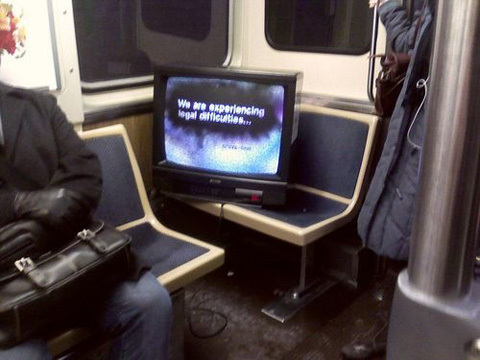 The piece he probably got the most press for was the TV he smuggled onto a CTA train car and plugged in. He had affixed a stencil that read: "We are experiencing legal difficulties…." A couple months before he was arrested, and though he was trying to avoid getting any jail time, he wanted to vent his frustration.

You can see a short video of that process featuring Brendan, in two parts, here:
and here
Brendan Scanlon had a mad sense of humor. "He loved when people would ask him, 'Do you know Solve?' He'd be like, 'Yes. I fondle his balls daily.'" Nice-one laughs.

Brendan smiled and laughed big. His neighbors could hear him two stories up, through closed windows and doors. "It really brought everyone together when you heard it," Nice-one says. "Everyone wanted to be a part of it."

Swiv says that Brendan would sacrifice anything to get his work done. And his friends have showed their utmost respect and love for him and his work by coordinating not only the show but a couple memorial Flickr sites, as well as a whole wall of tribute work on the side of a popular abandoned building at the intersection of Grand, Halsted and Milwaukee in Chicago.

One of the pieces Swiv posted on the wall shows a screenprint of Brendan. It reads: "Hoping Heaven Has a Lot of Blank Walls."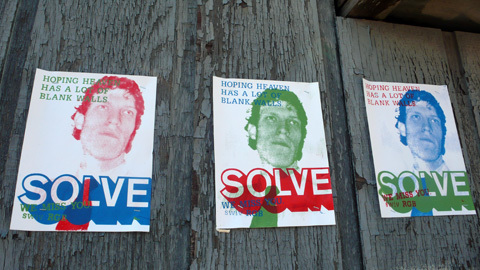 See more tributes to and pics of Brendan's work at www.flickr.com/groups/ripsolve/pool and at www.flickr.com/groups/754970@N24/pool and at Brendan's own Flickr page: www.flickr.com/photos/solve
See another video about Brendan and his work, released by the middle mind project:
Read about updates, and see more pics from the memorial art opening, here: www.flickr.com/groups/chicagostreetart/discuss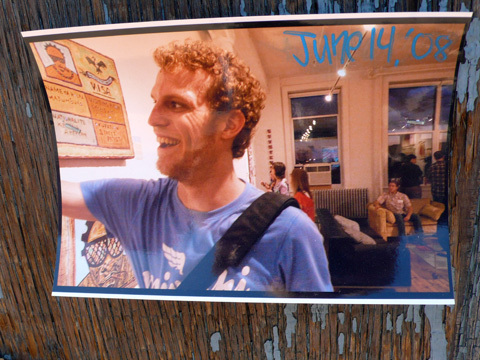 Words by: Leah Pietrusiak