Reinventing Paper: Interview with Nick Georgiou Part II
Juxtapoz // Monday, 21 Dec 2009
1




Helen Soteriou: What is your proudest artistic achievement to date?
Nick Georgiou: Being able to teach students about my craft is very satisfying, and I have to thank the University of Arizona for making that possible for me.

In terms of my work, one of my most meaningful pieces is "Android," a newspaper sculpture created for Wooster Collective's group show at 11 Spring Street that was held in NYC in 2006.  I got to show with some incredible artists, and the experience also opened the door for me to experiment with my work online.  I'm also grateful to Oxford University Press for commissioning me to create a large-scale mural for their NYC headquarters in 2007.  The 18 ft book sculpture is my largest piece to date, and it was a huge challenge to shift perspectives but immensely rewarding too.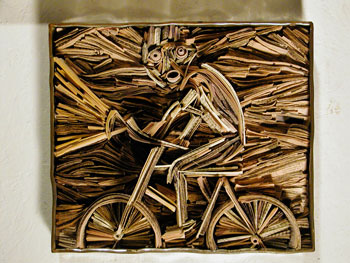 What artists inspire you and why?
Animal Collective - Their music catalog goes through every emotion and genre. I worked on the art department for a film project with them and was blown away - their tunes have been on constant rotation in my studio ever since.

WK – I was first introduced to his work in the late '90s in the East Village and was stunned by his motion trails. I remember pausing for a while, just staring and feeling like all those waving black lines were a part of me.

Few of the many that keep me inspired- Blu, Blek Le Rat, Dan Witz, Elbow-Toe, Judith Supine, Slinkachu, Swoon, Jose Parla…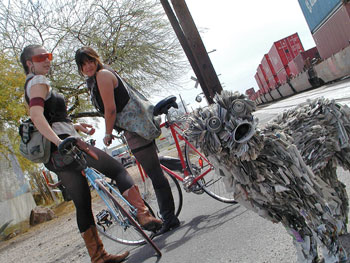 Why do you think urban art is so popular right now?
Because we all feel like outsiders.

Where do you get the inspiration for the themes of your individual pieces?
It's a mixed bag--sometimes a sketch turns into paper or the news of the day subconsciously infuses itself into an image. My most recent piece, "Mountain Chaser" I created for a Bike Collective fundraiser is a good example… I knew I wanted to depict a man on a bicycle but the story of the biker began to take shape as I experimented with two very different types of paper and text: The Financial Times is swirling in the background while a Steven King novel formed the riding figure.

I'm a sculptor but also a storyteller so I'm always exploring ideas from different perspectives. The regeneration of the printed word into another form—a book or newspaper into a sculpture–is a way of breathing new life into it.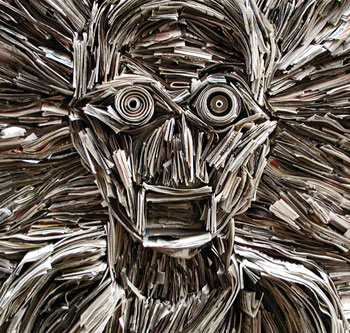 There are quite a few films on your website - can you tell me about these?
The films are just small segments of my life, where I'm at, what I'm creating, what imagery and sounds interest me.

Did you shoot them?
Yes. I make these videos to remember what I'm going through. Since childhood a camera has always been in my hands. I went to NYU film school hoping to make my own feature films- I've just made shorts up until now but the feature film is coming.

Gallery or street, do you have a preference for where you exhibit?
I don't have a preference.  Like with stories, setting - whether interior or exterior is important - and it plays a big factor in the conceptual design of the piece. There's a lot to consider: lighting, backdrop, form. It's all very cinematic. What I like most about street pieces is the element of surprise: you pretty much have no control, there are no clearly defined boundaries, and everyone has access. Gallery shows appeal to me as a sacred space. There's more order, and it's a different kind of cathartic experience because it's enclosed within the confines of space.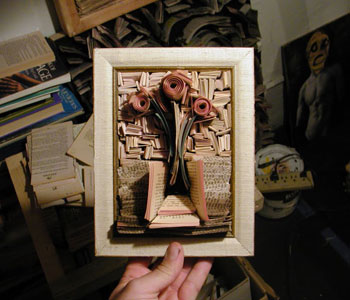 How are you coping in the current financial climate?
The great thing about an economic downturn is that it tends to make people more introspective. And that inward shift is what art is all about. So in terms of input and output, I'm inspired.

What motivates you to continue?
Paper, as an artistic medium excites me. It constantly changes the way I see the world and how it perceives me. The world is in the midst of crazy changes when it comes to media and the way we process information, and I get to observe it very closely. There's no better motivation for an artist than to be fully engaged in the process of change.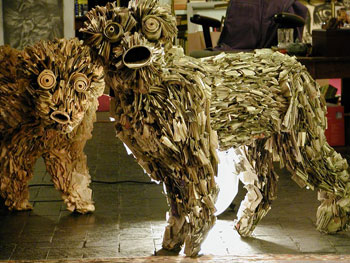 What have you got coming up in 2010?
I just opened a new gallery/studio space in downtown Tucson, Arizona. For the first time I'm creating pieces while interacting with the public so it's brought another dimension to my work that I'm excited to explore. I'm also completing a documentary about the decline of the printed word, and am working on a series sculptures for a solo exhibition in Cyprus and Greece.

Didn't catch Part I of this interview? Read it now HERE.