REAL Skateboards x Maxx242 vs. Jeff Soto Limited Edition Skate Decks
Juxtapoz // Friday, 29 Oct 2010
1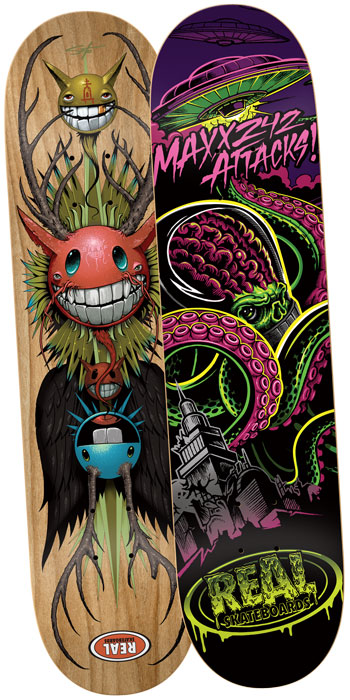 Longtime friends and associates Maxx242 and Jeff Soto have just finished their inaugural collaboration and created two limited edition art decks for REAL. Released today, the project includes two limited edition decks, both made in limited quantities of 200 each. And this Monday, November 1st, we are giving away a set.
Maxx242 vs. Jeff Soto is going to be an entire collaborative project between the two artists, and they have kicked off with these boards. The boards (which will have a special coinciding Bearbrick Toy for special release at Unit in Tokyo, Japan) were both made at a quantity of 200, with 50 of each going straight to Japan, so only 150 will be available in the US.
Tune into our Juxtapoz Facebook page this Monday, November 1st for your chance to win a set. You may not skate, but you like art.


http://www.dlxsf.com/fall10/rs/
http://www.maxx242vsjeffsoto.com/about.htm
http://www.realskateboards.com/