"Year 1 Rewind" Book from Dirty Pilot
Juxtapoz // Monday, 06 Apr 2009
1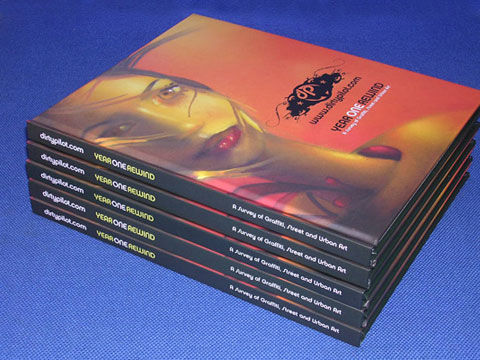 Year 1 Rewind presents the work of 15 of the artists that the cats over at Dirtypilot.com have showcased in its monthly online exhibition series during its inaugural year, beginning in May 2007. These works embrace a range of movements from graffiti, street and urban art to pop and outsider art.

Featured artists include up-and-coming talents along with established artists, such as Chris "Daze" Ellis, Kime Buzzelli, Bravo Jet, Albert Reyes, Papermonster, Chris Stain, Ghost, Ewok 5MH, Cern YMI, Dennis McNett, Greg Gossel, Stephen Tompkins, Enrique Martinez, Justin Bua, Michael Krueger and Daniel Johnston.

Both a contemporary representation of the most riveting urban art of our time and a frozen slice of art history that hundreds of thousands of urban art collectors and aficionados who frequent DirtyPilot.com can enjoy today and tomorrow. This diverse body of artwork also stands as an enlightening sampling for collectors and art students unfamiliar with urban motifs.

A sturdy, hardcover compellation of shows, Dirtypilot.com Year 1 Rewind dedicates from two to six pages of illustrations of each showcased artist as well as the dates the artists showed their work on Dirtypilot.com. It also delivers biographical sketches on each contributor. The book's introduction by Dirtypilot.com founder Alan Bortman offers background information on the origin and focal point of the Dirtypilot site. If you're passionate about urban art and urban artists and want to learn more, Dirtypilot.com Year 1 Rewind is a visual treasure trove for collectors that you won't want to be without.

Grab your copy (and more info) of Year 1 Rewind here.