"This Must Be The Place" Scion Artists Explore Notion of 'Home'
Juxtapoz // Thursday, 11 Jun 2009
1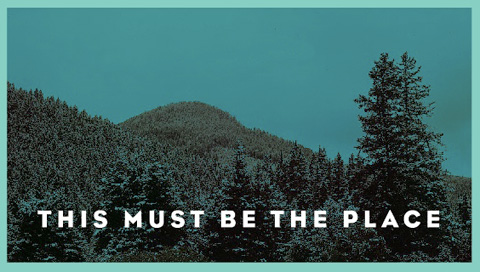 Opening next Saturday, on June 20, the next showing to hit the Scion Installation L.A. Gallery in Culver City is This Must Be The Place, a collection of art and oddities by eight American artists (Gluekit, Maxwell Loren Holyoke-Hirsch, Damien Correll, Joel Speasmaker, Matt Curry, Skull Phone, Dan Funderburgh and Jemma Hostetler) who explore the notion of 'home' with the loose limitation of a two-toned color palette.
The opening reception for This Must Be The Place takes place on June 20, 7 – 10pm at the Scion Installation L.A. Space, 3521 Helms Ave. (at National), Culver City, CA 90232. The reception is free with complimentary valet parking and an open bar. The exhibit will run until July 11, 2009.
About The Artists:
Gluekit: www.gluekit.com
With a firm belief that glue is good, Christopher and Kathleen Sleboda explore design in the forms of typography, visual narration and spatial relationships. Their illustrations, images, products and type have been exhibited internationally and featured in Typomofo (2009), Over and Over (2008), and major magazines including New York, Rolling Stone, Newsweek, Wired and Nylon.
Maxwell Loren Holyoke-Hirsch: www.lorenholyoke.com
Raised in San Diego by artists, Maxwell's early life was marked by paint splatters and graphite smudges. His hunger for new, bold colors inspired him to move north and delicate notions emerged from singed and stormy linework. Thriving on thematic opposition, controlled chaos and exploration, his images rise from an array of materials, including wood, wax and manually moiled squid ink.
Damien Correll www.damiencorrell.com
Originally from Philadelphia, Damien is a designer and illustrator living in Brooklyn. Formerly of the Rad Mountain collective, he is now a creative partner at the small design studio Part & Parcel. His work has been featured in New York magazine, XLR8R, Juxtapoz, IdN, STEP, NOVUM, The New York Times magazine and Faesthetic.
Joel Speasmaker: www.thisisforest.com
Forest is Joel's Brooklyn-based multi-purpose studio that works in the areas of graphic design, art direction, publishing, branding, Web design and development, illustration and curatorial projects. As the previous publisher of The Drama magazine, Joel now acts as art director for Anthem magazine. He has exhibited and curated in galleries including Subliminal Projects, New Image Art, Little Bird, Lump and Okay Mountain, among others.
Matt Curry: www.ninjacruise.com
A graduate in illustration from the Rhode Island School of Design, Matt is the principal of the Washington D.C.-based, award winning design studio Imagefed and has been nominated for two Grammy awards as a designer, illustrator and painter. His visual language drawn from mythology and religious iconography has graced album and magazine covers, limited edition products and galleries worldwide.
Skull Phone: www.skullphone.com
Skull Phone is a Los Angeles-based artist whose iconic yet morbidly ironic image of a skull holding a cell phone speaks coldly and anonymously to the public through the streets.
Dan Funderburgh: www.danfunderburgh.com
Dan is a wallpaper designer and artist in Brooklyn, NY. His patterns, prints and installations are varied, but demonstrate an unabashed love for decorative arts. With influences ranging from renaissance tapestry to American op art, the work is a repudiation of the fabricated schism between art and decoration. Some of Dan's work can be found in the collections of the Cooper-Hewitt Design Museum and the Miami Museum of Modern Art.
Jemma Hostetler: www.jemmahostetler.com
Jemma Hostetler (née Gura) is an art director and designer working in branding, product, print and interactive. Her work, such as "Prate.com - an aesthetic exploration," has been featured in numerous reviews and books, including one she co-authored challenging designers to push the boundaries of their creative tools. Jemma is co-founder of Sans Nom, a design studio located in Toledo, Ohio.
More information available at www.scion.com/space