"Nuclear Mystic:" Solo Show from Mars-1
Juxtapoz // Friday, 13 Feb 2009
1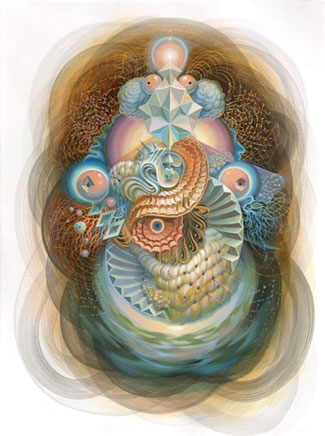 Mars-1

Nuclear Mystic
Solo Exhibition

February 21st—March 21st, 2009
Opening Reception: Saturday, February 21st, 7pm—9pm
Nuclear Mystic, a solo exhibition of new works by Mario Martinez also known as Mars-1 (Juxtapoz cover #97), hits Jonathan Levine Gallery next Saturday, February 21st, 2009.

For his second solo show at the gallery, the artist has created a collection of original large-scale works including abstract paintings on paper and wood panel as well as a series figurative sculptures in bronze, all of which will be incorporated into a site-specific installation.

Nuclear Mystic features Mars-1's signature style of vast, abstracted, quasi-extraterrestrial looking landscapes. The artist paints from a penetrating perspective of great depth.
Viewers are drawn into his imaginative compositions, overflowing with colorful geometric and organic shapes, layered to form unique patterns and textures. A number of the pieces in the show feature imagery of surreal distortions, contained within spherically convex transparent bubbles.

Skillfully combining optical color blending with perspective line work, his painting techniques result in very three-dimensional forms, which echo the anatomy of architecture, and microcosmic structures of biology. These 3-D qualities also transcend into his sculptural work, resulting in works that transport viewers into another realm.

Mars-1's distinctly individual aesthetic is not easily compared to the vision of his contemporaries or artists from past movements. His constantly evolving process continues to expand with each new series of work, seemingly beyond the reaches of even his own awareness.

Themes explored range from very scientific to more esoteric phenomena. From theoretical physics, metamorphosis and collective consciousness, to ufology and examining possibilities of otherworldly principles, the relative link between physical and life sciences are applied throughout. Transitional energies, natural multiplicity, helixes and spontaneous biological occurrences all come together, forming imagery with hypotheses beyond the scope of modern technology.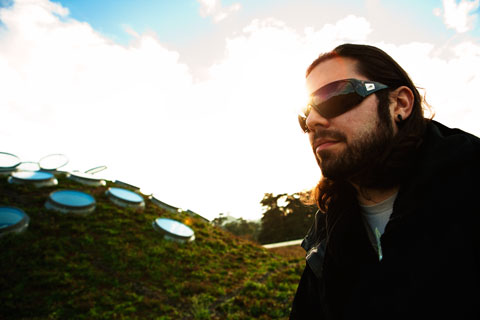 ABOUT THE ARTIST

Mars-1 (aka Mario Martinez) is a left-handed artist who spends most of his time in the right side of his brain, communicating through a visual language. His unique imagery explores possibilities of otherworldly existence through highly developed, multi-layered landscapes.

Often employing a fuzzy-logic aesthetic, Mars-1's artwork has a sentient appearance, like a tulpa—which in mysticism, is the concept of a materialized thought that manifests into physical form. His unique style has been described as urban-Gothic, sci-fi abstracted, quasi-organic form.

Early inspirations include: graffiti, animation, comic book characters, ufology, extraterrestrials, unexplored life, mysteries of the universe, alternate realities and the abstract quality of existence. At the age of 13, Mars-1 began writing graffiti in his hometown of Fresno. He later attended Academy of Art in San Francisco, where he currently lives and works, remaining heavily active in the city's contemporary art scene.

The true meaning of Mars-1's imagery is ultimately left to the viewer's interpretation. The artist feels this brings his creations full-circle, encouraging his audience not only to decipher the messages he wishes to convey but to receive thoughts and ideas of their own, as well.
For more on Mars-1, check out his website: www.mars-1.com