"Infinity Squared" at Distinction Gallery
Juxtapoz // Wednesday, 10 Dec 2008
1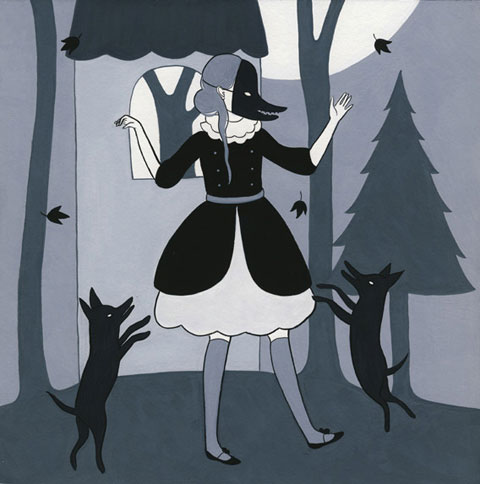 Infinity Squared featuring 28 artists from the US and abroad is the next exhibit to hit the walls of Southern California's Distinction Gallery.

For Infinity Squared, guest curated by participating artist, Kelly Vivanco, all artworks will be created on 8 x 8 inch square panels. Featuring: Philip Kirk, Amy Huddleston, Alex Noriega, Angela Petsis, Angie Mason, Allison Sommers, ShowChicken, Rik Catlow, Andrea Zuill, Dennis Hayes IV, Josh Clay, Tom Haubrick, Ken Garduno, Alison O Donoghue , Jason Limon, Matte Stephens, Art & Ghosts, Netherland , Ekundayo, Mike Maxwell, Chris Ryniak, Jeremiah Ketner, Jenn Porreca, Kelly Vivanco, Matthew Feyld, Jennifer Lewis, Doug Boehm, & Amy Earles.

The opening reception with several artists in attendance and DJ Scottie Kaotic spinning will be held on Saturday December 13th, from 6-11pm. A second reception will be held on Saturday January 10th, from 6-11pm.

Kelly Vivanco was born and raised in front of a sketchpad and a box of colors in Southern California. She later received her BFA with honors from LCAD in Laguna Beach. In 2004 Kelly became a Studio artist at Distinction and currently maintains a working studio there. Her work has shown in numerous galleries and is held in collections across the U.S. and abroad.

Kelly enjoys setting whimsy to work in many mediums and pulls inspiration from the natural and imagined world, vintage photographs, children's literature and the oddness of her dreams.

On choosing the artists in the exhibition Vivanco states "Some of the artist's work I have admired for a long time and some I found recently online or via shows in LA and was impressed. It's cool what you find if you look around with fresh eyes. There are so many amazing artists out there, it was hard to cap it at 28! The 8x8" theme was chosen because I love to work in square format and wanted to see what the artists I chose would come up with working in a small scale. Plus, with 28 artists working in different styles and mediums, the small squares would provide a visual unity to bring the show together."
More on Infinity Squared at www.distinctionart.com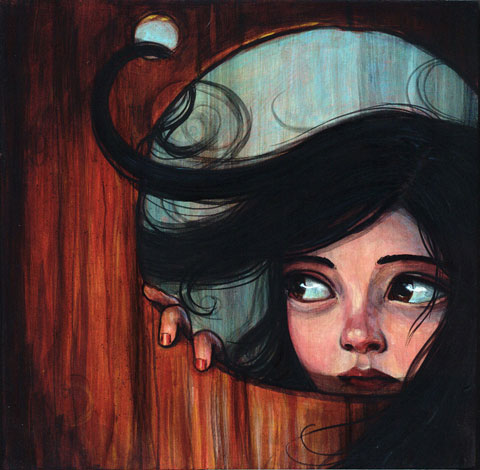 Kelly Vivanco, Knothole
2008, Acrylic on panel, 8 x 8 inches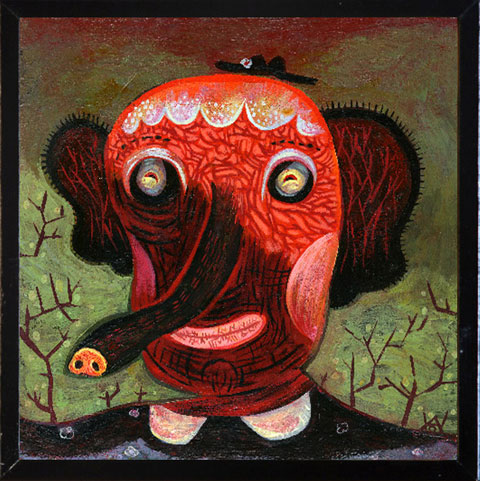 Alison O'Donoghue, Hello Mother
2008, Acrylic on wood, 8 x 8 inches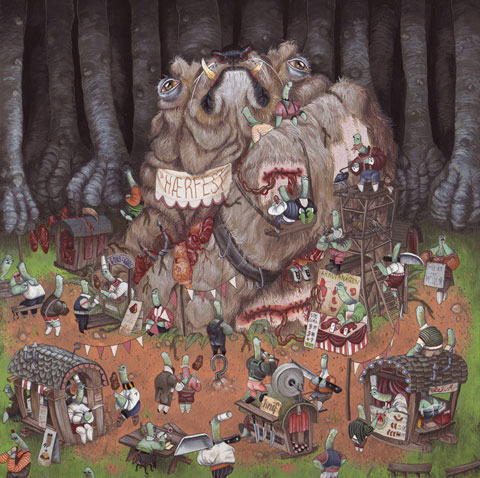 llison Sommers, Harvest Time
2008, Gouache on illustration board, 8 x 8 inches
matted and framed to 12 x 12 inches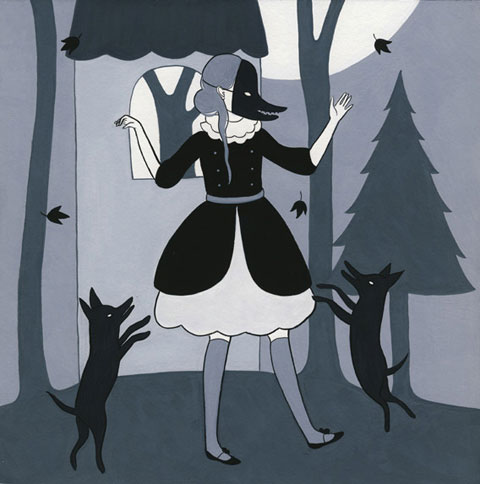 Amy Earles, Pitiless
2008, Gouache on illustration board, 8 x 8 inches