"Free" featuring New Bohemia Signs at Guerrero Gallery
Juxtapoz // Tuesday, 28 Jun 2011
1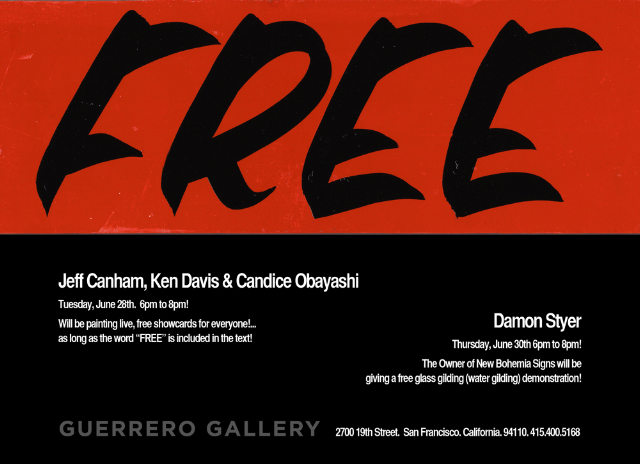 New Bohemia Signs
is fast becoming a San Francisco institution, and the sign-painting group is currently showing at Guerrero Gallery in SF. Today (June 28) and Thursday (June 30), members of New Bohemia will be doing a live "free" demonstration, open to the public, on various practices of sign-painitng.
Today (June 28), from 6—8PM, you will be able to walk away with some signs painted by Jeff Canham, Ken Davis, and Candice Obayashi from New Bohemia.
On Thursday, June 30, New Bohemia owner, Damon Styer, will be demonstrating the trade secrets of water gilding. If you know, you know, and if you don't and want to know, then you will know.
Check out our Studio Visit with New Bohemia Signs that we did earlier this year.
New Bohemia Signs
Jeff Canham
Stephen "ESPO" Powers
June 11, 2011 — July 02, 2011
Guerrero Gallery
San Francisco, California