"Cigarette Ash Landscape" Installation by Chinese Photographer and Artist Yang Yongliang
Juxtapoz // Thursday, 20 Jan 2011
1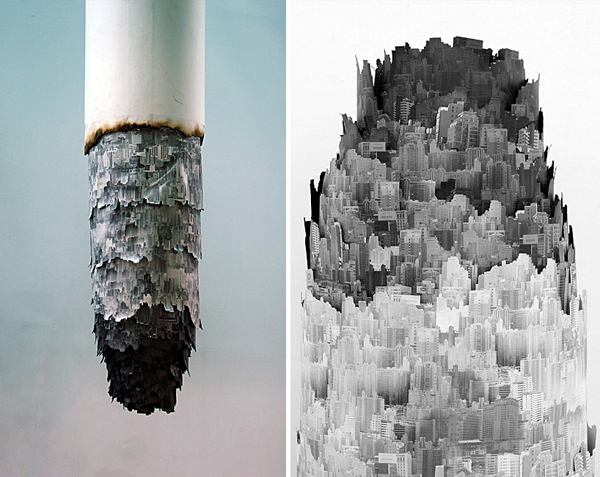 This was hard to decipher at first, but what you are looking at is an installation by Yang Yongliang, consisting of "three-dimensional collages of photographs take on the form of cigarette ash." More to the point, these are black and white photographs collaged and piled together to mimic cigarette ash.
We were trying to explain this to a colleague last night, and we think DB does it best: "The tip of a huge cigarette sculpture hung vertically in the installation space is revealed upon closer view  to consist of cut and layered images of city skylines. below, a pile of ash, composed of small rectangular image cutouts, sits upon a length of fake grass scattered with artificial flowers. With a background in shan shui painting and chinese calligraphy,  Yongliang's work juxtaposes images of modern, urban life with these traditional forms."
Dramatic and innovative. Great work.
Thank you to
DesignBoom.