PULSE Los Angeles Opens Today
Juxtapoz // Friday, 30 Sep 2011
1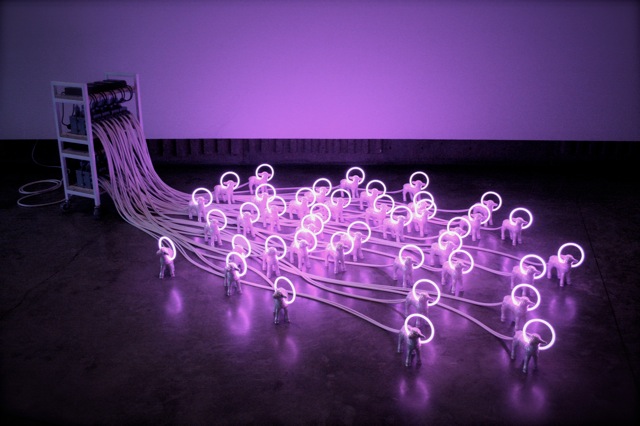 PULSE LOS ANGELES
Friday September 30–Monday October 3, 2011


Taking place at the Event Deck at LA LIVE, a 100,000 square foot, rooftop venue, PULSE Contemporary Art Fair announces its first edition of PULSE Los Angeles. PULSE Los Angeles is modeled on its flagship Miami fair, a comfortably scaled and dynamic event indoors and out. It opens today, September 3, and runs through October 3.

The fair's signature series of programming will make its return with a slate of sculptures, murals, performances, and multimedia works, with this edition placing a strong emphasis on Los Angeles' contemporary art and culture.
Drawn from Asia, Europe, North and South America, the galleries and organizations on view present the vanguard of international art. Launching to coincide with the Getty Foundation's Pacific Standard Time, a massive collaboration of more than 60 institutions celebrating the contemporary culture of California, PULSE Los Angeles places a special emphasis on the area's thriving arts scene through its gallery exhibitors, a special presentation of local non-profit exhibitors, as well as events and exhibitions throughout the city.
PULSE Projects include Los Angeles' Charlie James Gallery's Daniela Comani's It was Me: Diary 1900-1999, currently on view in the 54th Venice Biennale, presenting a daily narrative of the twentieth century culled from "this day in history" lists in which Comani, presenting each entry as a first-person account. Luis De Jesus Los Angeles brings Martin Durazo's Max-Nigmatix, a special multi-media project commissioned by PULSE, and above, David Adey's Flock, a cavalcade of kitsch ceramic lambs each wearing a neon halo powered from a common source. The work was recently exhibited in the 2010 California Biennial. Nearby Culver City's Mark Moore Gallery, in conjunction with New York's P·P·O·W Gallery, will present a new installation by Kim Rugg. An evolution from her installation The Story is One Sign, which was recently acquired by the Norton Museum, the new work features 30 covers of the New York Times that have had been entirely whited out to reveal each letter of the alphabet in sequential order.
PULSE PLAY>, the fair's ongoing series of curated video exhibitions brings INDUSTRY OF FETISH, curated by Dossier and Skylight Projects, New York; along with "I'll leave the stones here, but I'm taking the dream with me", (from Fischli and Weiss' film The Right Way) curated by Stanya Kahn for ARTIST CURATED PROJECTS, Los Angeles. Further afield, a special presentation of three projects will be on view at PULSE's Hotel Partner The Standard Downtown and Hollywood, including Brice Brown's Service Everyday (Dish Queens) courtesy of Schroeder Romero & Shredder, New York; and Dave Kinsey's mural Prospects of Despair II, courtesy of Joshua Liner Gallery, New York; and Noemie Lafrance's short dance film Melt, courtesy of Black & White Gallery / Project Space, Brooklyn.
For more information and fair hours and location, visit
Pulse-art.com