Image Gallery
Preview: Underbelly Project @ Art Basel 2011
Juxtapoz // Thursday, 01 Dec 2011
1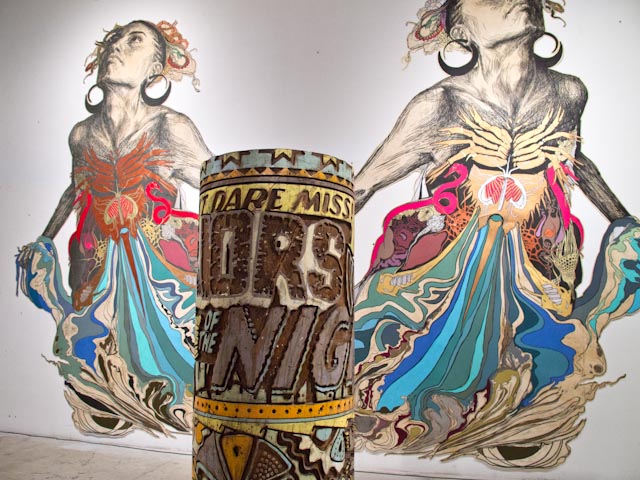 Last night, we headed straight off the place to the preview of the Underbelly Project's exhibition in the Wynwood District in Miami. On display were new pieces from Swoon, Ron English, Dan Witz, Saber, Revok, Mark Jenkins, Aiko, Haze, Faile, and large group of other artists who particpated in the Underbelly Project. As you may remember, the
Underbelly Project
originated in 2009 as an exhibition underneath the streets of NYC, where a large group of artists were organzied to complete site-specifc work in the old subway tunnels. This brings the artists in that project into a gallery setting, with an expansive (and in contrast to being underground), a clean, well-lighted place to see the work.
Of course, if you are heading to Basel and you read this blog, we suggest stopping into the Underbelly Project to see some of the standouts of what we have covered in the magazine over the past few years. The show has a complete roster, with Dabs Myla, Know Hope, Anthony Lister, Logan Hicks, Momo, Roa, Jeff Soto, and SheOne amongst others in the exhibition.
This Friday, December 2, the Underbelly Project will have a book signing with around 20 artists who participated in the project. We hope to make it out for that as well.
We ran into Mr. Witz at the preview, which was nice to see after
our time spent together at Nuart
this past Fall.
All photos by Brock Fetch.