Preview: "Raw Skies" at Carmichael Gallery
Juxtapoz // Tuesday, 30 Sep 2008
1


Carmichael Gallery of Contemporary Art presents Raw Skies, a group show featuring seven diverse artists from the US, Canada, Brazil, and South Korea.

Gaia, Imminent Disaster, Jana Joana, Kay2, Labrona, Produkt, and Vitché, each of whom is gaining international recognition for their innovative and inspiring urban artistry, have each used a wide variety of media to contribute exciting new bodies of work to this group exhibition, which is sure to blow the kids away in style and quality.

The opening reception for Raw Skies will be held on Saturday, October 4th, 2008 and will be open for viewing through Sunday, October 26th, 2008.

Make sure to learn about all artists participating in Raw Skies below:
About the Artists: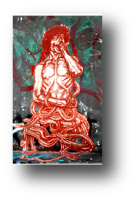 Gaia

Gaia is a young street artist from NYC who is currently based in Charm City, Baltimore. In less than a year, he has established a strong presence on the streets of both these cities. His subject matter combines personal experience with the expression of the emotional relationship between animals and humanity. Gaia most recently participated in Poets of the Paste at Ad Hoc Art Gallery in Brooklyn.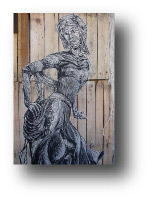 Imminent Disaster


Imminent Disaster is an emerging Brooklyn-based artist who wheatpastes wood, linoleum and silkscreened prints. Disaster is inspired by the street as an environment: a place with people, structures and history that are constantly being destroyed and rebuilt. Combining carefully researched fact and legend, she creates figurative images and historically inspired broadsides that are glimpses of a world that has fallen through the cracks of time. Disaster has participated in the Miss Rockaway Armada with Swoon and Wooster on Spring, amongst other group and featured exhibitions.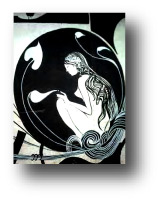 Jana Joana


Jana Joana adorns the streets of Sao Paulo with beautifully executed black and white murals, interpreting the thoughts, emotions, and experiences of women with a fluid technique that hints of art nouveau and a finely tuned social conscience. When she is not exhibiting her work in galleries across Europe, Cuba, the US, and Brazil, she and husband Vitché are traveling the world, sharing their distinctive artistic perspective with an enchanted public.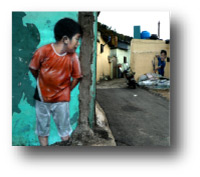 Kay2


Kay2 was born in Busan, South Korea. His interest in graffiti began while he was attending art school at Dong-A University. He has participated in a number of exhibitions and festivals around South Korea and was recently featured on Wooster Collective. This is his first exhibition in the US. With a unique talent for capturing human emotion in his stimulating portraits, Kay2 is poised to become a significant figure in the international street art scene in years to come.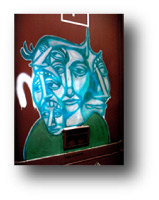 Labrona


Canadian artist Labrona is best known for his extraordinary paintings on freight trains that roll all over the US and Canada. "I send my thoughts and emotions on to the railways for people to see," he says. "A train yard is like a forever-changing outdoor art gallery." Drawing inspiration from 80s skate culture, rundown industrial areas, and German Expressionism, Labrona's enthralling visual narratives stem from his fascination with and desire to convey raw human feeling. He has participated in group and solo exhibitions across the US, Canada, and Europe, and was most recently featured in CORKED, curated by Urban Angel at the Cork Street Gallery, London.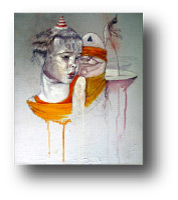 Produkt


Produkt is a painter and street artist from Montreal, Canada. He paints from dreams, nightmares and vague memories. He likes disrupting public spaces with posters and hand painted freaks, painting on freight trains, canvases and interesting pieces of garbage and old book covers. He recently became involved in making meticulous pencil-rendered animated music videos for various musicians, which opened up a lot of doors in his mind. He is presently writing this bio, and finds it definitely awkward trying to think of interesting things to say about himself. Also he finds it strange referring to himself in the third person. He is not married, has never published a detective novel (nor has he any intention to), and once owned a goldfish but it died.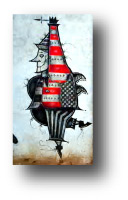 Vitché


Vitche is a painter, sculptor and graffiti artist from São Paulo, Brazil. Having grown up scribing the city streets, he has developed a diverse style unlike any other. His distinctiveness is perhaps most evident in his subject matter; shying away from the hip-hop aesthetic so prevalent in graffiti, he is strongly influenced by the cultures of Polynesia, the Aztecs, and the Brazilian Indians, as well as the potent, playful symbolism of the circus. He has taken part in group and solo exhibitions at galleries in the U.S., Europe, and Latin America, including Upper Playground, Jonathan Levine Gallery, and Carmichael Gallery of Contemporary Art.