Preview: "Natural Selection" at Distinction Gallery
Juxtapoz // Wednesday, 10 Sep 2008
1
Distinction Gallery presents Natural Selection, tri-artist showing by Linda Herzog, Michael Brown, and Isaac Bushkin that runs September 13th – October 4th, 2008.

A theme of wildlife juxtaposed with fantasy and surrealism will dominate this eccentric showing. All three of the artists will be attending the opening reception on Saturday, September 13th from 6-11pm and will be on hand to answer questions and talk about their works. Wine, courtesy of Wien's Family Cellars and music will add to the celebration.

Distinction Gallery will also be featuring the "Sub 1K" Gallery with works priced for less than a grand, featuring renowned artists from around the world. "The Alley" will show an additional 30+ artists. All in addition to the 14 artist studios featuring 16 local artists that are always open to the public.
See more work in Natural Selection at distinctionart.com/current as well as a couple of our favorite pieces below: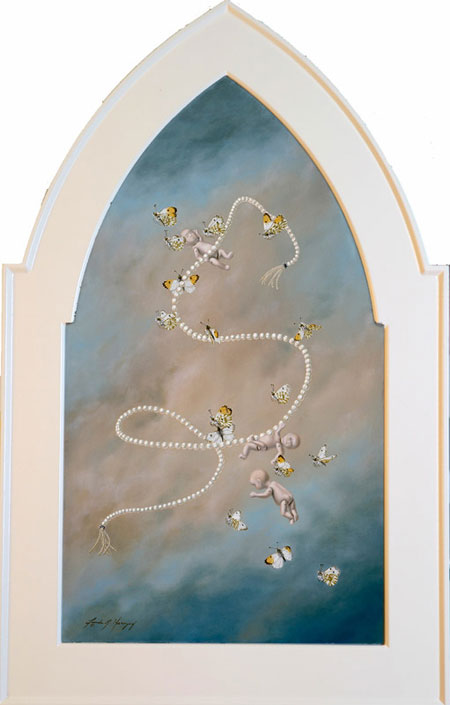 Linda Herzog: Pearls and Porcelain, Oil on canvas

Linda Herzog was born and raised in the picturesque valleys of Salt Lake City, Utah. It was there her passion for wildlife and art was given direction. Although possessing no formal art training, she has developed a unique style she refers to as "Wildlife Fantasy". This fine art approach mixes lifelike renditions of animals placed in slightly left-of-center compositions. Often whimsical, the artists sense of humor can be found in paintings like, "Jack Pot" which features a hare posed stoically next to a chamber pot or "Mr. Chips the Puffer Fish" featuring a small dog morphed with a bloated fish. Her move to and current home in Southern California has led to the incorporation of more marine subject matter in her works. Along with a sly smile and nod to the unreal and fantastic, all of Linda's work posses a heavy literary undertone, conveying a colorful and intricate story with each painting.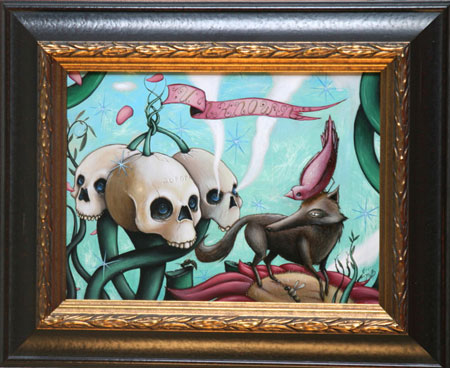 Isaac Bushkin: The Unknown Path, Acrylic on wood
Isaac Bushkin is a west Philadelphia painter. Working primarily in oils and acrylics, (but known to tackle the occasional sculpture), Bushkin's work focuses on nature-centric themes. The interplay between various wildlife creatures and plants with the re-occurring skull imagery suggests cycle-of-life narrations while giving way to flights of fantasy and surrealism in the highly varied compositions. Birds, flowers and the feminine form illicit a softness that appears often in Bushkin's work that he is careful to juxtapose with skulls and other elements creating an unusual tension.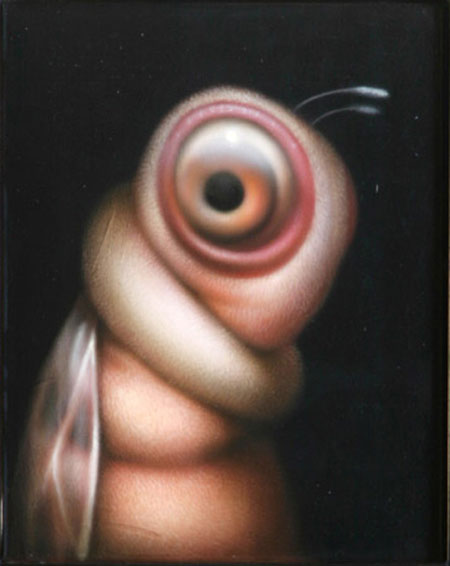 Michael Brown: The Pauper, Acrylic on canvas
Michael Brown studied art in both New York and at the Savannah College of Art and Design. His studies in painting wood and wildlife forms has the rigid turning to liquid as lines bend and flow like rivers. Soft hues interplay with darker overtones to give an almost menacing glow to his subject matter. Brown's work displays a masterful command of movement and energy, wrapped in a blanket of something darker and more sinister.
More info at www.distinctionart.com