Preview of Captain and Commander: Henry Lewis and Keli Reule at 111 Minna
Juxtapoz // Tuesday, 30 Sep 2008
1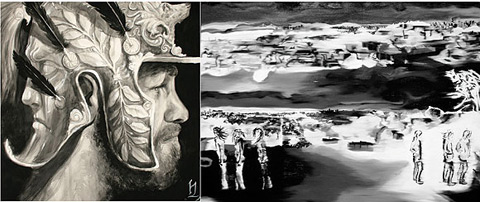 111 Minna Gallery presents Captain and Commander: Henry Lewis and Keli Reule, a show featuring works by two established San Francisco Bay Area talents.

Subtle epiphanies and chance encounters are some of the factors and themes examined by Henry Lewis in his most recent body of work, Captain and Commander, on exhibition with studio-mate Keli Reule.

This presentation provides a new angle for Lewis' long running study of his view of the human condition. A sensitive and impressionable individual, Lewis' ability to draw strength, an existential purpose and inspiration from his love for the meaningful, random experience is on full display within this exhibit. A slew of street encounters with cab drivers and other urban prophets has provided a significant and positive counterbalance to a dependency on familiarity for guidance.

Lewis recently made a difficult decision to leave mentor Mike Davis and Everlasting Tattoo for Skull and Sword;
a move geared toward personal evolution both as a tattoo and fine artist. Davis has been a key figure in Lewis'
mastery of oil painting and development of his highly unique baroque characteristics.

In Captain and Commander, Keli Reule has chosen to focus on her relationship with the sea and how it relates to internal emotional losses and maintanence of one's passionate energy. She has set herself adrift into deep, dark water in order to contemplate the effects death, emotional defeats, personal loss and the re-generation of self.

Reule's sparse palette has been further reduced in order to aid in the alienation of a didactic representation, giving way to a slowness depicted in her blurred imagery.

The artist has long seen herself as a vehicle for narrative memory or as an emulsified canvas for the lapse of time and space. The viewer may feel as if on a train, watching cities pass by with lost monuments or encountering individuals with displaced physical characteristics.

Captain and Commander: Henry Lewis and Keli Reule will be on view from October 2-November 1, 2008 with an opening reception this Thursday, October 2 from 6pm til latenite. Come see some dope artwork, have a drink, and bother the artists.
Peep preview images by Henry Lewis: