Preview: Eric Joyner at Corey Helford Gallery
Juxtapoz // Thursday, 04 Sep 2008
1
Eric Joyner
Artificial Enlightenment

Opening Reception Saturday, September 6, 2008 from 7‑10pm
Book Release and Signing for Robots & Donuts: The Art of Eric Joyner

On View September 6 - September 27, 2008
With Guest Artist Brezo in the Loft
Corey Helford Gallery presents Artificial Enlightenment, a solo exhibition of new works by San Francisco artist Eric Joyner.
Inspired by science fiction, toys, and Brandywine artists and illustrators of the 1900s, Joyner's award-winning imagery of robots and donuts has been transforming landscapes and faraway galaxies for the past eight years. His second solo show at the Gallery will reveal the grittier side of robot life: mysterious donut factories, runaway steam trains and vintage motorcycles. Featuring twenty-two oil-on-panel works, Artificial Enlightenment will unveil never-before-seen metal humanoids from Joyner's growing repertoire of characters.

The reception this Saturday, September 6 will include the release and signing of his new book Robots & Donuts: The Art of Eric Joyner, published by Dark Horse.

Artificial Enlightenment opens to the public on Saturday, September 6 from 7 to 10pm, and the exhibition will be on view until September 27, 2008.


Eric Joyner attended the Academy of Art and the University of San Francisco and went on to establish himself as a commercial artist, creating illustrations for Mattel Toys, Levi's, Microsoft and Showtime. A member of San Francisco Society of Illustrators and New York Society of Illustrators, Joyner has been an instructor and speaker at San Francisco's Academy of Art University and California College of the Arts.

His work is currently featured in San Jose Museum of Art's exhibition Robots: Evolution of a Cultural Icon, and he has shown in numerous galleries and cultural institutions, including La Luz de Jesus, The Shooting Gallery, Trifecta Gallery, and the Museum of American Illustration. Joyner will be featured in the October issue of Juxtapoz.

For additional information about the artist, please visit www.ericjoyner.com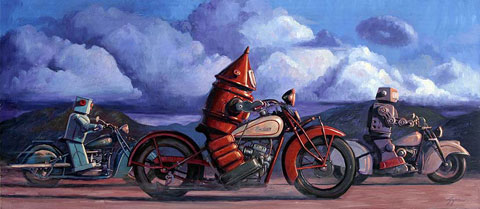 Desert Riders oil on wood panel 48" x 21.5"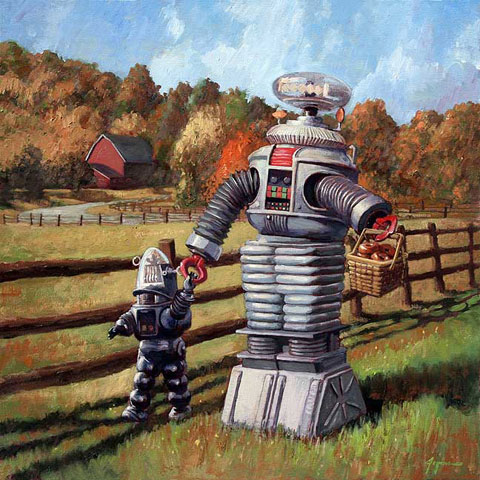 Fall Outing oil on wood panel 20" x 20"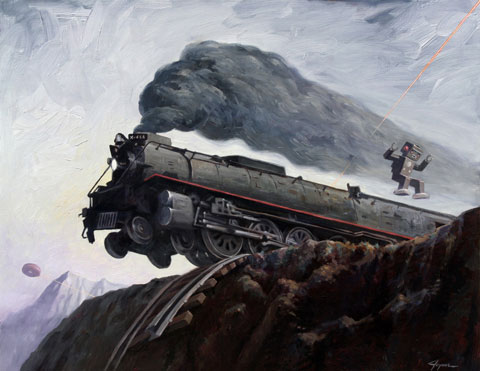 Last Train To Clarksville oil on wood panel 32" x 40"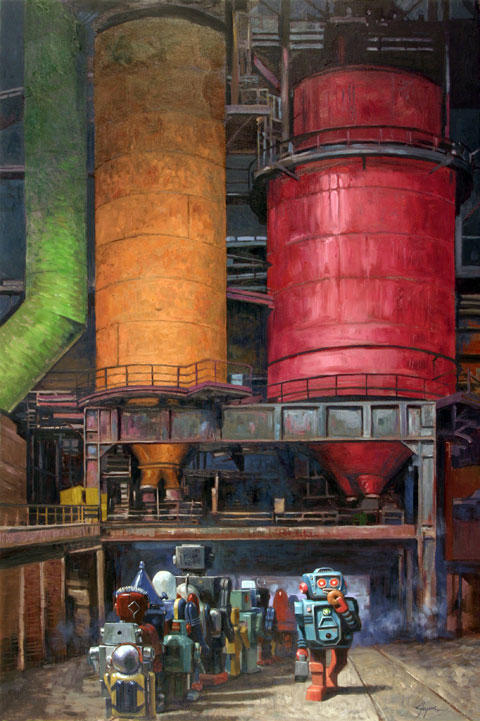 Shift Change oil on wood panel 48" x 32"