Porous Walker to Warp SF's Receiver Gallery
Juxtapoz // Wednesday, 01 Apr 2009
1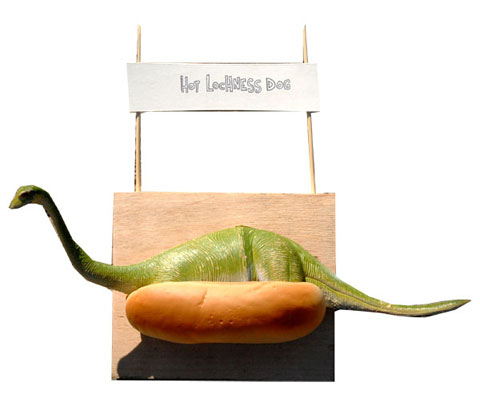 Jimmy DiMarcellis' aka Porous Walker's (Juxtapoz #96) latest exhibition, Me vs. Me is a 'self-help manual' response to the artist's recent diagnosis of enjoying a 'bipolar disorder' and attempt at self-medication before seeking medical treatment.
Porous' body of work is a combination of old and new, featuring recent drawings, along with a new series of mixed media sculptures, architectural models of dreams and a sculptural portrait series of artists that give Jimmy/Porous an 'art boner'. Enlightening and gleefully wicked parables are intricately described by playful scenes and dioramas built of toys, electronics, food and other found human objects within Porous' sculpture installations, drawings and catchphrases.
"Porous left a very cushy job at the end of 2008 right in the storm of a global economic panic and unemployment at a all time high. Porous decided there was no better time but the present to dive headfirst into the shit, after 9 straight years of nonstop work and pressure. The 'off time' forced Porous to face some internal struggles with his mental health, after being diagnosed 'bipolar' Porous chose to physically construct his imbalances over the course of days leading up to medicated times."
– Jimmy DiMarcellis
The artist will be in attendance and refreshments will be served. A special musical performance may be enjoyed if Yong-Ki brings his drumkit and Isaac brings his trumpet. Following the thread of multiple personalities, special guest artists have also been invited to add to the installation. Treats from Anthony's Cookies, located next door to Receiver will also be featured.
April 4th — May 15th, 2009
More on Porous Walker at www.porouswalker.com