Pie in the Sky is with artist sisters Miss Mindy x CJ Metzger
Juxtapoz // Friday, 27 Aug 2010
1
This September, WWA gallery presents The Artist Sisters: Miss Mindy and CJ Metzger's Pie in the Sky exhibit. Open to the public, Pie in the Sky's gallery reception is from 7- 10pm on Friday, September 10th and runs through October 9th.
Pie in the Sky is a state of mind. Tired by the seriousness of life, The Artist Sisters want to transcend expectations and explore spontaneous feelings of all emotions ranging from silly to sullen. Their paintings and assemblages will be constructed of wood, and will adorn everything from old pie tins to vintage objects, creating a menagerie of visual delights. Also, "A Pie for a Pie", a silent black and white Pie-Fight film will feature not only the artists, but some familiar special guests 'getting it in the kisser.'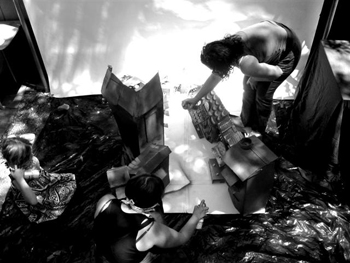 Miss Mindy's new work borders on a mix of cartoon folk and ink drawings, to her love of bizarre humor and Mae West influenced femininity. CJ Metzger's paintings gently pull at your heartstrings and tug at your empathy glands. They are modern fairy tales told in a big unruly and wondrous world.
Joining The Artist Sisters in the Project Space will be new works entitled Shiny Pretty Things by Southern California artist Kate McCavitt. Her stunning abstract Asian paintings render ancient charm with bold contrasting colors.
About Miss Mindy

Miss Mindy was born into a family of artists. With an affinity to explore mood, expressions, and bizarre humor, her narratives involve girls and imps, fairies and troublemakers of the most endearing yet bizarre sort. In addition to her fine art, Miss Mindy is an accomplished illustrator, concept, and production designer for such clients as Hard Rock Café, House of Blues, and Zippo. She was creative director on her own cartoon at Nickelodeon as has also worked with Warner Brothers in animation.
Miss Mindy has written and illustrated two books with Baby Tattoo Books Publishing, "Miss Mindy's Sassy Paper Doll Bonanza" and "Teenie Weenie Tales" which can be found in the "Artists Sisters: Box of Stories" book set. She's also stepped into the vinyl toy realm, creating a little doll named "DINK" and is in top secret works on a new toy. Miss Mindy lives and makes art in Eagle Rock, California. For more information about the artist, please visit www.missmindy.com.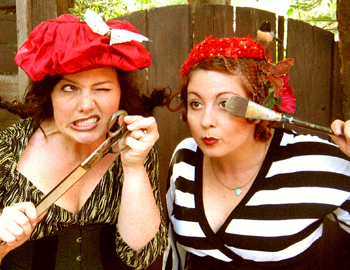 About CJ Metzger
California artist CJ Metzger is a graduate of CSULA's fine art program, attended Art Center in Pasadena, and received her Masters' in Public Art at USC. Often revealing sweet, wonderous, and sometimes somber stories of relationships between humans, animals, and the natural environment, Metzger illustrates these stories in a highly delicious and alluring way by blending surreal and whimsical imagery.
Though constantly working on her own personal artwork and exhibitions, Metzger's been on a creative roll with recent career highlights including creating art for Neiman Marcus, Hot Topic, Fred Eric, Hard Rock Café, and the Los Angeles Times. Most recently she has designed a line of limited edition vinyl toys with Mindstyle, collaborated with Miss Mindy on a book set published by Baby Tattoo Books, is working with her evil genius writer/husband Pete Metzger on developing creative iPhone apps, and is writing a novel for young readers based on one of her characters. CJ Metzger lives and works in Los Angeles, California. For more information about the artist, please visit www.cjmetzger.com.
About Kate McCavitt
Kate McCavitt is a trained Sumie artist (Chinese Brush) as well as self-taught in other genres. McCavitt fuses East and West by lavishing colorful, textured abstract paintings with the subtleties of Asian tradition. Working flat on several pieces at one time keeps her from forcing a painting into a direction too early. The use of bold, pure and strong contrasting colors compels the viewer to touch it and then disappear into the work's beauty and magic. Kate McCavitt lives and works in Oceanside, California. For more information about the artist, please visit www.bodyofwork.us.