Picasso gets Augmented Reality treatment
Juxtapoz // Friday, 18 Feb 2011
1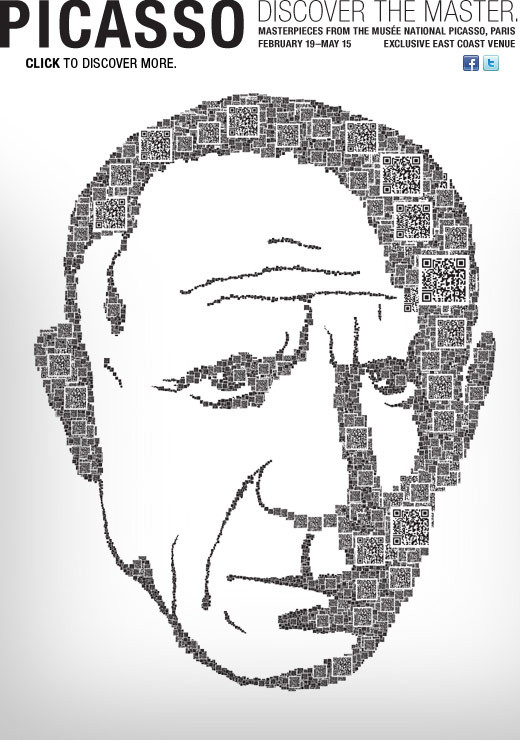 "Computers are useless. They can only give you answers." Picasso said this. Maybe they were useless to him, but they are now allowing a whole new generation to appreciate and immerse themselves in the diversity of his work.

There are a lot of Picasso exhibits each year, so the question becomes how do you make your Picasso exhibit stand out? You hire technology. That is exactly what the Virginia Museum of Fine Arts did for their Picasso exhibit "Picasso: Masterpieces from the Musée National Picasso, Paris." They used geo-tagging and QR codes to make it a full experience.

For starters, there is a website, Discoverthemaster.com, created for the exhibit that is different when accessed via a mobile phone. When "reached from a desktop or laptop, it leads to the exhibit's Facebook site." On your mobile phone, you get a separate app featuring major works in the exhibit and a place to buy tickets.

Plus, the exhibit was experimenting with QR codes, and as we all know, QR codes are not attractive. The ad agency in charge of promoting the Picasso museum experience incorporated the QR codes into a portrait of the artist. And if you go to the Facebook page there is information on geocoordinates in various cities where fans can access Picasso's work via augemented reality.

Our point is, people are taking past Masters and bringing them to a new life in 2011, allowing a new audience to experience Picasso's work on a whole new level. It gets us excited to think about the possibility of other Masters getting similair treatment. Imagine a major Warhol exhibit getting this sort of treatment and iPad experiences with his work and videos coming to life. Exciting times ahead.

More at Mashable.