Photos: Todd Francis' "New & Used" 15 Year Retrospective
Juxtapoz // Wednesday, 01 Oct 2008
1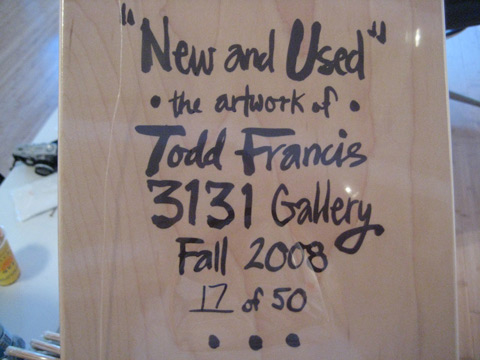 Skateboard graphic artist Todd Francis has a sweet 15 Year Retrospective exhibit up now in San Francisco, titled New & Used, showcasing over 50 new and uhh..used pieces.

Displaying his legendary imagery, including a wealth of black and white illustration, some color brushwork mixed in, as well as paintings and classic decks Francis created back in the day, New & Used is a well-deserved retrospective to a guy that's kept it real in an industry that's gone through more development and changes than our economy in the past week (or hour…hell, we've stopped even checking our 401K's.)

What makes Francis so noteworthy is his combination of obvious artistic talent with simple humor. Any discerning eye can pinpoint a good painting or graphic, but what about all those skaters that just want to rip on wood that doesn't look like shit? Francis infuses classic humor and bold imagery into his technically on-point graphic work. And that, dear Juxtapoz readers, is what makes an artist and skater one happy rider.

See and read what Isaac Mckay-Randozzi has to say about Francis' New & Used below:
New and Used
15 Year Retrospective of the work of Todd Francis www.toddfrancis.com
3131 Clement Gallery www.equaldist.com
3131 Clement St.
San Francisco, CA 94121

Sept. 26th - Oct. 30, 2008

Skateboard graphic art is an odd creature. Its main objective is to get you to buy the deck so you can scratch and slide it off. Hundreds if not thousands (worldwide) of artists make their living by making things to be destroyed. In this industry there are few that can have the range, ability and talent to make a career out of it. The Art Dump of Girl Skateboards is one such group that houses and has housed a few of these folks. But for the most part they are solitary creatures that only come out to feed on the blood of young art school students.

Todd Francis is one of these folks who for years, has been buried in his work. Compiling a vast body of work from his years as art monkey for SF's Deluxe Distribution and work from his current position at Element Skateboards. Over 70 pieces were framed for the show but due to space issues only 54 were hung. These were whittled down from over 150+ brought up from LA in the weeks prior, and some Mr. Francis sent.

At the opening, Tommy Guerrero with friends played and small children danced in between adult legs that looked at animals attacking humans, nature overtaking means of war, lone wolves, and smoking whirlwinds; vengeful service works, smoking roaches, and a gator mounting a butterfly-collector.

The bulk of the content is black and white illustration with some color brushwork mixed in. The new additions to his lexicon of animal husbandry are 3 large painting called "When Animals Rape." Only one depicts an actual rape- that of the previously mentioned plucking of the collector. The other two show moments post coitus: a bear and a park ranger, a guide dog and blind man. Reading it in the cold hard text of the pixel is no match for seeing the humor in each of the brush strokes, gentle smirk of the bear or the half chub the park ranger hides as he crawls away. Seeing it in person is all that it takes to forgive any social ill they convey. Humor can make almost anything funny.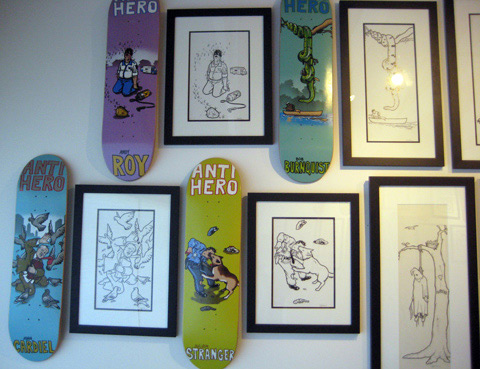 This is Todd's favorite series from back then. A day before the show he bought the decks from a collector. His had been misappropriated by someone years prior.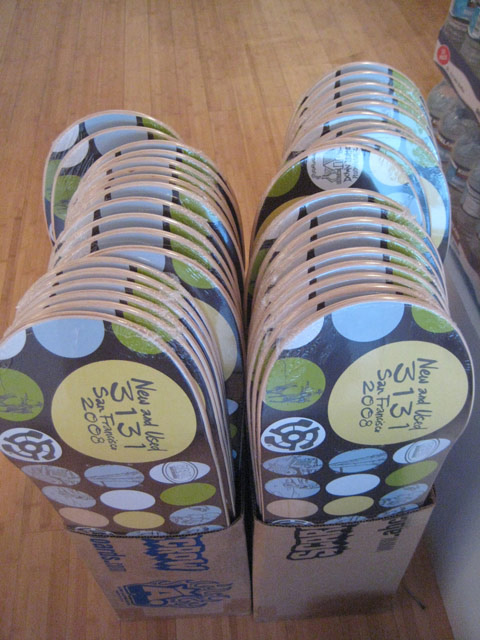 Boxes of decks.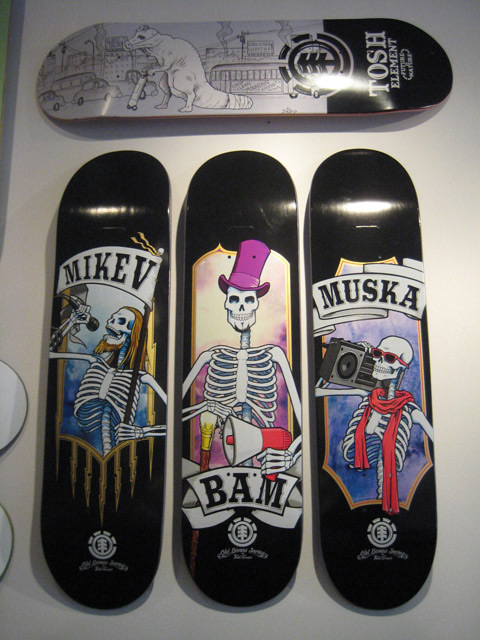 Old Bones series from Element. Todd's signature series.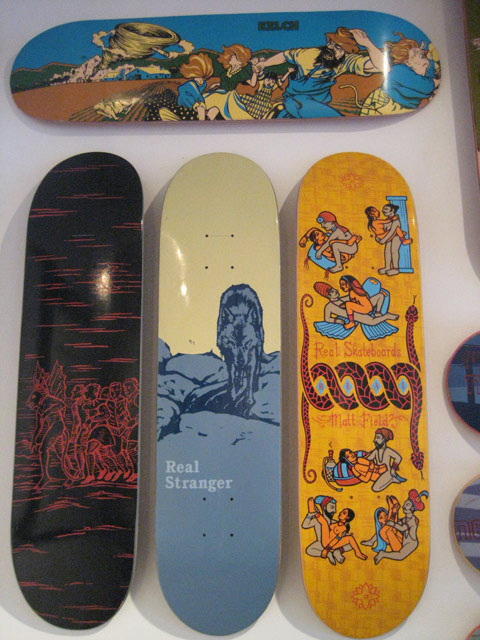 Some of the last silk screened decks before the industry changed over to heat transfer graphics.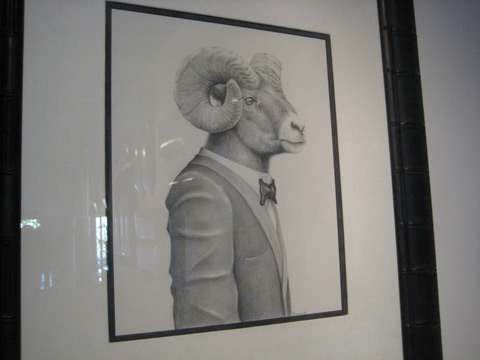 Pencil on paper drawing.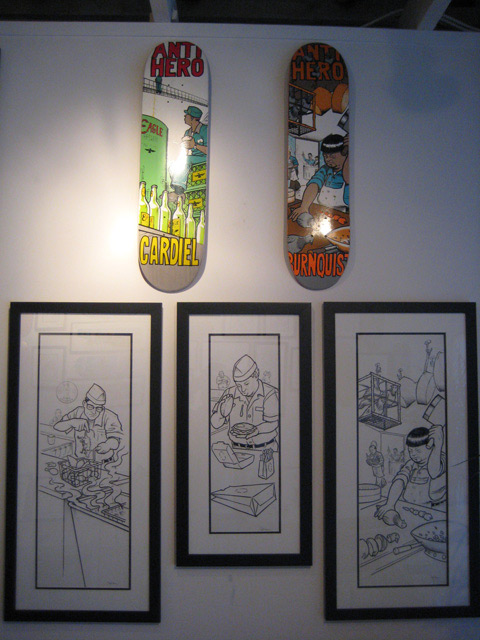 Disgruntled worker series from Anti-Hero skateboards.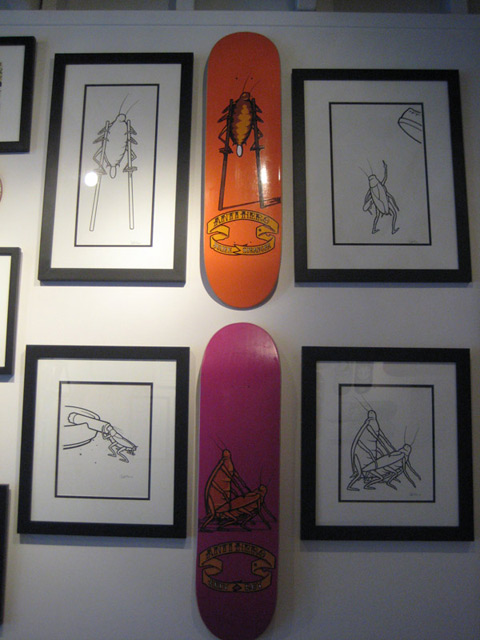 Roach series.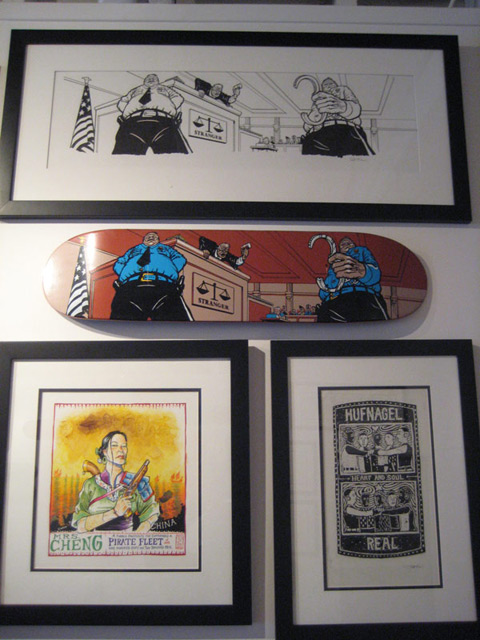 The top illustration and corresponding deck was Todd's first board graphic.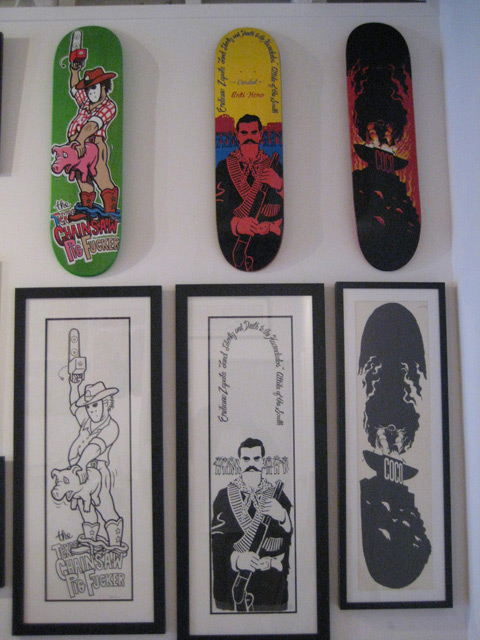 Decks for Real and Anti-Hero.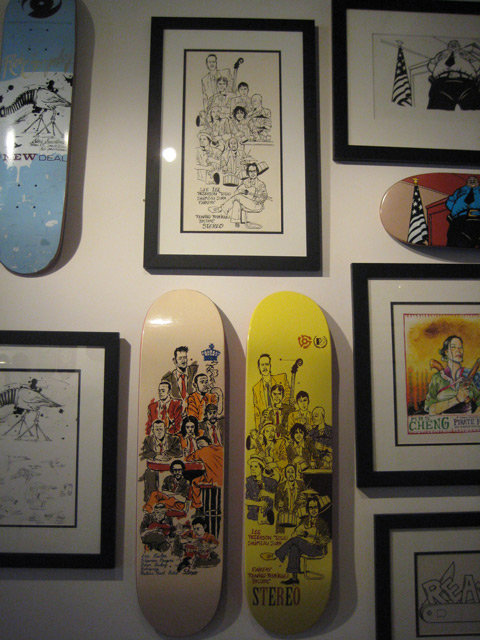 Old and new team decks for Stereo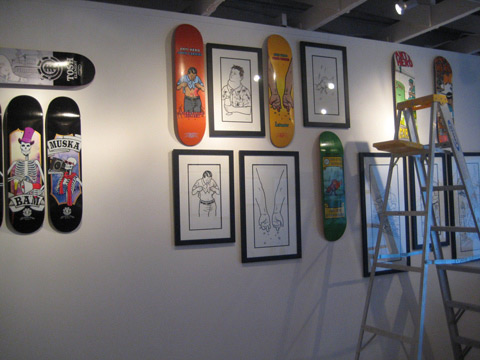 Set up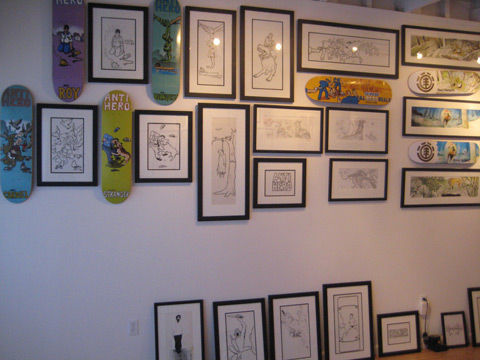 Some of the art that couldn't fit on the walls.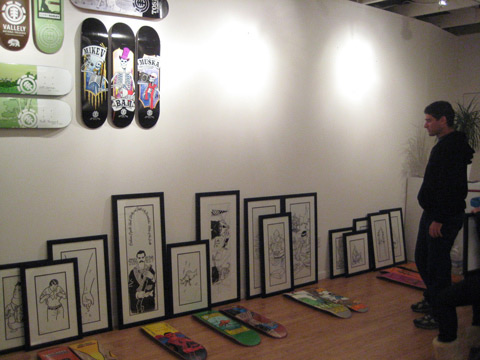 Mr. Francis picks and weighs his options.



A day before the show and he was finishing up the last new painting.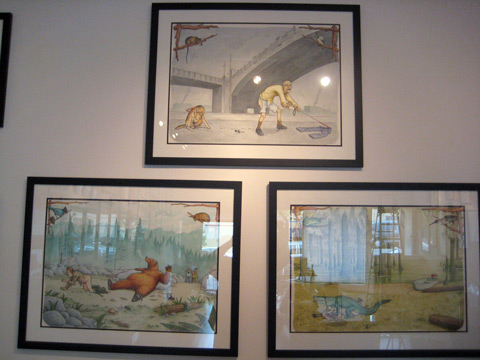 The new works - When Animals Rape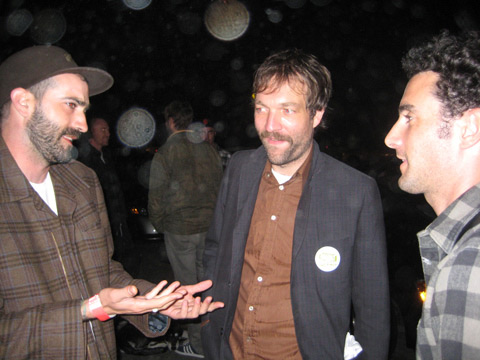 Artist Jeremy Fish, photographer Richard Hart, and SLAP Magazine editor Mark Whiteley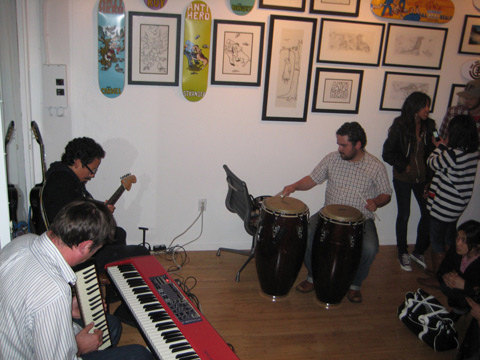 Tommy G. and friends played a great set.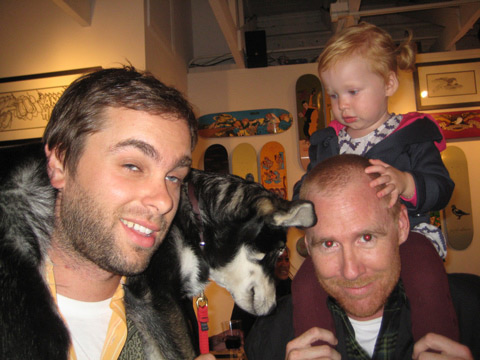 Matt Irving and Element team manager with daughter.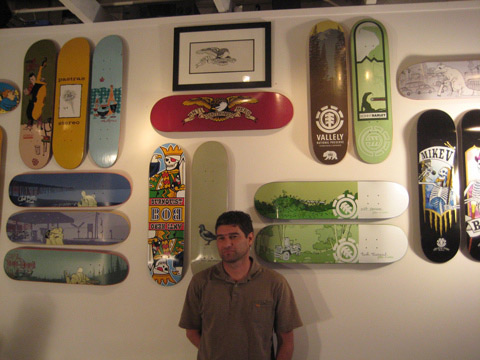 Mr. Francis and some of his decks.