Photos: The Mars Volta & Jeff Jordan
Juxtapoz // Wednesday, 06 Feb 2008
1
While New Year's Eve is just a distant hangover for many of us, The Mars Volta New Year's Eve Extravaganza at the Bill Graham Civic Auditorium was a night not soon forgotten.
The opening sets by DJ Nobody, Peanut Butter Wolf, and The Eternals, along with the first-ever acoustic performance by The Mars Volta, brought a diverse dose of auditory foreplay before TMV spanked on the amplifiers for a full electric set beginning just before midnight.
As thousands of costumed attendees danced in and out of the main stage between sets over the 7+ hour "Extravaganza" (in the full sense of the word), one could hope to stumble upon the in-venue gallery of Jeff Jordan. Jordan, the "almighty" visual appendage of the Volta, and beautiful surrealist extraordinaire, was himself in full form: costume and all.
If the 40-foot tall replication of Jordan's newest painting, Revelation draping the stage was not enough of a visual fix for Volta fans, it was an incredible novelty to walk out of the main stage and into a room of Jeff's original paintings, as well as the artist himself. Amongst some of the his more iconic paintings on display (Catch of the Day, Chestnut Mare, Harvest) was the breathtaking Revelation (the original a demure, though ever striking, 16" x 20"), as well as the original painting of Agadez, which now adorns the cover of the new TMV album, The Bedlam in Goliath.
For all of you Jeff Jordan and The Mars Volta fans, the night was a dose of inspiration large enough to last through 2008. Here's hoping there's enough to share vicariously through these photos. Happy New Year! Again.
Words and photos by Cascade Wilhelm.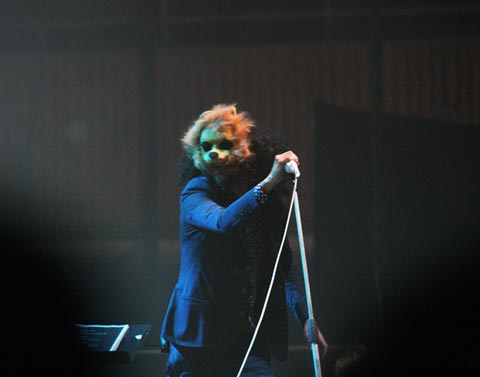 Cedric Bixler Zavala of The Mars Volta, in one of his many masks during their electric set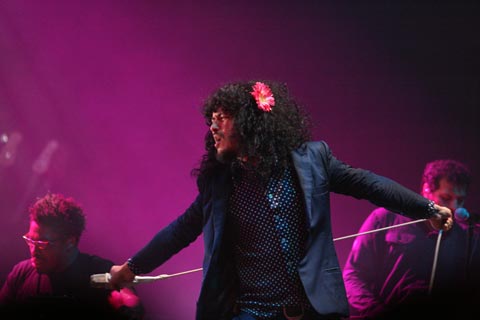 TITLE: Pretty in Pink (The Mars Volta)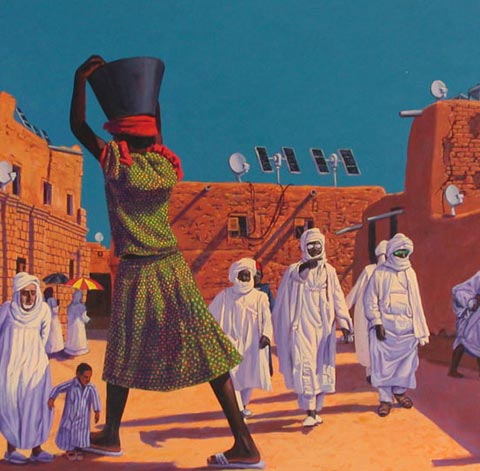 TITLE: Agadez by Jeff Jordan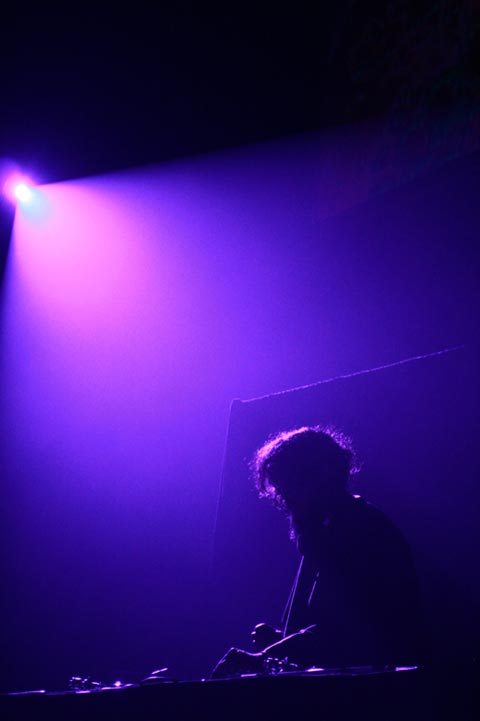 DJ Nobody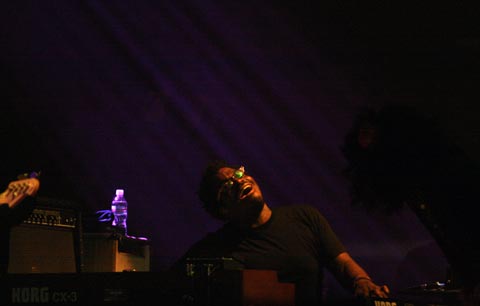 Ikey Owens of The Mars Volta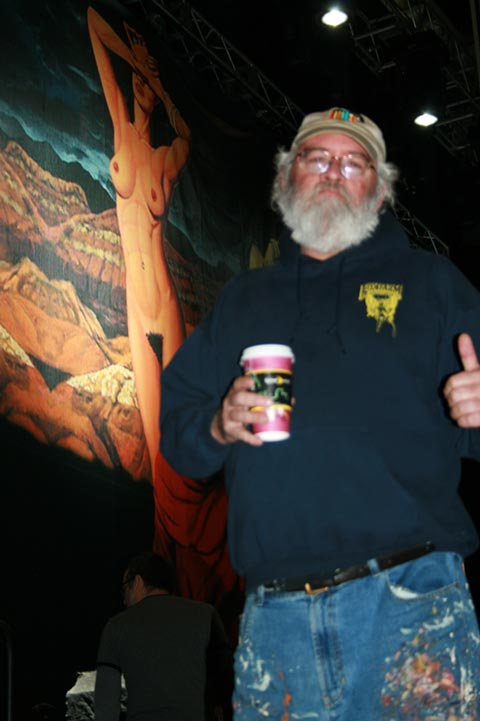 Jeff Jordan in front of his 40 ft. Revelation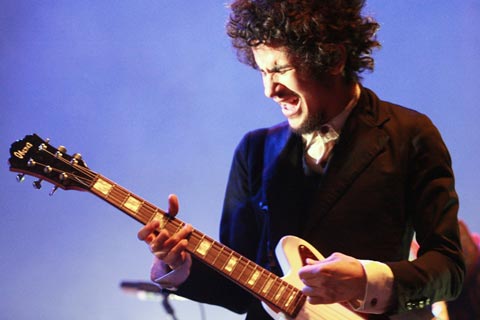 Omar Rodriguez Lopez of The Mars Volta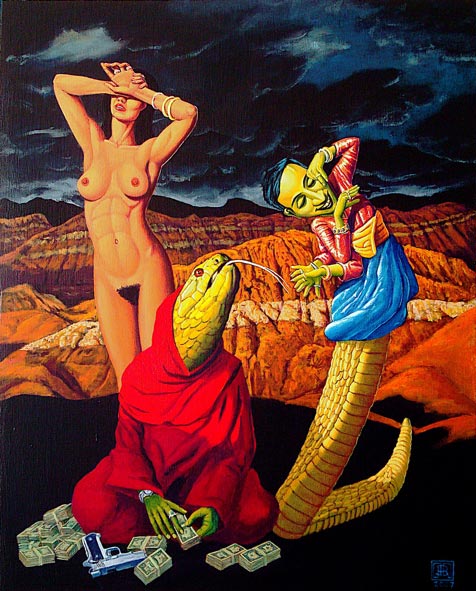 Revelation by Jeff Jordan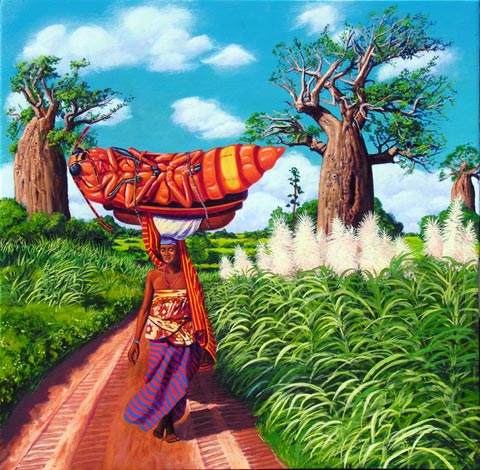 The Firefly by Jeff Jordan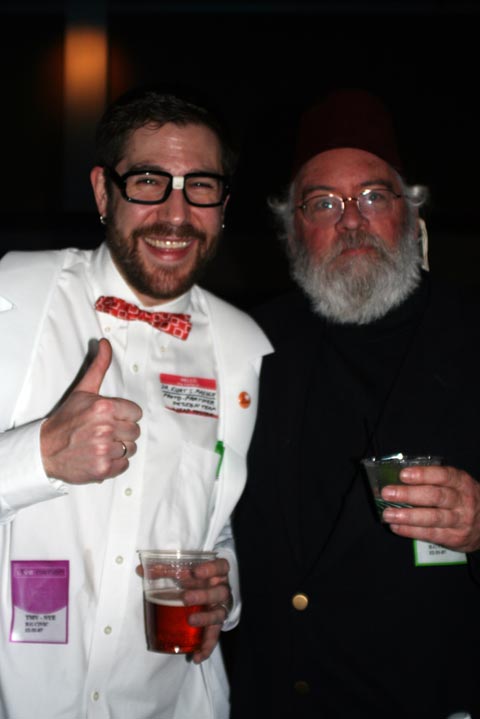 Jeff Jordan with Bizarro writer Jeremy Johnson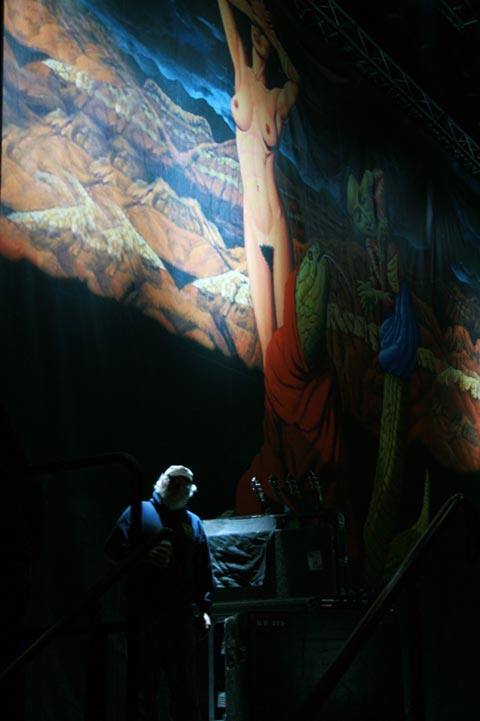 Jordan with Revelation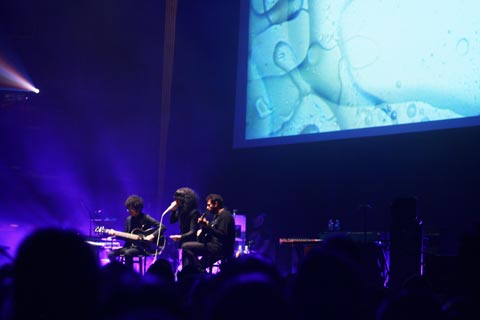 The Mars Volta acoustic set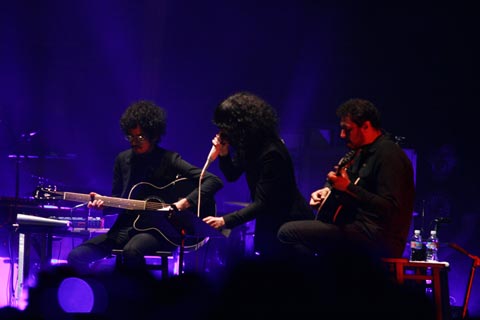 The Mars Volta acoustic set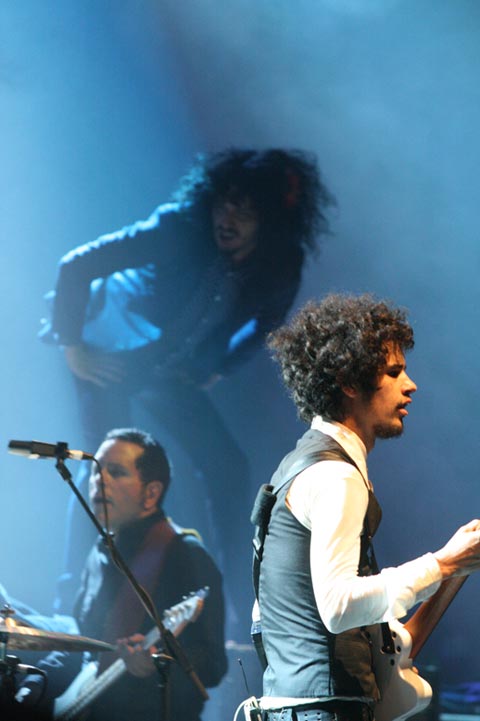 The Mars Volta