Photos: Shag & Calma at Jonathan Levine Gallery
Juxtapoz // Tuesday, 25 Nov 2008
1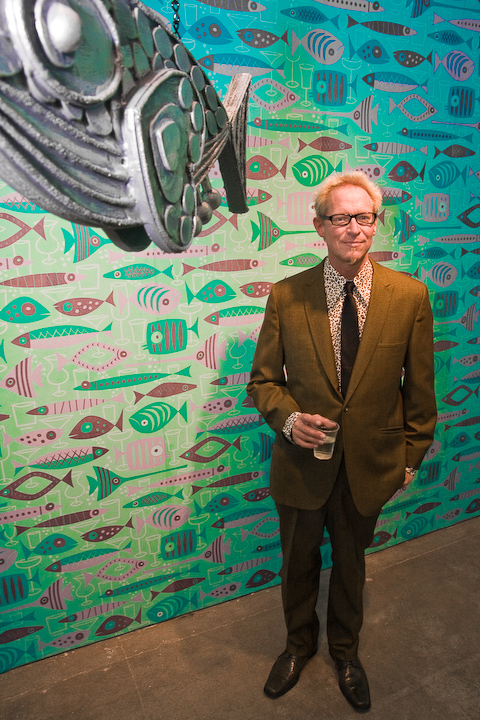 Los Angeles-based artist Shag (above) and Brazilian artist Stephan Doitschinoff aka Calma (below) took Manhattan's Jonathan Levine Gallery by storm in the recent opening of their respective solo shows, Voyeur and Novo Mundo.

Both artists were in attendance, and needless to say both talents (and, we suppose, their incredible artwork) attracted some of the most influential and fun-loving folks of the Big Apple and beyond.

Take a look for yourself in the photos our buddy George Koroneos shot below...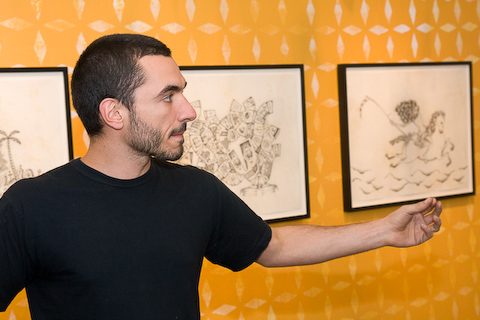 Shag: Voyeur
Stephan Doitschinoff aka Calma: Novo Mundo
November 22, 2008 through December 20, 2008
Jonathan Levine Gallery
Words and photos by George Koroneos
Shag is back in New York City and Manhattan is a little bit swankier for it. The king of lounge culture presents Voyeur, a collection of paintings framed in a widescreen format that gives the viewer a look into a world of fun, mischief, and laid-back debauchery. The usual suspects are along for the ride: Tiki gods, black cats, and sultry maidens adorn most of the paintings, embellished with mid-century modern furniture and blinding with color. Meanwhile, Levine's side room has become an aquarium of sorts, spotlighting Shag's designer wallpaper amidst three wooden fish sculptures, painted to look like steel.

In the side room, Calma - the pseudonym for Brazilian street artist Stephan Doitschinoff - presents Novo Mundo, a collection of mixed media work teeming with devils, religious iconography, and layers of gold painting. The room itself is covered in flags adorned with laughing demons, and a video by the artist is blasted against one of the walls.

At Friday's VIP opening, Shag split time with his family and fans, sipping wine and looking every bit as cool as his paintings. Calma sketched on blackbooks and signed for fans while chatting with the New York graffiti elite. The show will be running through December 20, 2008. Visit www.jonathanlevinegallery.com for more info.
More on Shag at www.shag.com
More on Calma at www.stephandoit.com.br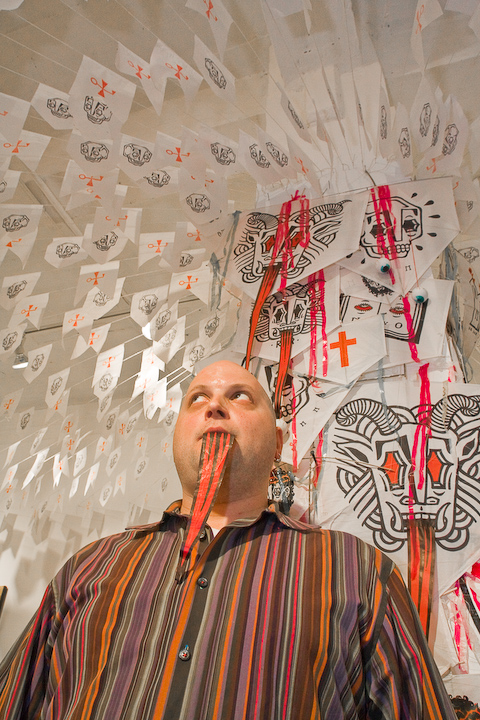 A devilish Jonathan Levine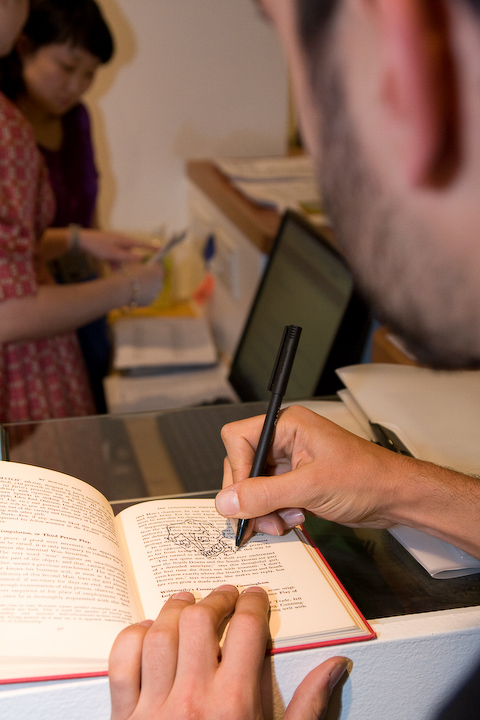 Calma sketches for his fans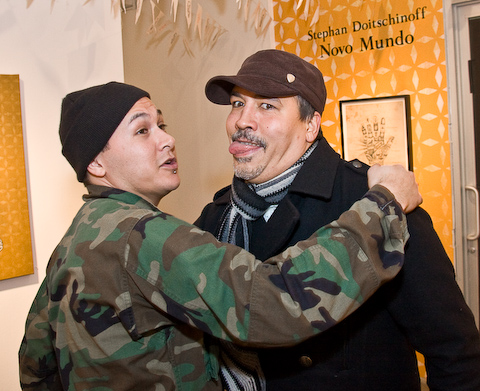 Ian Kuali'i and Doze Green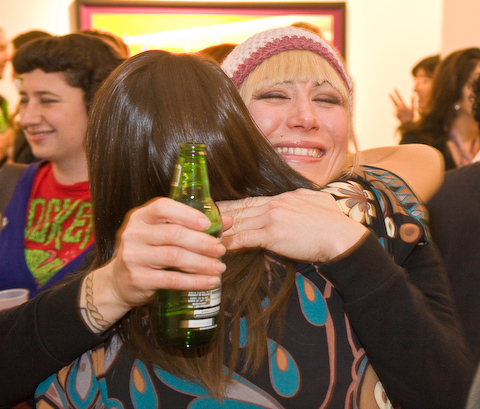 Tara MacPherson hugs it out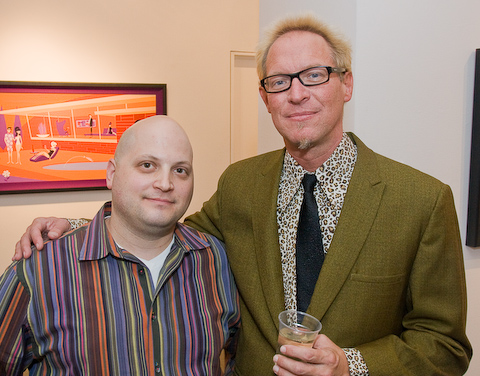 Jonathan Levine and Shag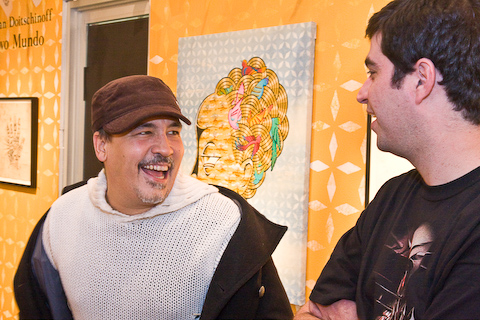 Doze Green and Eduardo Saretta (of Choque Cultural Gallery in Sao Paulo, Brazil)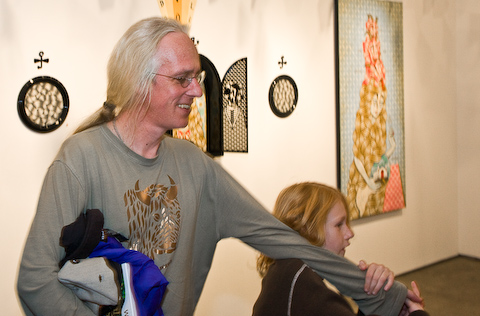 Art critic Carlos McCormick dragged out by his son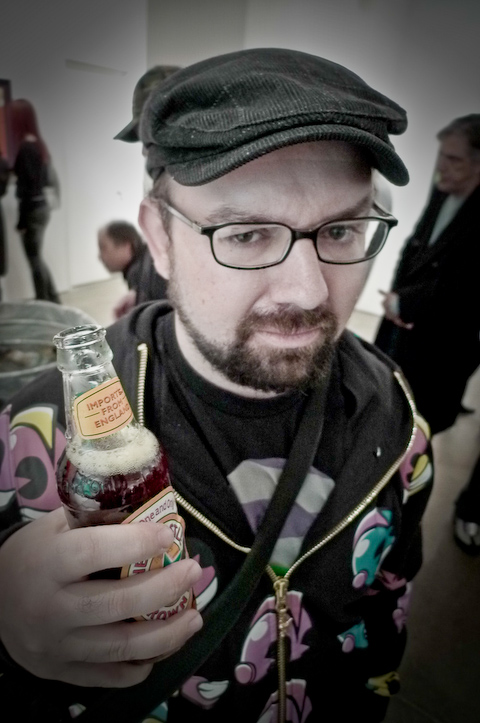 Curator Dylan Evans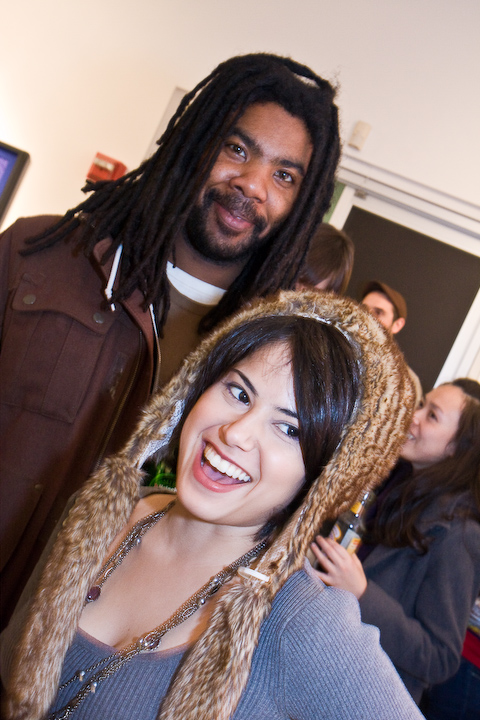 Randy and Allie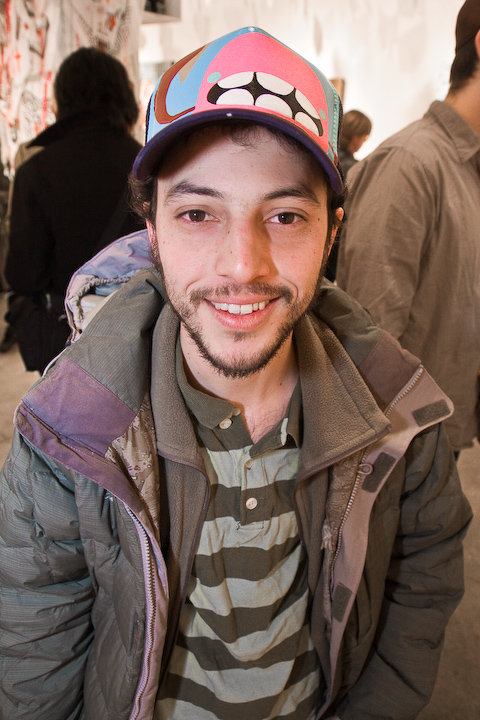 Artist Max Lust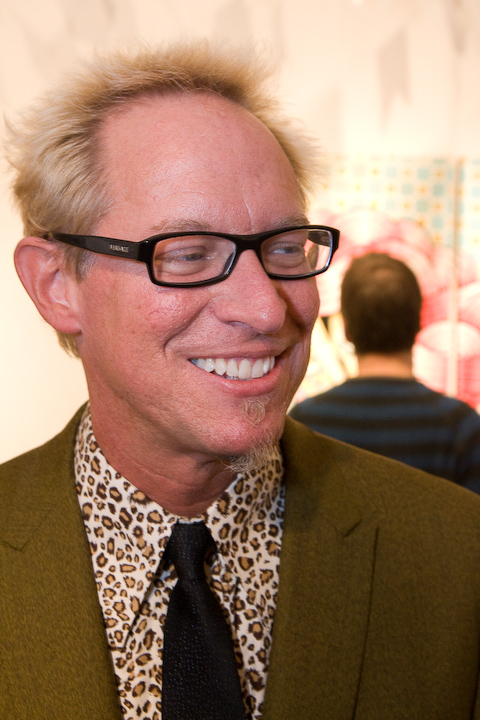 Shag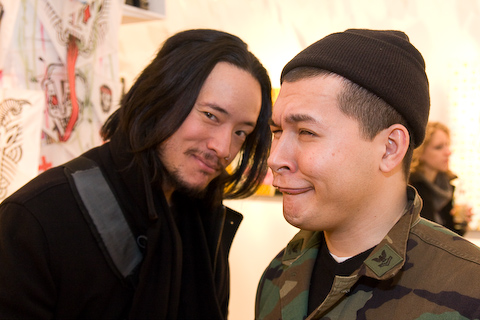 Steve Lew and Ian Kuali'i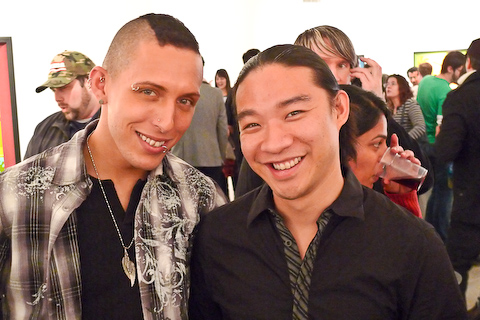 llan Santos and Allan Wong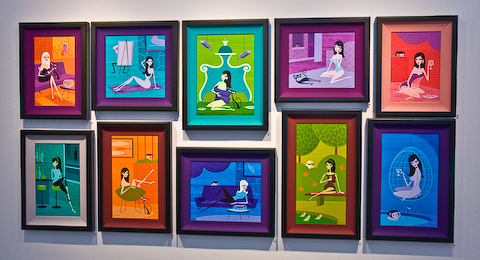 A cluster of Shags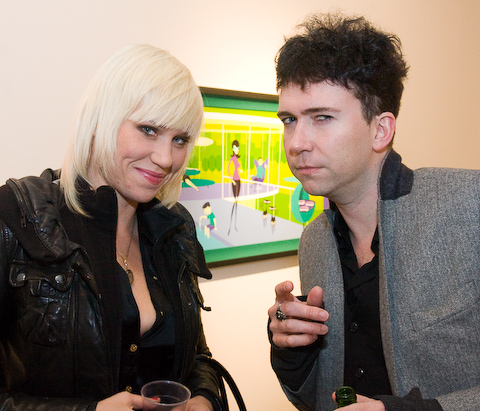 Dr. Lila Wolfe and Raveonettes singer Sune Rose Wagner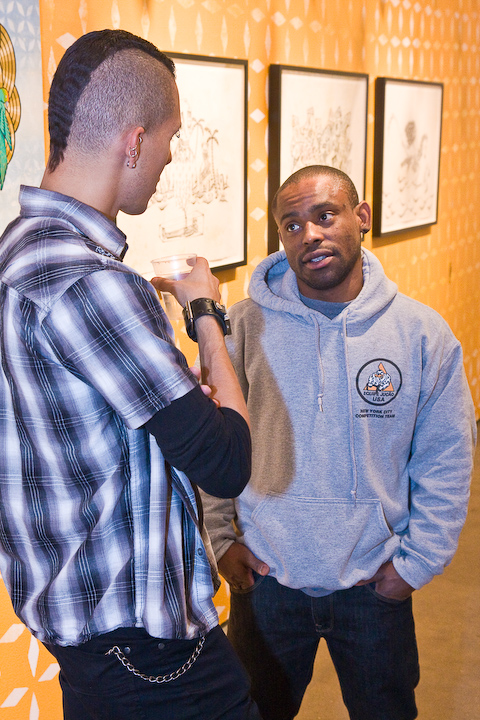 Allan Santos and James Simmons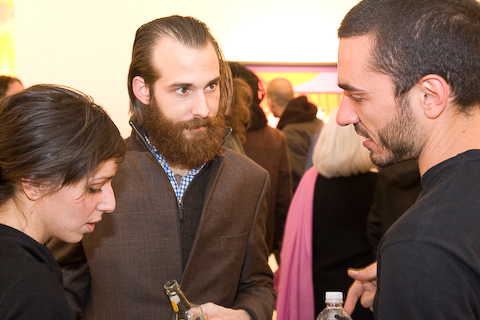 Neda Lang and Keith Lang chat up Calma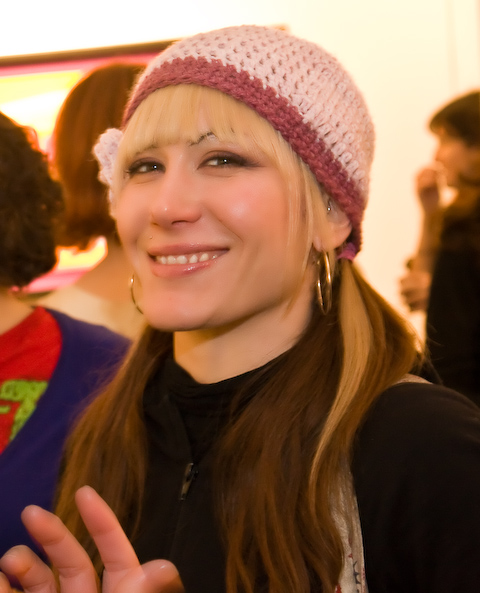 Tara MacPherson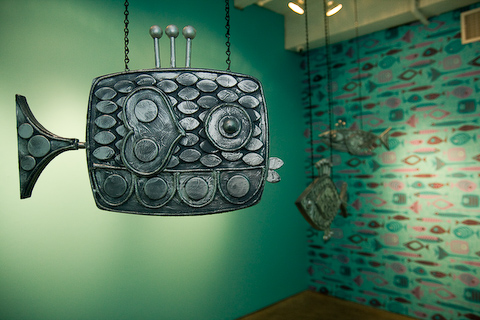 Shag's steel fish are given their own room to swim around.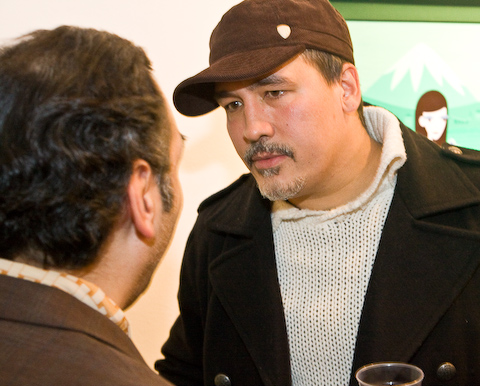 Doze listens intently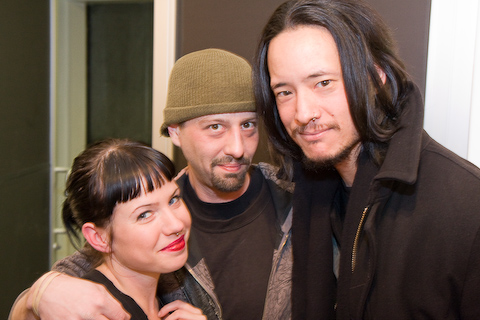 Tanya Dearmond, Kevin Bourgeois, and Steve Lew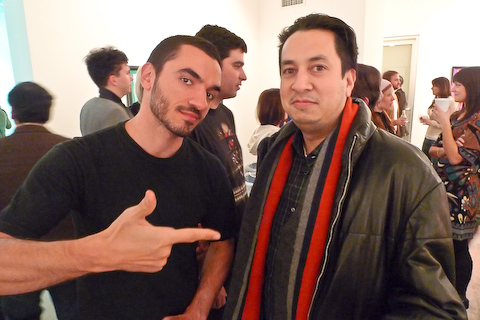 Calma and Craig Costello
More on Shag's Voyeur and Calma's Novo Mundo at www.jonathanlevinegallery.com