Photos: "Demimonde: The Art of Molly Crabapple"
Juxtapoz // Monday, 11 Feb 2008
1
Curated by $pread editor, and sex-positive author Audacia Ray, Demimonde marks the debut of fine art illustrator Molly Crabapple's large scale, meticulously detailed pen and ink watercolors.
"It's like where's Waldo for the depraved," laughs Crabapple, while striking a slyly coquettish pose between sips of champagne at her VIP preview.
The overriding themes of the show, she says, are ambition, money, sex, and artifice… and yes, more sex. Each picture overflows with highly stylized depictions of personas that have caught the attention of Crabapple in some way or other—from Buck Angel, the buff, female-to-male transsexual porn star (who stands in the corner at the preview talking with artist and Tara McPherson roommate Anthony Pontius) to Flambeaux, a fire eater who performs regularly in the Lower East Side at The Box, an ultra-exclusive adult dinner theater which is also featured in the artwork.
Friend and Fleshbot contributor Lux Alptraum adds, "Yeah, Molly is amazing. She's obviously super talented, but you can also jack off to her work."
The Puerto Rican/Jewish artist has drawn comparisons to everyone from Aubrey Beardsley, to R. Crumb, but maintains a distinct style that's very obviously her own. It's also in peak form and on fine display in this show. Her work has appeared in The New York Times, Wall Street Journal and (surprise!) Playgirl. She's also the creator of Dr. Sketchy's Anti-Art School, a cabaret life-drawing class that now has close to 50 branches across the globe. This show marks the largest scale watercolors she's produced to date. The show runs through April 4 at Arena Studios in New York. Also check Mollycrabapple.com for more info.
Words by Kristopher Monroe.
Photos by Arian Camilleri.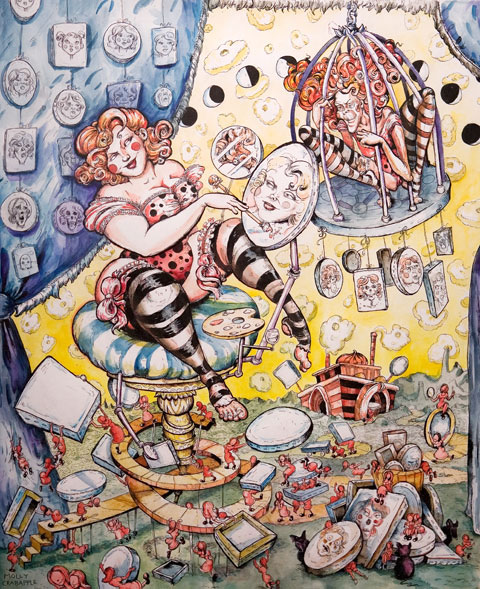 Dorian Deconstructed 1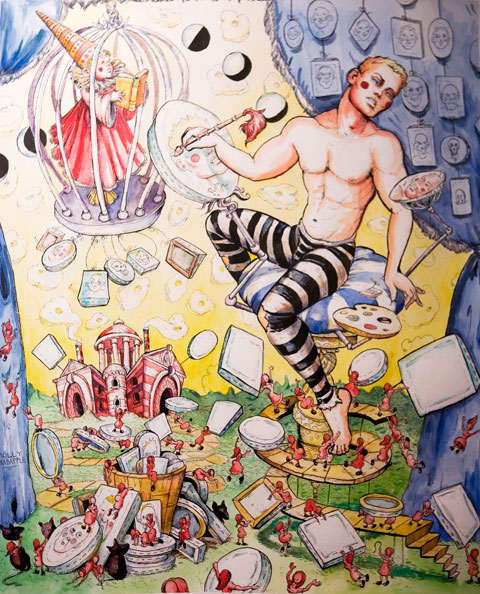 Dorian Deconstructed 2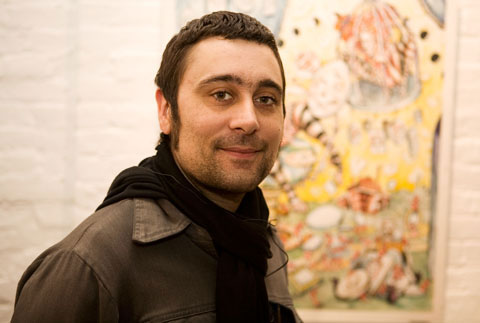 Painter Anthony Pontius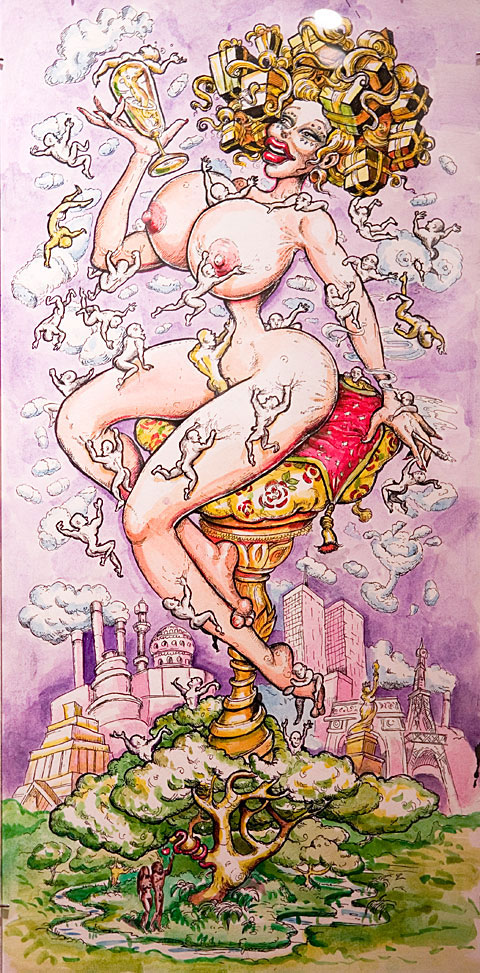 Civilization and Its Discontents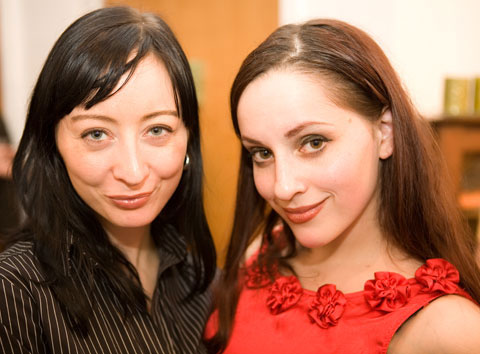 Comedian Jennifer Dziura and Molly Crabapple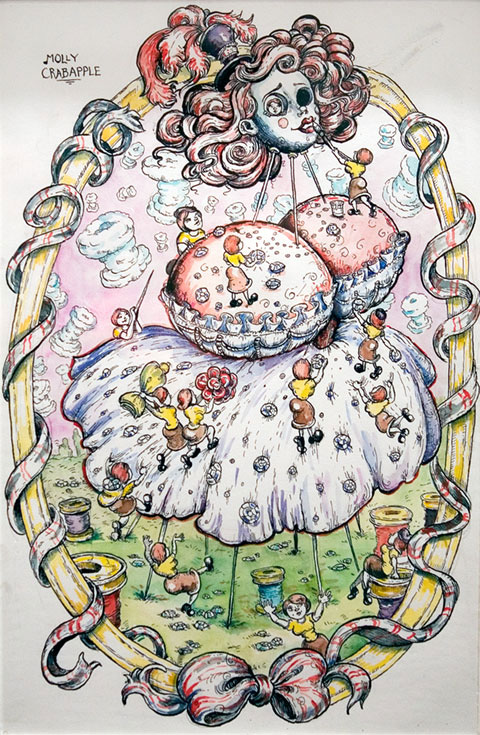 Extreme Couture 1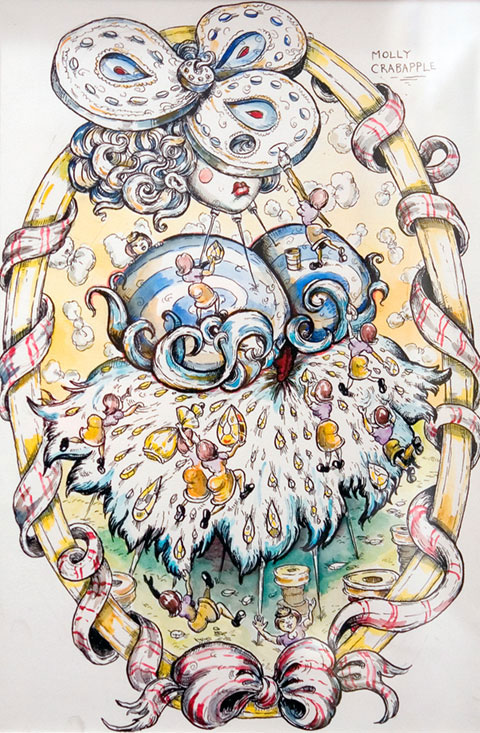 Extreme Couture 2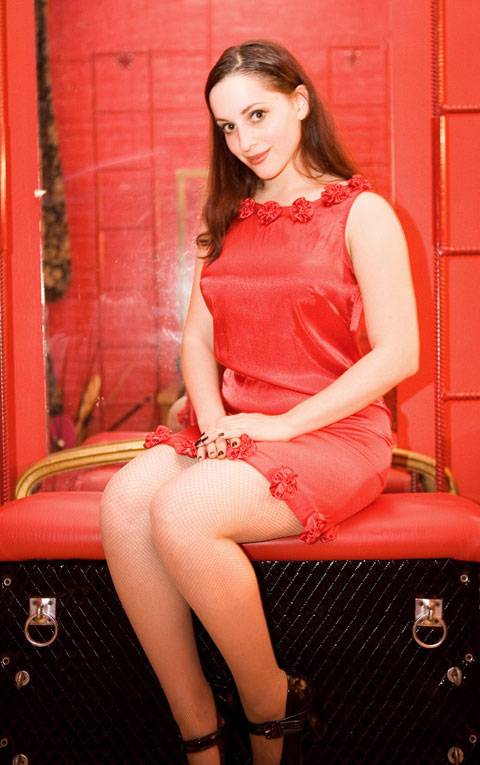 Molly Crabapple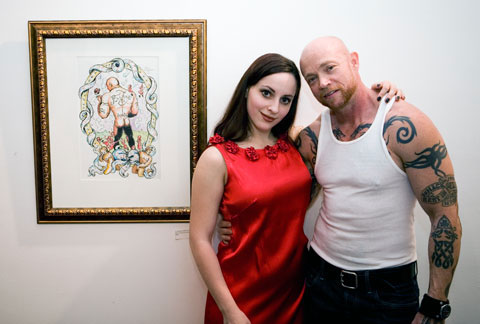 Molly and Buck Angel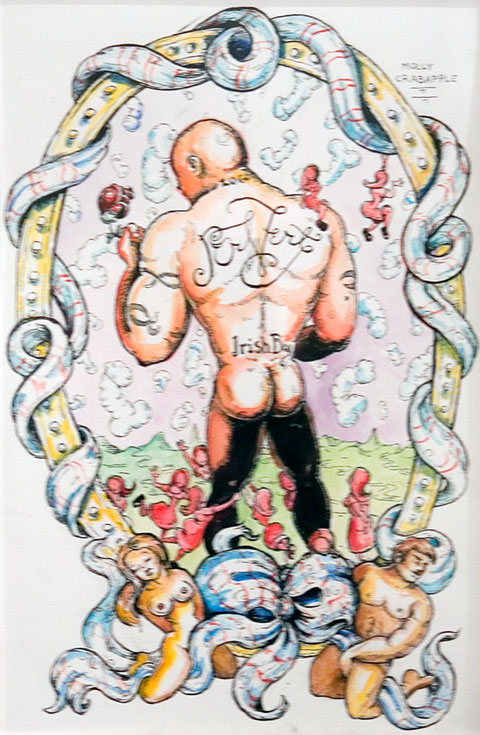 Close-up of Molly's portrait of Buck Angel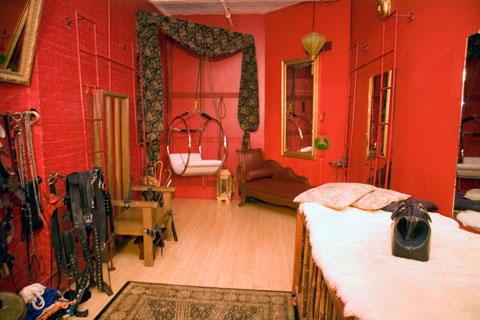 Sex room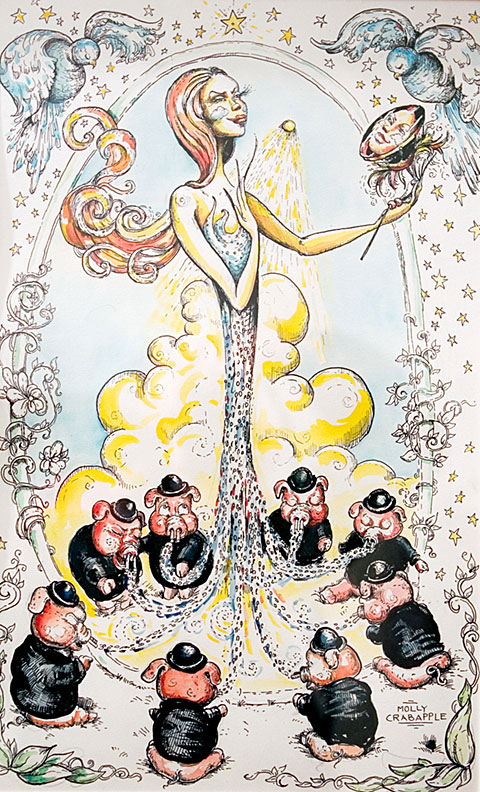 Gutter Glitter
Larisa Fuchs and Molly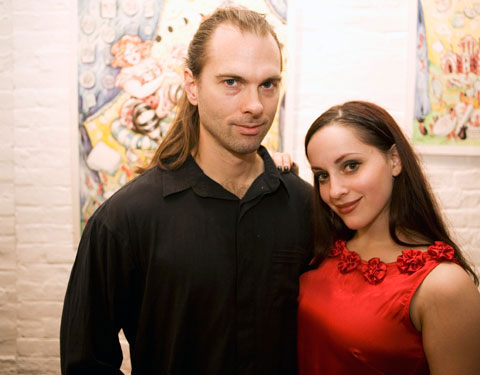 Molly with her boyfriend, Fred Harper