Photos: Jeff Soto's Riverside Museum Opening of "Turning In Circles"
Juxtapoz // Tuesday, 16 Dec 2008
1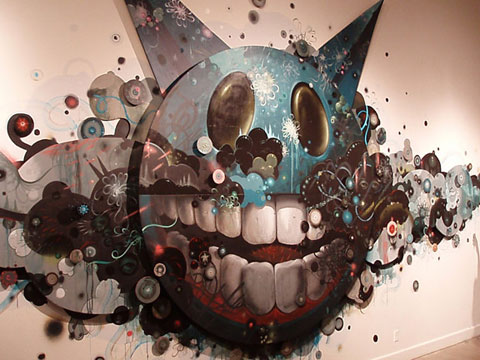 Unless you've camped out under a rock for the past few months, you already know that Jeff Soto's first museum exhibition, Turning In Circles, opened with a reception this weekend at Southern California's Riverside Art Museum.

This exhibit marks a major feat, for not only for our friend Soto but for the entire world of contemporary art, as being awarded such a major showing rarely happens in the ever-expanding and fiercely competitive world of museum art for "pop surrealist" painters. This ain't no small gallery space, this is the real museum deal.

Soto graces the Riverside Museum walls with approximately 20 new paintings and a large 50-foot wall installation, transforming the exhibition space into his signature colorful and surreal fantasy land.

Fellow artist Nathan Spoor attended the opening and passed some photos of the evening and Turning In Circles our way, which you need to see right here.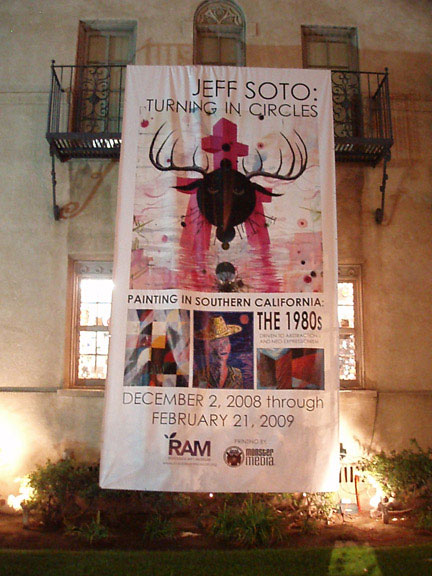 Massive sign welcomes visitors to the Riverside Museum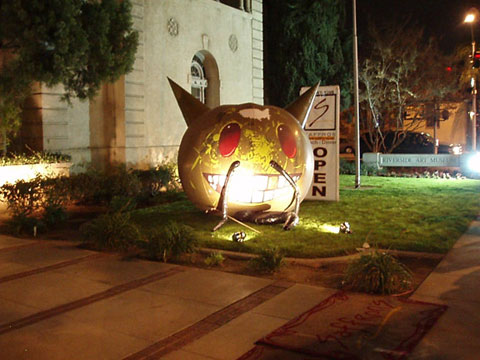 Along with this huge trademark Soto inflatable character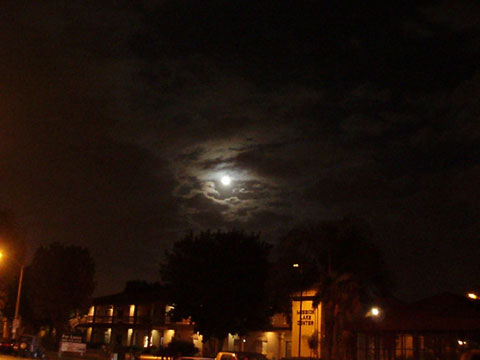 Quite an ominous night sky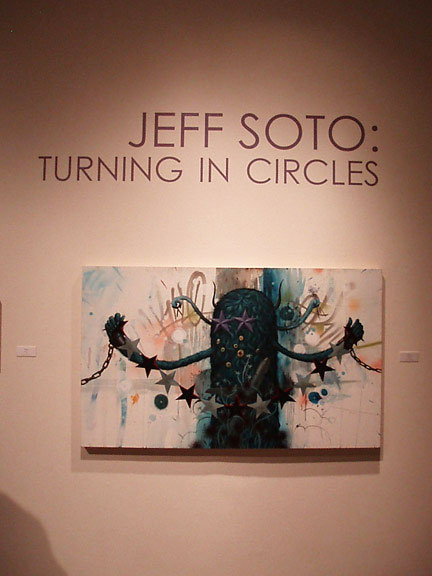 Welcome to Jeff Soto's Turning In Circles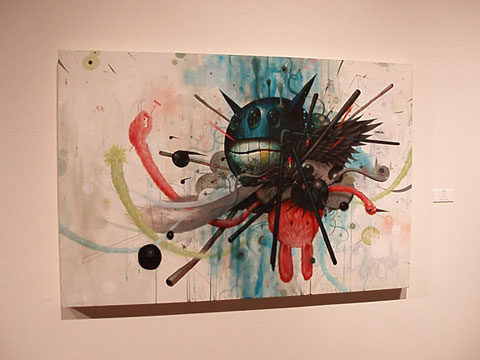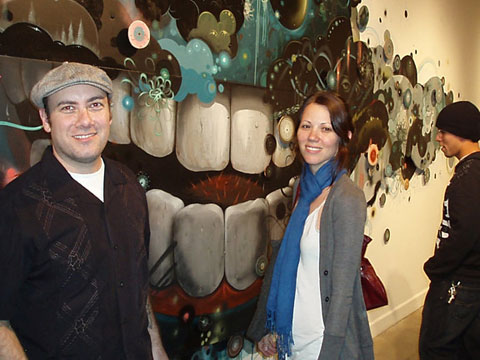 Jeff Soto with artist Lola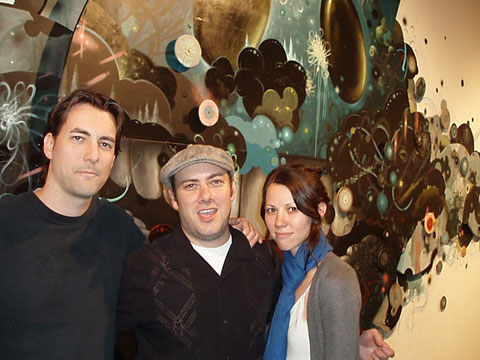 Nathan Spoor, Jeff Soto, Lola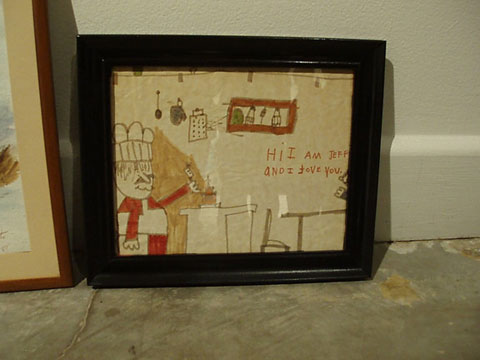 Apparently this is the first recorded Soto piece, brought in by his Grandpa to keep him in check so all this museum business doesn't bloat his ego.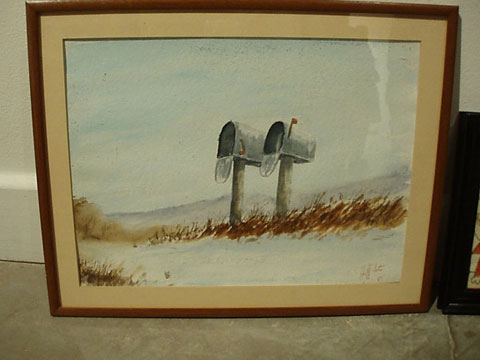 Soto's first painting done when he was a boy. When we were kids, we thought stick figures were a challenge, but then again we can't paint like Soto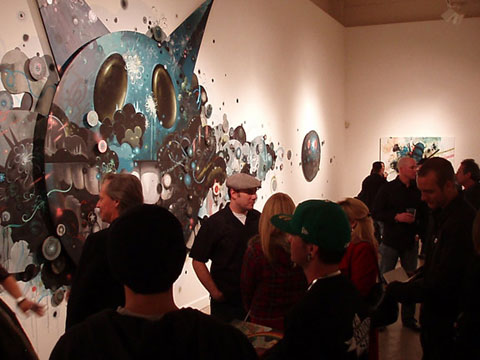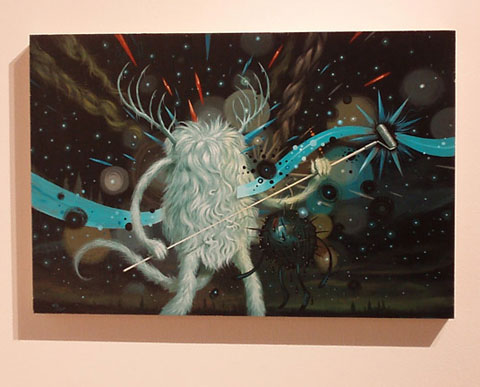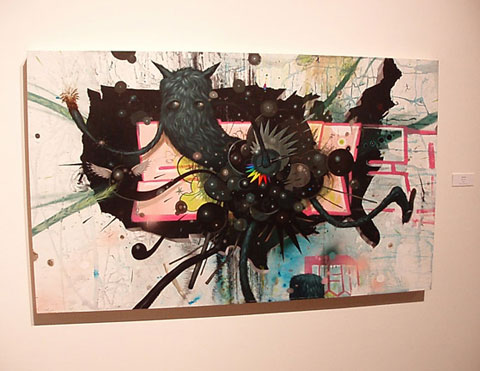 Jeff Soto will have you Turning In Circles at the Riverside Art Museum.

In his first museum exhibition, now on display, Soto shows off his paintings from the last 12 months. With approximately 20 new paintings and a large 50-foot wall installation, this promises to be an exhibit that will rock the Southern California town of Riverside.

"This is my first museum exhibit, and probably my last show in Southern California for a couple years," Jeff told Juxtapoz. You know what that means: get yourself to Riverside and catch him Turning in Circles before it closes February 21, 2009!
Nowadays, painting in southern California is all over the place, stylistically as well as geographically. But it has been adopted with particular verve by one still new, rapidly evolving genre. The manifold sources for this new genre, from graffiti to cartoons to psychedelia to car (and surf/skateboard) customizing and on and on, provide these self-styled, technically adept "lowbrow" or "newbrow" or "pop surrealist" painters with an immense variety of styles, subjects, attitudes, and rhetoric's.

Riverside artist Jeff Soto has achieved an especially prominent place among the legions of "newbrow" painters. In his work of the past couple of years, Soto has reached a clarity of intent, as well as pitch of technique, that embodies a true vision – true, that is, to his grasp of reality, not just to the making of a richly faceted yet coherent image. Soto made his reputation on visually assured, pictorially ambitious paintings; now, he is challenging himself to produce visually challenging, even unstable imagery, imagery that reflects back at us something more than our need for entertaining stimulus.

Soto's new, perhaps more focused direction, an onset of musings on the perilous state of the world, came about in response to the birth of his daughter. The work is now rooted in the visual vocabulary of children (not, by the way, in their crude visual grammar) and is driven not by the adult preference for tales of caution but by the kids' own predilection for personifying all they desire and fear in a clearly delineated community, or species, of creature-characters.

The work, according to Soto, is also rooted in his deep ambivalence about his (and his daughter's) environment. Although born in Orange County, Soto spent his youth in Riverside, discovered art at Riverside Community College, and continues to live here. The Inland landscape "is a common element [in] my paintings," Soto notes, identifying "gentle rolling purple hills," "dead dried up brush," a "rogue palm tree on the horizon," and even the Raincross as recurring motifs in his recent art. ("The smoky smog layer sometimes makes an appearance, as does decaying signage and oil pumps…") To Soto Riverside, with its down-to-earth ambience and diversity of communities, encapsulates the world - even more concisely than does nearby, but fantasy-absorbed and mask-wearing, Los Angeles.

Jeff Soto wants that salty ambience and visual-cultural diversity to suffuse his paintings. He is, after all, making a statement about humanity, never an easy thing to do, much less do eloquently. And he wants to make sure that we understand that he falls on the side of the "little guy." Soto - like so many artistic champions of the working man – doesn't aim for eloquence, but in his persistent refinement of his art he may achieve it.

-Peter Frank, Senior Curator, Riverside Art Museum.
Jeff Soto's Turning In Circles will be on display through February 21, 2009.
Please visit www.riversideartmuseum.org for further details.

More on Jeff Soto at www.jeffsoto.com