Photos: Greg 'Craola' Simkins' "Seeing Things" and Anthony Lister's "Magic Trick"
Juxtapoz // Friday, 06 Feb 2009
1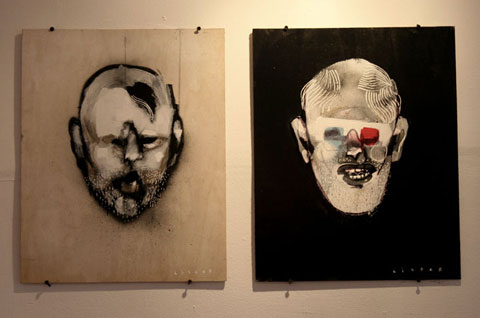 Couldn't make it out to see Greg 'Craola' Simkins' (Juxtapoz #74) and Anthony Lister (Juxtapoz #81) last night at FIFTY24SF Gallery for their respective solo show openings, Seeing Things and Magic Trick? Too bad. You missed an excellent night.

For Craola's show, a continuation of the It Wanders series, Simkins presented his twisted sideshow, an outlandish mash-up of fantasy creatures, old masters and surreal still life. Being the great guy that he is, Greg was on hand to answer fan questions, doodle in sketchbooks, and autograph his Upper Playground Walrus vinyl toy.

Lister, the Australian-born, Brooklyn-residing acclaimed artist, took a departure from his downtrodden superheroes and abstract monkey portraits to present an insightful interpretation of his life and photographs, many of which were derived from his recent book, Tales of White Trash Prophecy. The highlight of the show included a "superhero" taped, gagged and bound who was struggling to break free for most of the night and then eventually successfully freed himself in true hero fashion.

If you didn't get a chance to attend either of last night's openings, the shows will both run at FIFTY24SF until February 26th, hero not included.