Photos: David Choe x Rob Sato x Joe To at Metropolis
Juxtapoz // Wednesday, 09 Sep 2009
1
Starring in Choe's curated show are fellow urban art luminaries Rob Sato and Joseph To. Praised for their careful nod to traditional Eastern folk art as well as contemporary influences, the artists mirror Choe's approach in both their precision and undeniable sense of humor.

About the Artists:
Sacramento, California's Rob Sato, celebrated as the author and illustrator of comic book Burying Sandwiches, is recognized for his almost compulsive desire to follow a joke to its bitter end. In layers of imagery with settings both mundane and fantastic, he creates a tiny world full of larger-than-life imagery, replete with side stories, symbols, disguises, tricks and the occasional red, white or blue herring.
Joseph To attended College of the Arts with his friends Rob Sato and David Choe. A natural illustrator, To applies his childhood love of comics and pop culture to his modern drawing and paintings, detailed, intimated snapshots centering on what he calls "sometimes bittersweet, damaged goods."??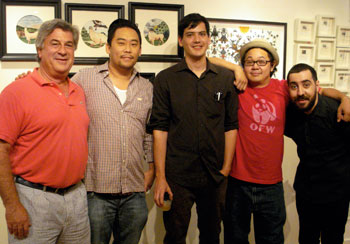 Famed collector David Rosenfeld, David Choe, Rob Sato, Joseph To, Angelo Madrigale of Metropolis Gallery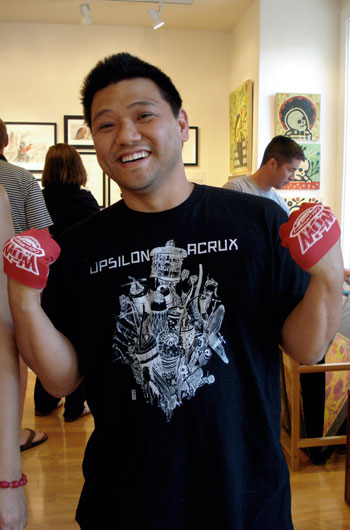 Harry Kim, filmmaker of the David Choe documentary Dirty Hands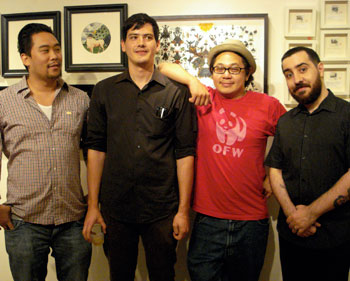 David Choe, Rob Sato, Joseph To, Angelo Madrigale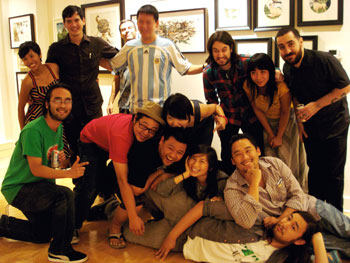 Gang of people including David Choe, Rob Sato, Joe To, Harry Kim and many other friends and family.
All photos taken by Lisa Madrigale. More on Flickr here.

Make sure to catch the extended feature consisting of an interview David Choe conducted with Sato and To in our September 2009 issue.