Photos: Beach Blanket Bingo A Summer Mixer
Juxtapoz // Friday, 07 Aug 2009
1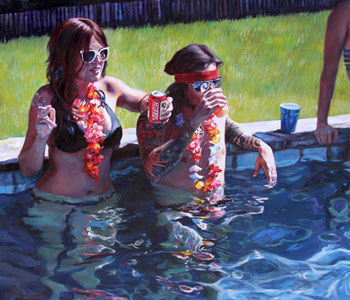 Sure, this summer's been the pits in NYC—tons of rain and humidity—but that didn't stop Jonathan LeVine from sparking up these dog days with a huge group show and bash on Wednesday eve.

Casa LeVine broke out the inflatable tiki gods and palm trees and filled the coolers with some Pabst Blue Ribbon in celebration of "Beach Blanket Bingo," a 30+ artist exhibit featuring some of the biggest names in art and some amazing up and comers.

A good chunk of the creative types in the show came by on Wednesday for the opening mixer, including Natalia Fabia (who had the greatest punk bassist in the world, Jay Bentley, by her side), Adam Wallacavage (premiering a pair of adorable bunny and elephant chandeliers), and Dan Witz (showing a massive painting of an equally gigantic mosh pit).

The display of work ran the gamut of styles, including a set of stunning and creepy statues by the master of marionettes Scott Radke, Ron English's well endowed bovine woman, visual oddities by Turf One, and Fabia's voyeuristic paintings that seemed so photorealistic they even stumped this photographer from a few feet away.

There are so many great artists on display that the show is worth a second look. Luckily, you have most of the summer to visit. The show is on display through August 22.

For more information, visit www.jonathanlevinegallery.com

Text and photos by George Koroneos.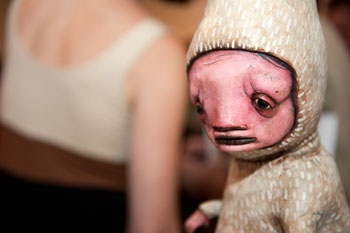 Scott Radke's creepy delight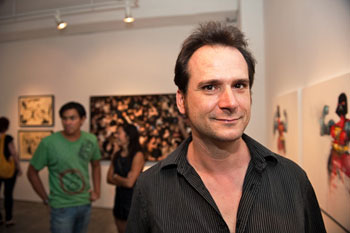 Nicola Verlato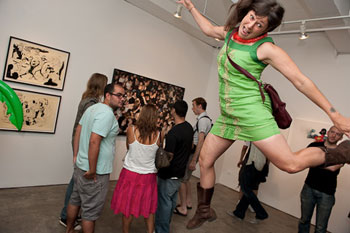 Meredith Dittmar gets air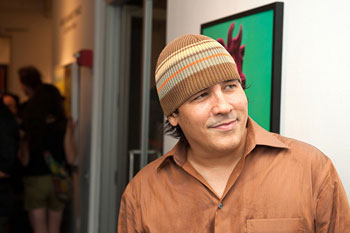 Doze Green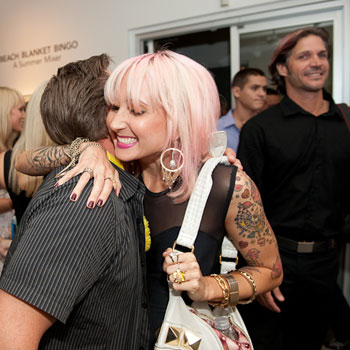 Natalia Fabia hugs Adam Wallacavage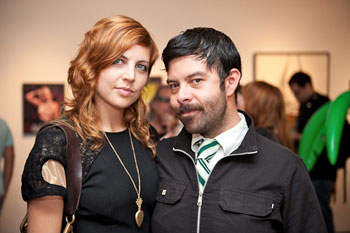 Korin Faught and Carlos Ramos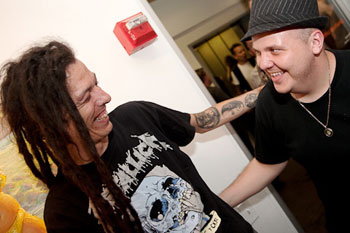 David Stoupakis and Andrew Ford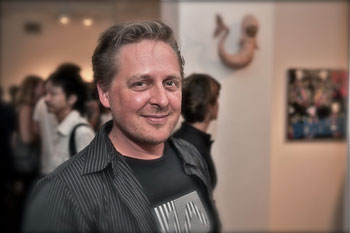 Adam Wallacavage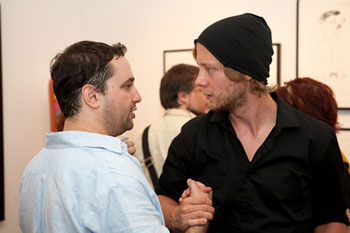 Joshua Liner and Martin Wittfooth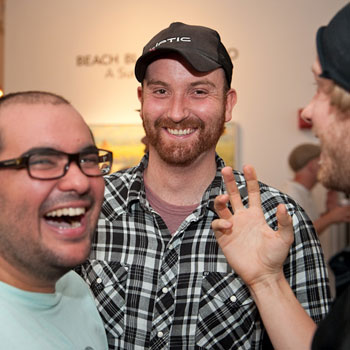 Jon Todd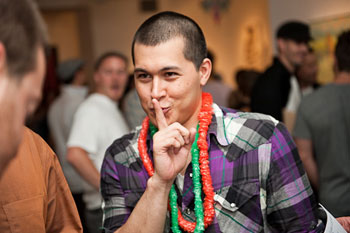 Ian Kuali'i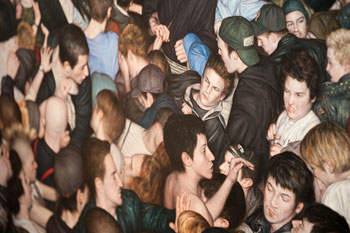 Close look at Dan Witz's "Mosh Pit"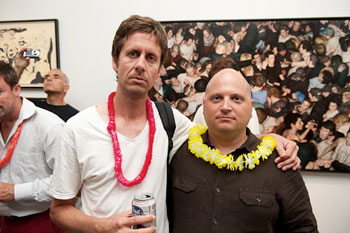 Rick Froberg (artist in the show) and Jonathan LeVine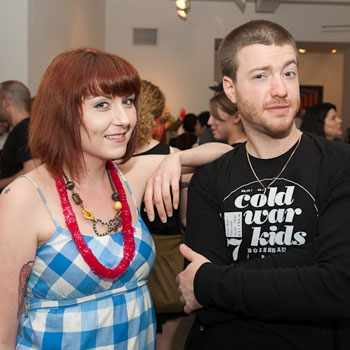 Lori Zimmer and Nicholas Forker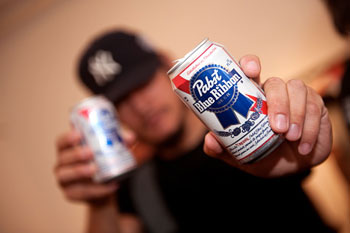 Pabst on ice all night long (Steve Lew, hand model)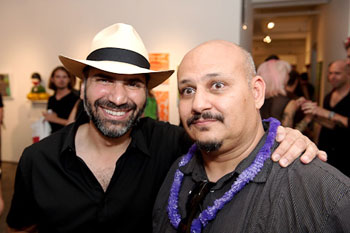 Ron Dominguez and Michael Mararian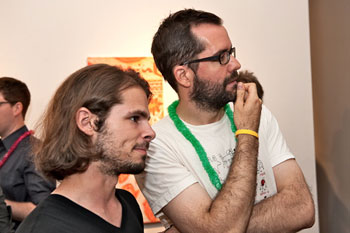 Eric White (right) and friend take in the scene.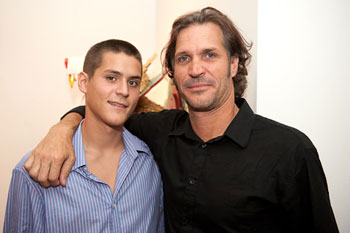 Bad Religion bassist Jay Bentley and son.

Jonathan and Dan Witz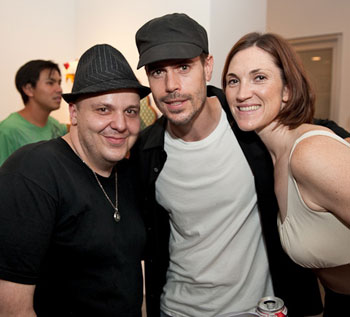 Andrew Ford, Elbow-Toe, and Mrs. Toe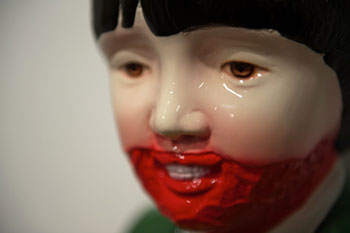 Close look at Louie Cordero's Lead Brother Bust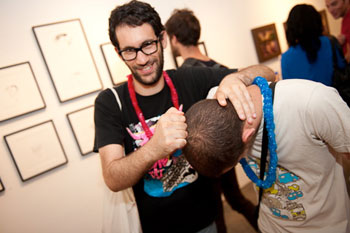 Nuggies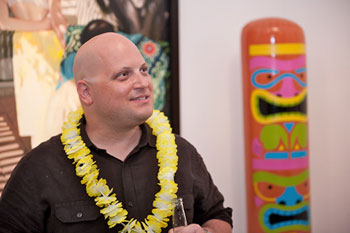 7 O'clock Tiki Time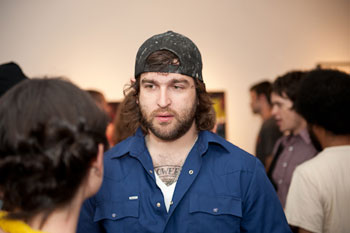 Nicholas Bowers (of Obey)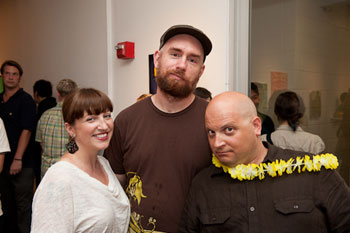 Logan Hicks and wife with Jonathan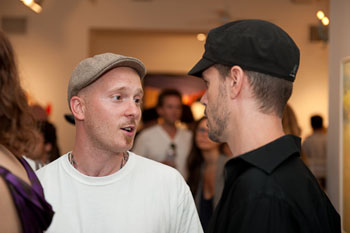 Turf One and Elbow-Toe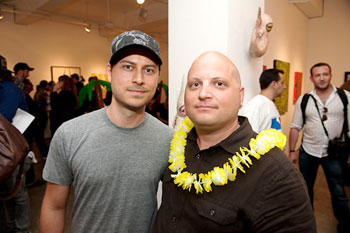 Francesco LoCastro and Jonathan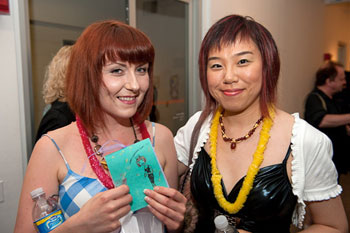 Birthday girl Lori Zimmer gets a gift from Xiaoqing Ding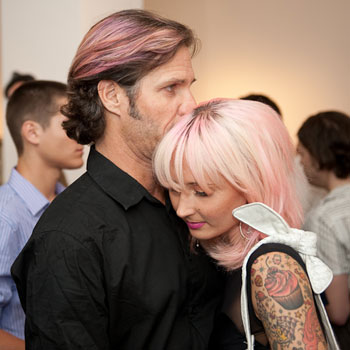 Warm embrace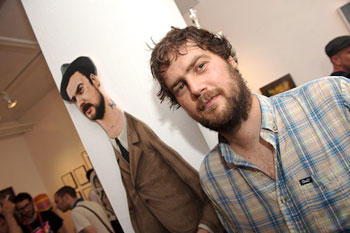 Turf One's muse (neck tattoo not included)