Photos: Australia's "Semi Permanent"
Juxtapoz // Wednesday, 09 Apr 2008
1
Conservatively, Semi-Permanent packs enough inspiration to fuel the creative minds of Australia-- at least until the next year rolls around. The two-day conference brings together a diverse group of art-based professionals willing to enlighten a big, eager audience.
The presentations are flanked by several off-site shows including, Curvy5, a celebration of women artists and designers and Kids Today, presented by Stupid Krap, and 1000 Cans, a solo show by Hiroyasu Tsuri.
This year's highlights included talks by Australian painters Ben Frost and Anthony Lister, photojournalist Spencer Platt, Pixar animator Andrew Gordon, and artist Amy Sol.
Lister presented his talk on the morning of April 5th, bringing to the stage a superfluity of photos, videos, music and his live performance piece from Kids Today, a handcuffed Spiderman who fell victim to Lister's pellet gun.
When asked what he hoped people would take away from his talk, Lister replied: "That there is hope for these people on this little island who feel like they're little people on a little island. I guess America is just a big, beautiful place full of opportunity and you just have to get out and get within it. […] I hope people are going to feel compelled to take my advise that money is only good for eating and traveling and they're going to eat good food, have good dinners with friends and travel."
Sol presented that afternoon, taking her time to explain aspects of her practice, from initial studies to final paintings, and the solitude of working as voraciously as she does. Along the way, she shared images of her newest works and gave a shout out to the Australian wildlife.
"I don't think I've even spoken to more than five people at one time before," said Sol. I've never even spoken in front of a class at school. Obviously, I had a little bit of anxiety but actually, I felt humbled due to the fact that I got invited to come here, flown out to Australia and all I had to do was talk for an hour. I felt that I owed something, which kept me focused on stage."
Semi-Permanent continues touring to Perth, Brisbane and Auckland, New Zealand this week.

Words and photos by Alana Armstrong.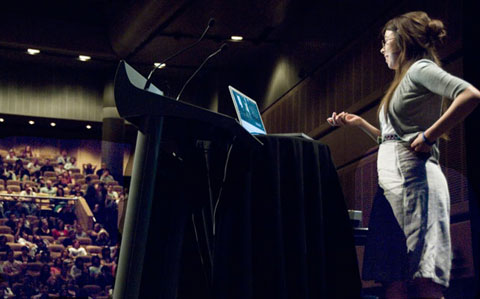 Amy Sol speaks to the Semi-Permanent 2008 audience about her paintings and practice.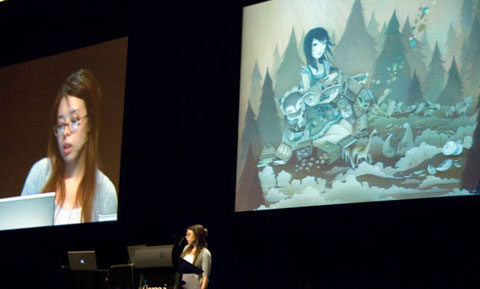 Amy runs through some of her most recent works.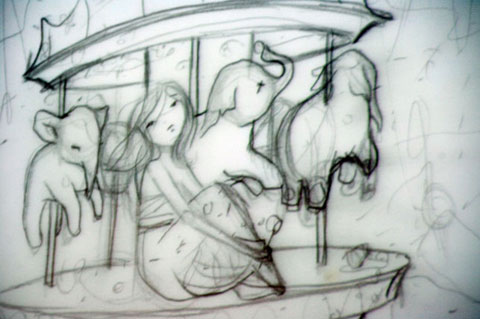 Initial sketch of Amy's newest work, finished before she left for Sydney.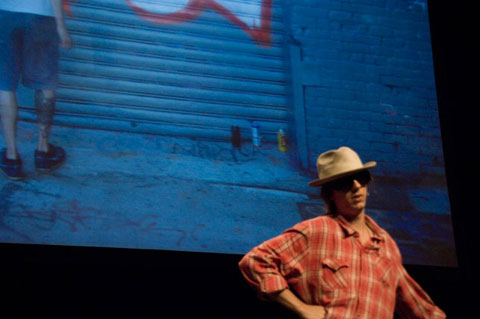 Anthony Lister during his talk at the Semi-Permanent 2008 conference.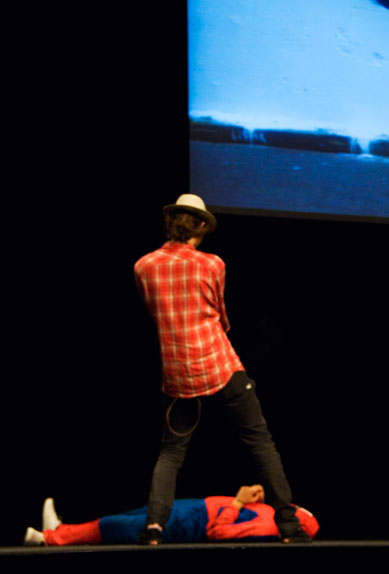 Lister showers pellets on Superman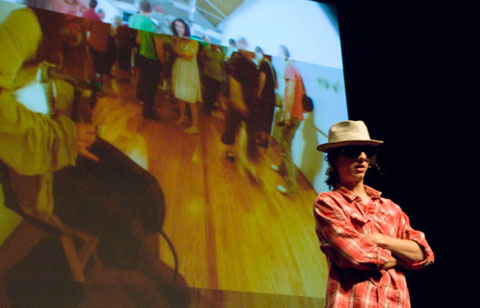 Lister's so hot, he's gotta keep the shades on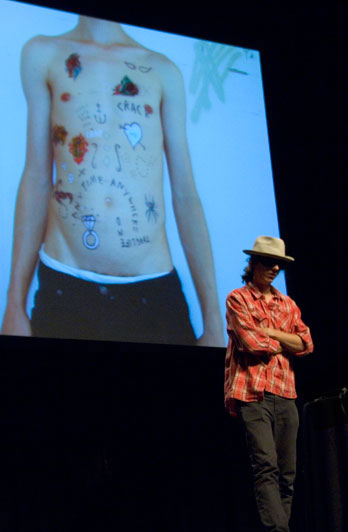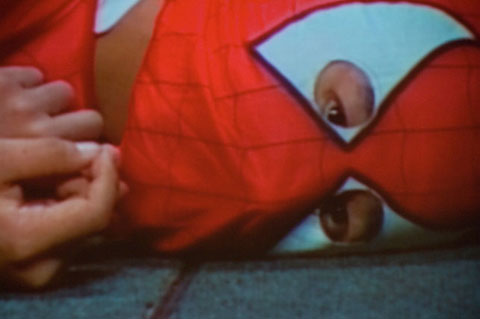 Even the mighty fall
More on Semi Permanent at www.semipermanent.com/sydney