Phil Frost's "Paperweight: An Exhibition of Works on Paper"
Juxtapoz // Monday, 23 Mar 2009
1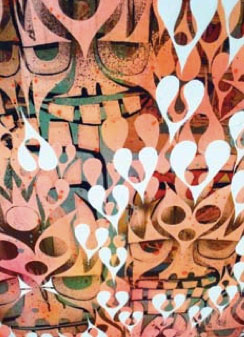 Phil Frost
Paperweight: An Exhibition of Works on Paper
Solo Exhibition

April 4th—May 2nd, 2009
Opening Reception: Saturday, April 4th, 7pm—9pm
Phil Frost (Juxtapoz cover #66) is the next artistic superstar to grace the walls of Jonathan LeVine Gallery in a solo exhibition of new works, Paperweight.

For his first show at the gallery, Frost has created a new series of works on paper, including paintings and original drawings. As his first exhibition in New York in the past three years, Paperweight marks a highly anticipated event for this celebrated artist. ??

Using mediums such as ink, aerosol, gouache and oils, beneath a layer of correction fluid, Frost has been known to paint elaborate installations on found objects such as baseball bats, windowpanes, and old barn doors.

Oscillating between modernist design and primitivism, abstraction and representation, Frost's work is tied together cohesively by his signature top-layer of crisp white patterning—remarkably drawn free-hand with a correction fluid pen, without the use of stencils.

This white-out element often appears to form a code or language, composed of letters, hearts, dots and mask-like faces, reminiscent of tribal and indigenous art. These symbols, which the artist refers to as "glyphic distinctions," are painted on top of heavily textured backgrounds. The overall effect is a masking yet highlighting of negative space, like a delicate lace of personal faith and truth, veiling the decay of humanity. Frost's deep pantheistic spirituality is expressed through imagery such as in the open-heart motif, which represents the surrender of self to a higher purpose. ?
CRITICAL REVIEWS:??
Roberta Fallon, ArtNet: "Obsessive, earnest and touched by the garage grunge aesthetic, Phil Frost's paintings and assemblages broadcast an urgent message of spirituality."??

Arty Nelson, LA Weekly: "Process aside, the finished product is a monument to the wonders of obsessive expression. The abstractly washed backgrounds and myriad tribal patterns meld together to remind the viewer that no matter how loud the white noise of modern life gets, the "shaman state" is still attainable."??

Roberta Smith, New York Times: "…his paintings and altar-like sculptures exude extreme sophistication, specifically a confidant fusion of graffiti, modern art, modern design and the primitive art that influenced so many facets of modernism. The results are exuberantly decorative and fierce…"??


ABOUT THE ARTIST?
Phil Frost is a self-taught artist whose unique work brings together aspects of urban culture, abstraction, tribalism, and design.

In the 1990s, Frost honed his skills by painting walls, found objects and street detritus with his intricate, compulsive and highly evolved form of graffiti. He painstakingly crafts his colorful mixed-media paintings and totemic sculptures by collaging layers of found imagery on grounds of flat, symmetrical black-and-white patterning.

The recipient of several grants and awards, Frost's idiosyncratic work is included in prominent public and private collections worldwide. He has exhibited widely in both galleries and museums in the US, Europe and Asia. His work has been featured in exhibitions at institutions such as The Aldrich Museum, Queens Museum of Art, and in the Beautiful Losers traveling exhibition, which was shown at the Contemporary Art Center in Cincinnati, Yerba Buena Center for the Arts in San Francisco, and Pennsylvania Academy of the Fine Arts in Philadelphia.


More info on Phil Frost at philfrost.com