Phantasmagoria with Ray Caesar, Mars 1, and more
Juxtapoz // Wednesday, 07 Jul 2010
1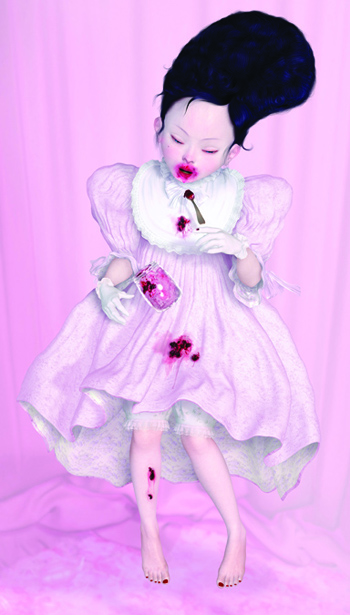 This new Ray Caesar piece caught our eye. It's part of the upcoming show, Phantasmagoria, alongside Cathie Bleck, Dean Chamberlain, Andrew Jones, Kris Kuksi, Paul Laffoley, and Mars-1. Diverse line-up.
Bringing together many of these artists together for the first time, as well as welcoming local artistic luminary Ray Caesar to Meta Gallery's exhibition program, this show embraces the informal and original visions reflected in the artworks of these contemporary pioneers.
Phantasmagoria refers to among other things, "fantastical imagery in art", an appropriate entry point into the wild and imaginative realms explored in the dark and hauntingly beautiful works of Ray Caesar and Andrew Jones, the futuristic and intricately detailed creations of Kris Kuksi and Paul Laffoley, the luminous and ethereal art of Dean Chamberlain and Mars-1 and the fluid and poetic scratchboard work of Cathie Bleck.
Phantasmagoria will be on view from July 9 to August 25, 2010 at Meta Gallery in Toronto.
The opening reception will be on Friday July 9th from 7-10pm. Cathie Bleck and Ray Caesar will be in attendance.
More info online at www.metagallery.com