Peabe: The Return of Dr Aquard
Juxtapoz // Monday, 05 May 2008
1
Words by Leah Pietrusiak.
Painting photos by Jillian Pobocan

Solo art openings can be super-hectic for an artist as we all know, but when we went up and introduced ourselves to Peabe (even before we told him we were from the press) he was, like, one of the nicest dudes (and he didn't drop his pants? please read further). Which made us want to know even more about the mad characters that painted the wall at A. Okay Official for his second solo show, The Return of Dr Aquard. (That, and his "Peabe" medallion—and the fact that he had a Yo! MTV Raps-style biz card. How cool is that?)

Peabe? pronounced "Pee-bee," (he was obsessed with peanut butter as a kid) aka Bryan Odiamar? has a whole cast of characters, and they all emit this kind of zombie-esque essence (it's in the eyes) and it plays to the idea that people can tend to walk through life all zoned out, not paying attention to the color of things, you know. The color of life—the chipping hydrant, the shoes knocking against gray pavement.

Those shoes in Peabe's world would probably be aqua, we would gather. When we asked him about the title of the show, The Return of Dr Aquard, he replied, "Aqua always sneaks into my paintings. I try to keep it out but it always sneaks back in…and my girlfriend calls me 'The King of Awkward Situations.' But I think I'm doing pretty good tonight—no pants-dropping or anything yet." (By "awkward" he means the kind where you do or say shit that makes you say to yourself: "Dude. Just stop. Now.") And while his parents wanted him to be a
doctor, he told them when he was 12 that he wanted to be a painter.

The new pieces represent another transition in the life of the artist, who started sketching his characters on the El trains of Chicago, in that they're more emotionally driven. While most of his characters' eyes are empty, the figures are not lifeless by any means, and Peabe just kind of spilled the energy over more onto the background, pumping it up using pieces of text. One of our favorites is Looking For Answers in All the Wrong Places, where a guy is holding his hands seemingly seeking answers from a turtle suspended from a rope. To us, the text reads, "Uh." Or maybe the beginning of "Whaaa?" Ha, exactly.

Peabe started making the pieces when he found himself at one of those forks in the road of life. "I was goin' through a lot of changes? new job, change of living? I'm still debating moving to San Francisco," he says. "I've been really stressed out, in good and bad ways, with life decisions that I'm currently trying to work out, so this show kind of helped me vomit it all out with paint."

Good thing he didn't vomit at the opening?his little nephews were there. "They're a good influence [on my work]," Peabe says. "They act like art director sometimes?'Do this, no, do this.'"

He wasn't lying about that. When we asked Peabe if we could take a picture of him in front of It Has Begun (the piece that started off the new direction) he pulled on his (aqua) Mexican wrestling mask. Then one of nephews handed him back his pink hat to put on over the mask. Pretty rad.

The King of Awkward Situations did end up taking off one article of clothing that night?his shirt, when he decided to put that mask into action on the sidewalk outside the gallery. We missed it, but you can see pics here. Art + wrestling = cheap + hilarious therapy.

Check out more work from the show here, as well as on Peabe's website.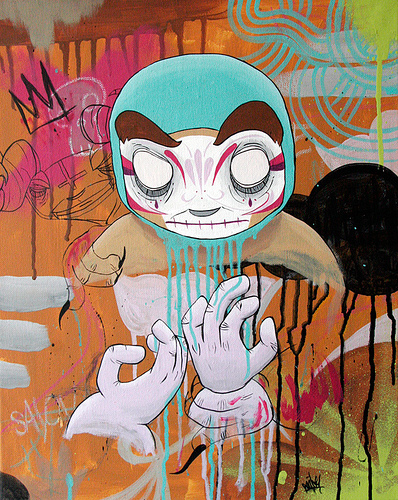 Can't Stop It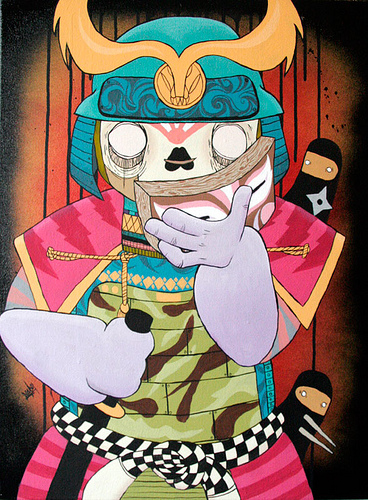 Harajuku Warlord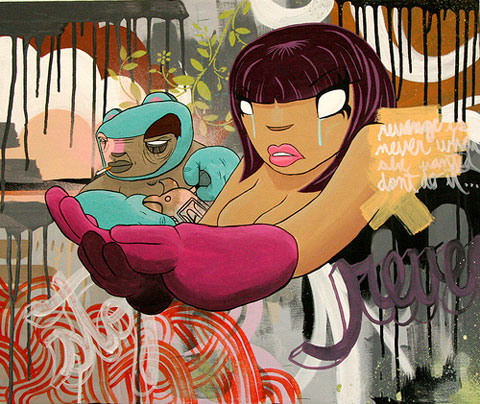 It's Not What She Wants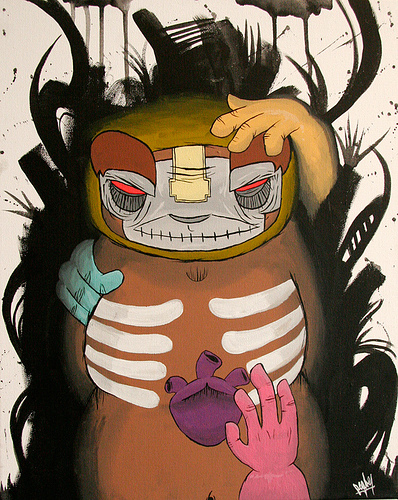 It Came From the Dark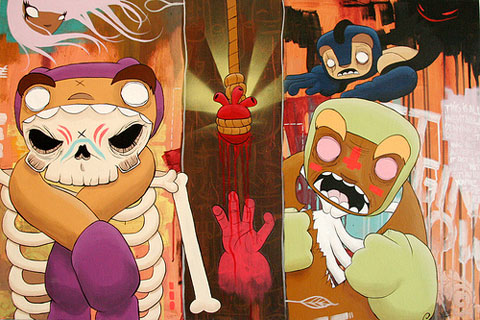 It Has Begun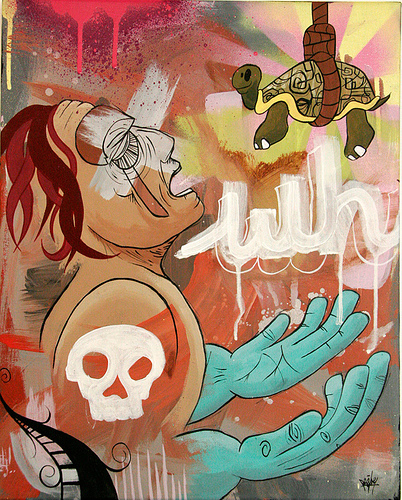 Looking for Answers In All the Wrong Places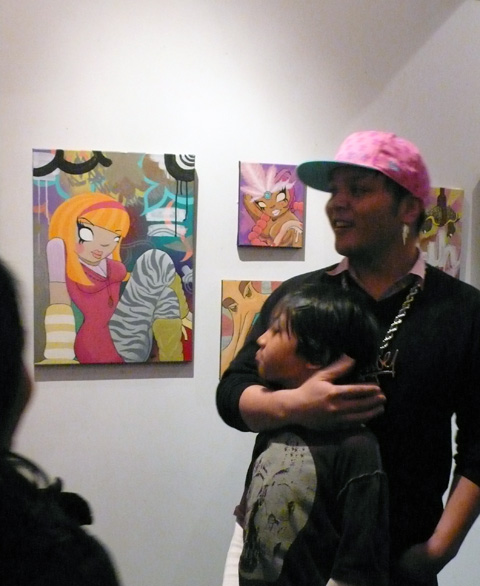 Peabe's nephew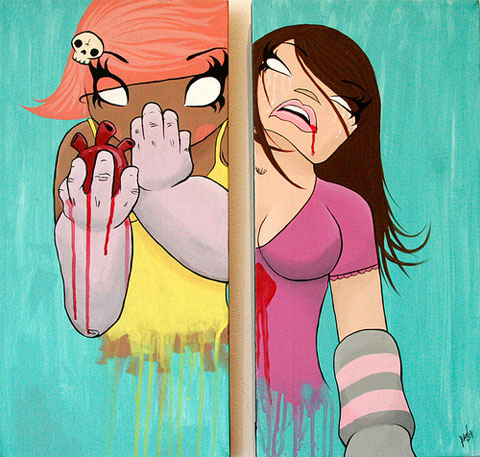 Psst... Now You're Mine Forever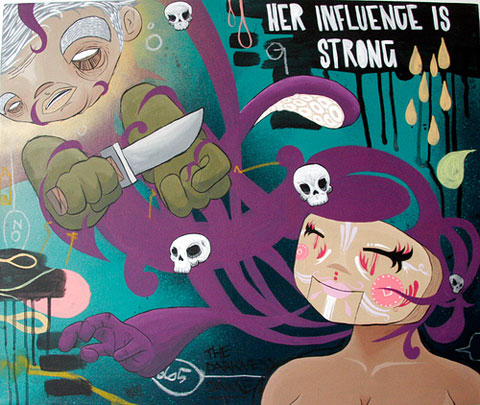 Strong Influence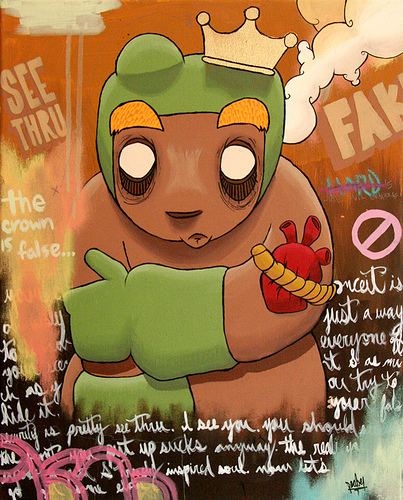 They See Through Your False Security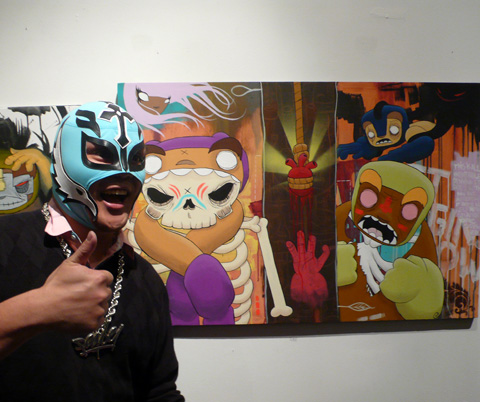 Peabe rockin' the aqua