Paul Chatem and Mike Maxwell: Until The Whistle Blows at The Shooting Gallery
Juxtapoz // Friday, 10 Jul 2009
1

Paul Chatem and Mike Maxwell have a two-man show opening at the Shooting Gallery this Saturday, July 11, 2009.
"Until The Whistle Blows is a show about the irresolvable past and the wildly unpredictable future. The theme of the show is based around beginnings and ends, life spans, eras, histories, and legacies. It's about the things we keep and those things we leave behind.
The title means do what you do until your done. Never say die, live the life, take the ride.
The subjects are farmers, hustlers, thieves, housewives, sisters, brothers, parents, low-lifes, down and outers, working class stiffs, lovers, fighters, movers n' shakers, do gooders, money makers and everywhere in between."

Interesting works by two talented artists, read more below.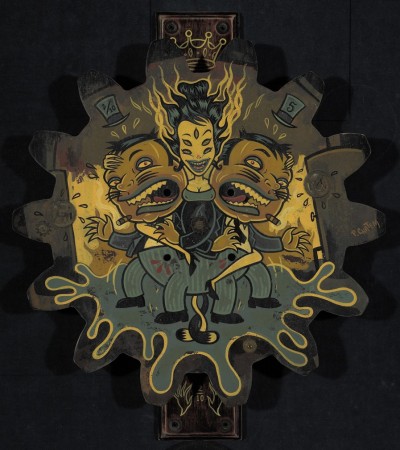 Paul Chatem

2009 Paul Chatem was born in 1974 in Bellevue, Washington, and grew up in La Crescenta, California. He graduated from the Kansas City Art Institute in 1997 with a BFA in Illustration.

While working various arts related jobs in the entertainment industry Paul developed his own personal work and started showing in group shows in Los Angeles. His first solo show, It Tastes like Whiskey opened Feb. 2006 at the Black Maria Gallery in Atwater, CA.

Since then his work has been featured at The Shooting Gallery in San Francisco CA, The Bluebottle Art Gallery in Seattle WA, CoproNason Gallery in Santa Monica CA, as well as in many group shows in the North America and abroad. Paul is currently hiding out in the foothills of Los Angeles.
Read a Shooting Gallery interview with the artist here...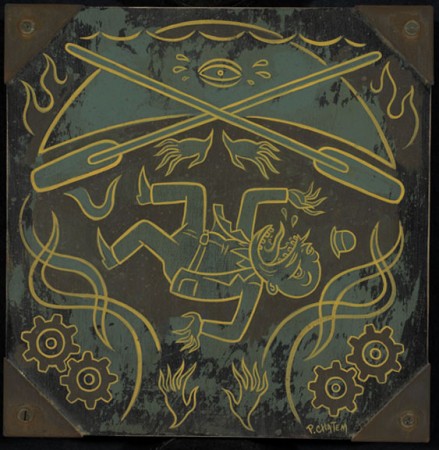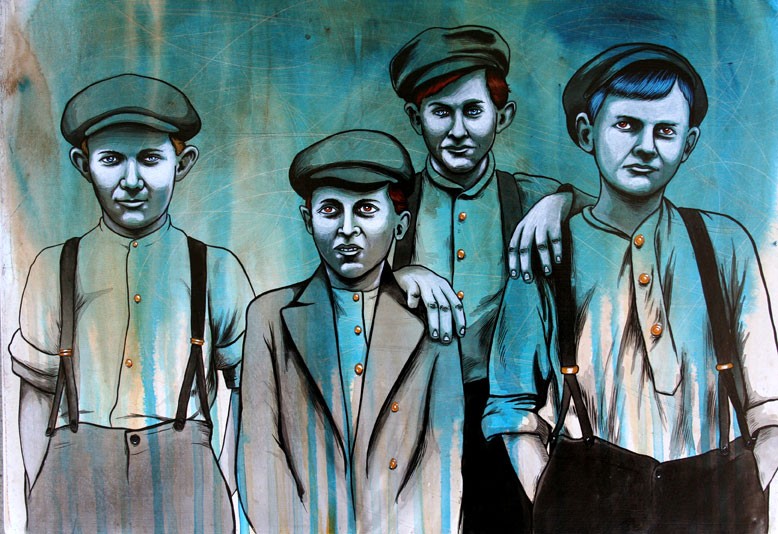 Mike Maxwell

Born in 1979, San Diego based artist Mike Maxwell has built a loyal following with his signature stone-blue faces, gloomy churches and beautiful windmills. Self-taught and continuously improving in his work, the poetic dreamy scenes examine humanity, conceptuality, genetics and consciousness.

With subtle changes in both theme and process, Maxwell has sharpened his skill providing more depth in his current work. Maxwell's choice of color is deliberate and with purpose reflecting a lack of race and ambiguity in the stone-blue faced pieces.

The work has a lot to do with his personal re-education and a desire to learn and understand things that are so prevalent in our society but are often forgotten by the masses. Focusing his work around the human experience, themes of religion, sex and science captivates our attention in these acrylic beauties.

Mikes work has been shown nation wide and over seas at galleries in Los Angeles, New York, San Francisco, Japan, London, and Australia.
Read an interview with Mike Maxwell here...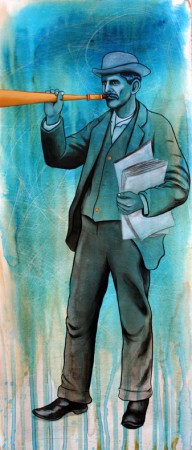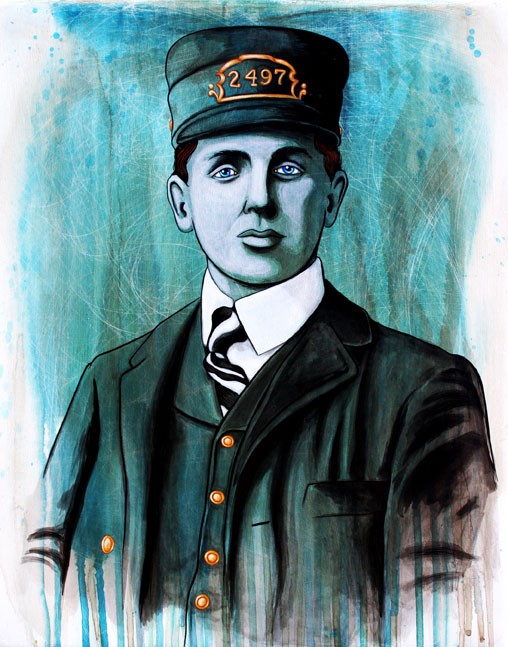 More info at the Shooting Gallery site...