Outpost: Bartering for Contemporary Art
Juxtapoz // Friday, 02 Oct 2009
1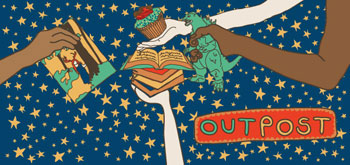 As the art world deals with the recession, students from the School of Visual Arts are taking money out of the equation for an upcoming exhibition. They are inviting the public to barter goods and services for works of art, and applying a DIY ethic by using a custom-designed studio space.
The works on view include paintings, drawings, prints and sculptures by students in the BFA Visual and Critical Studies Department. Organized by faculty member Amy Wilson, the exhibition will be on view at 133/141 West 21st Street, 6th floor, New York City, from October 15 through November 9, 2009.

"We're asking the question: what is this painting worth?" explains Wilson. "A cupcake? Ten cupcakes? A TV? What if someone wanted to clean your apartment in exchange for a work of art? What sort of value do we place on the things that we make? In order for a transaction to occur, the artist and the 'collector' must agree on the value of the work of art, without specifically discussing money."


As part of a larger inquiry into the value of works of art, "Outpost" expresses the hesitance of the participating artists in pricing their works and exhibiting in a traditional gallery space. In creating a site that blurs the line between exhibition space and art object, students Katie Armstrong and Erin Franke transform an unused studio space with a colorful series of interlocking shelves and handmade, screenprinted fabric of their own design. Next to each work will be a "mailbox," which allows members of the public to contact the artist and offer a good or service in exchange for a work of art. 34 artists were invited to participate.

For more on Outpost, check out outpostland.blogspot.com