Original Cultures: Ericailcane x DEM x Will Barras
Juxtapoz // Wednesday, 03 Feb 2010
1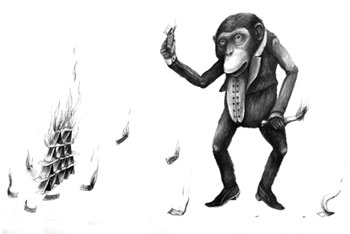 In collaboration with Original Cultures, a new international non-profit cultural and arts initiative, StolenSpace will present an exclusive exhibition of new works from famed European artists Ericailcane (Italy), DEM (Italy) and Will Barras (UK).
This exhibition will form part of the Original Cultures London 2010 event and run from February 12th until March 7th, 2010.
This will be the trio's second collaborative project following their work during Original Cultures' first event in Bologna, Italy, in June 2009 which saw them create an exclusive animation and shadow-based installation.
As visiting guests, Ericailcane and DEM will take the lead bringing to StolenSpace a collection of brand new paintings and other media. Will Barras meanwhile will be exhibiting a new animation and associated designs he is producing exclusively for the show.
Exclusive to the exhibition will be the release of a limited edition collaborative screen print as well as a series of 6 picture discs produced by Original Cultures and featuring art from all 3 artists and music from Om Unit (UK), Tatsuki (JP) and Tayone (IT), the three musicians involved in the OriginalCultures project.
Details at www.stolenspace.com