Image Gallery
Opening Photos: Tin Ton Tic Tac Click Clack @ Lost Door, SF
Juxtapoz // Tuesday, 06 Dec 2011
1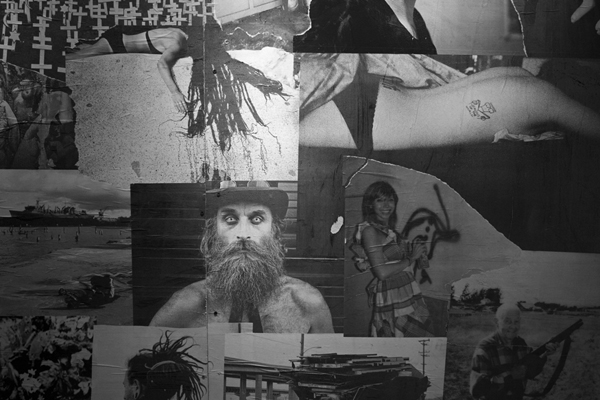 Walking up to a quiet fire pit and a room full of the leading artists in San Francisco's underground scene was perhaps the best way to come home after a long week in Miami for Art Basel. On Sunday night, we attended Bill Daniel and Austin McManus' one-night photo show at Lost Door in SF,
Tin Ton Tic Tac Click Clack
, that also included a screening of Daniel's "Who Is Bozo Texino?" and musical performance from Tin Sandwich and the Saw Mill Trio.
Working with both McManus and Daniel in 2011, we had already known that having them under the same roof would have a special feeling to it. Documenting an array of punk, train, graffiti, city life, transients, and outsider cultures was all on display, but all in black and white imagery that made the show run like a storybook. Daniel's work was displayed in a patter of black and white frames, like little snippets and peep holes into an alternate uinverse. McManus large format prints, as well as his wallpaper installation felt like a stream of conscious experience, an almost unearthed feel from a forgotten attic space.
Perhaps it was the power of Daniels' seminal film, McManus' special release zine, the dedicated crowd of fellow artists that showed up on a Sunday to sit around a fire to converse, and the music that followed, but
Tin Ton Tic Tac Click Clack
captured what makes word-of-mouth culture still so vital, and showed why the aesthetics of San Francisco is still a special brand of underground.