Image Gallery
Opening Photos: Swampy "In My Room" at FIFTY24SF Gallery
Juxtapoz // Monday, 13 Jun 2011
1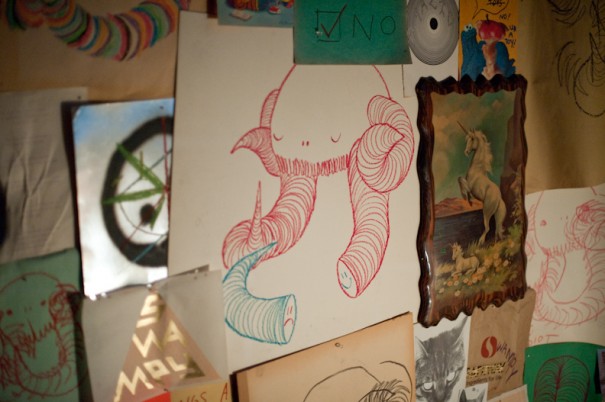 This past Saturday night, we headed out to San Francisco's FIFTY24SF Gallery for the exhibition, In My Room, by (we don't know where he is based) train-hopping photographer, painter, and graffiti artist, Swampy. Even as we finished up his feature in our current July issue of the magazine, we have seen a mystique around the artist grow and grow.
At first we were thrown off by the entire presentation at the gallery. A wall was constructed to cut the gallery in half; creating a very clean, simple composition of three large paintings and eight photos from Swampy's train travels throughout North America. The odd thing, at least at first: no donkey skull. The entire cult icon was nowhere to be seen. But slightly distorted and seemingly coming from another building, you could hear a slowed-down, almost psychedelic version of the Beach Boys already dreamy, "In My Room." Then, an oddity. A painting hanging on the newly constructed wall was lifted, opening to a hole in the wall a completely different universe of sight and sound.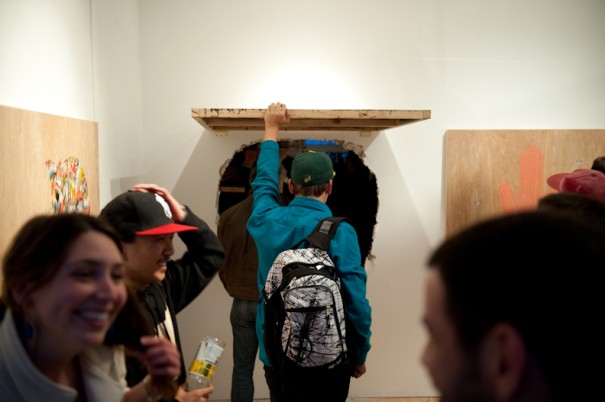 So you climb in. And it wasn't the easiest of climbs, and that seemed intentional. And when the painting closes behind, you find yourself in what seems to be an active, in use room, perhaps Swampy's room, or maybe just a room he squatted in. Covered wall to wall were Swampy skulls; some perfect, some in crayon, spray-paint, pencil, ink, some half-completed, some done as if eyes were closed. Tags and messages were everywhere. It smelled of fresh paint and dirty clothes. Cassette tapes were strewn about the floor, paper scraps scattered as well, and a dirty mattress was left in the corner. Piles of paint cans, rusted metal objects, and train memorabilia were all over. And in the claustrophobic room is the sound of various hip-hop and 1950's and '60's pop tunes, slowed down and sped up, reversed and remixed, all sounding as if being played on a cassette player on its last battery life. It got louder and quieter as you spent time in the space. The Santo and Johnny "Sleep Walk" played backward to forward was one of the more interesting moments of the "mix."
Of course, this was obvious installation portion of "In My Room," but what I gathered was that the entire show itself was an installation. There was no actual conceptual boundary in the show between clean gallery space and Swampy's room. They were one in the same. The front "gallery room" was the representation of what a tidy gallery of paintings should look like, consciously removing the graffiti and train-hopping icon that made him famous, as if the artist played into the rationale that his icon cannot be fine art. The trap door into Swampy's room takes you to a place where he can draw however he wants, free of judgement that viewers conclude that he is a "one-dimensional" artist. All the self-analysis and plan is thrown out the door. And of course, that room represents that psychotic obsessiveness that Swampy practives, be it riding trains, writing graffiti, squatting, or repeating the same icon over and over again no matter the materials.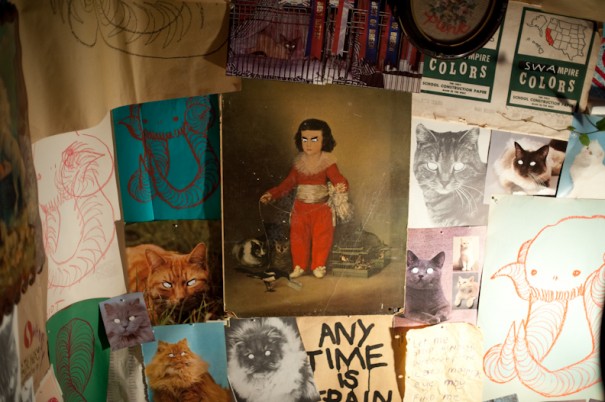 Part of me thought of Brian Wilson at this show: the years spent being a recluse in his bedroom, a genius in hiding, not knowing how to deal with strangers being interested in him and his band. Just sitting in his room for weeks at a time, and I kept help but think that Swampy, an artist with a cult-following of his own, a group of strangers and fans that comment on his every Flickr post and tattoo his icon on their bodies, thought of this by name dropping The Beach Boys in the title of the show, "In My Room."
In the end, as we learned that Swampy had indeed spent a week living in the room of the gallery and made the entirety of the work in the back during this time, it became clear that the ying and yang of his career is in full effect. Part of him has the appreciation and dedication to become a gallery artist, a desire to turn his train-travel adventures into a body of fine art work, but there is the part of him that is obsessed with the road and squatting, obsessed with where his mind can drift, obsessed with his icon. How it looks, feels, how many places it can travel and take him. And as Swampy balances both worlds, he is not afraid to show you what's in his mind. —Evan Pricco / Juxtapoz Magazine
All photography by Patrick Kawahara.

Swampy
In My Room
Open today, Monday, June 13
FIFTY24SF Gallery
San Francisco, California