Image Gallery
Opening Photos: Sea No Evil Art Show at Riverside Municipal Auditorium
Juxtapoz // Tuesday, 28 Jun 2011
1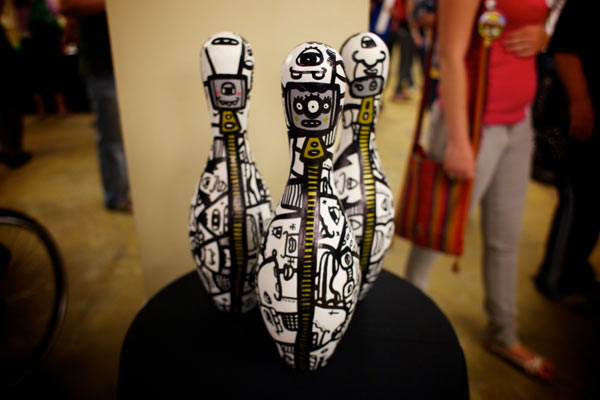 Sea No Evil Art Show Recap
Modern Sea Pirate Paul Watson teams up with contemporary art world to raise money to defend world's oceans.
Captain Paul Watson doesn't look at all like a pirate. But being a Pirate, as any true buccaneer will tell you, has much more to do with high seas pillaging than it does a peg leg, eye patch or talking parrot. In the case of Captain Watson his booty isn't gold or jewels, it's the illegal cargo of Japanese Whalers.
A modern Robin Hood of the sea, Captain Watson has made the preservation of the world's oceans his life's work and spends most of his days patrolling the seas, ramming the shit out of illegal Japanese whaling fleets and organizing global campaigns with teams of like-minded wildlife activists. Aside from his life as a pirate, Watson has a savvy for contemporary ARRRT (insert obligatory pirate joke). For five consecutive years, Watson has fused his eye for ARRRT (sorry) with his passion for conservation in a live silent auction called Sea No Evil.
Sea No Evil 2011 opened in Riverside, California at the Riverside Municipal Auditorium last night showcasing work from more than one hundred artists. Mainstays like Shepard Fairey, Gary Baseman, Lola, Travis Louie, Clayton Brothers, Jeff Soto and many more donated pieces specially produced for the show. The show concluded with a special acoustic set from LA rockers, She Wants Revenge. All proceeds raised during the event were donated to the Sea Shepard Conservation Society.
Words: Cullen Poythress
Photos: Robert Lepe