Opening Night: Sacred Bones by Louie Cordero
Juxtapoz // Thursday, 20 May 2010
1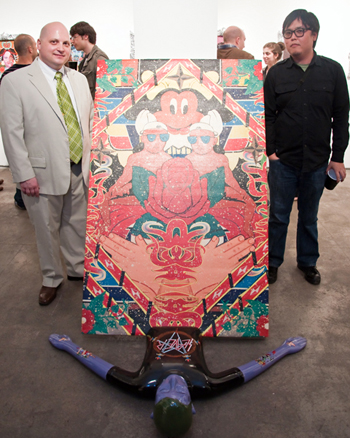 This past weekend, Pilipino artist Louie Cordero shared his Sacred Bones with viewers in New York City at Jonathan LeVine Gallery. Cordero's paintings, drawings, and sculptures explore the finer sides of blood, gore, and mutilation.
Cordero's puzzling, imploring, and visually striking juxtapositions are often punctuated by blood and gore, as if to imply the history of violence and bloodshed that his nation and people have sustained. Cordero's artwork makes references to his native Philippines, a nation rich with diversity—the result of multiple changes in political regime and subjugation throughout its history.
His complex works embody a mixture of eastern and western influences. The cultural fabric of The Republic of The Philippines is a unique combination of ethnic heritage and traditions, composed of indigenous folklore, Asian customs and Spanish legacy reflective in the names and religion.
Figures from Filipino mythology and its strong oral tradition are referenced through the artist's gruesome monsters and zombies, while another source of inspiration derived from his nationality involves the Jeepney (U.S. military vehicles abandoned after WWII, and converted by locals to use as public transportation).
Each Jeepney, unique and elaborately decorated in vibrant colors, features an ornate mash-up of pop and religious iconography. By combining these elements, varied and obscure (to westerners), with imagery appropriated from Cordero's assorted interests including kitsch, Indian advertising, cult American b-movies and pulp horror, the contrasting influences reflect the complex diversity of the artist's heritage, itself.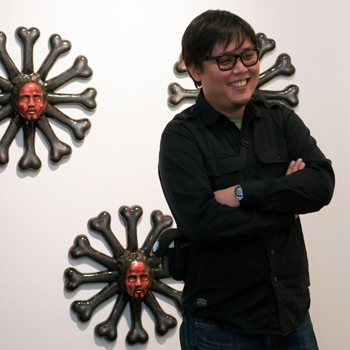 Louie Cordero in front of his Black Zeal pieces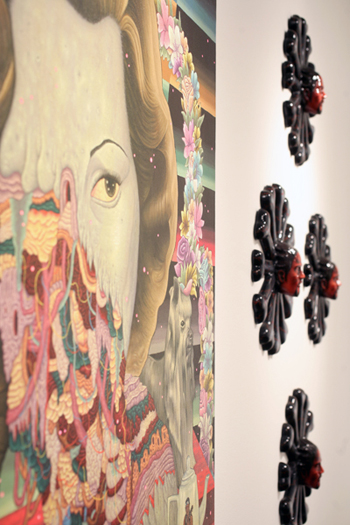 Installation view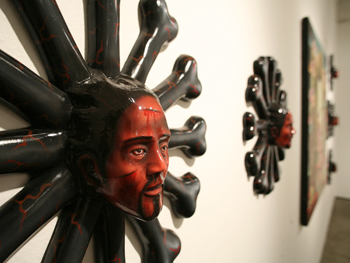 Installation view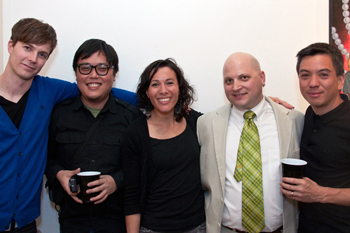 Matt Johnson, Louie Cordero, Kim Schifino, Jonathan LeVine, Jordin Isip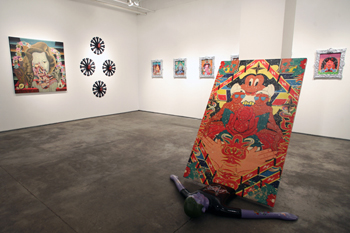 Overview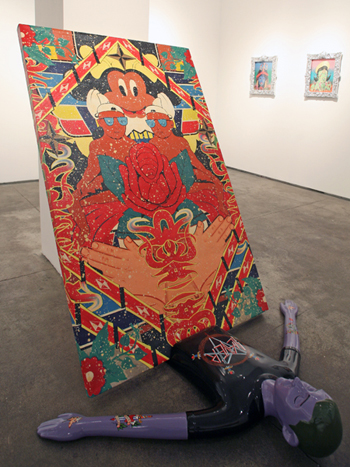 Smash The Cool, no. 4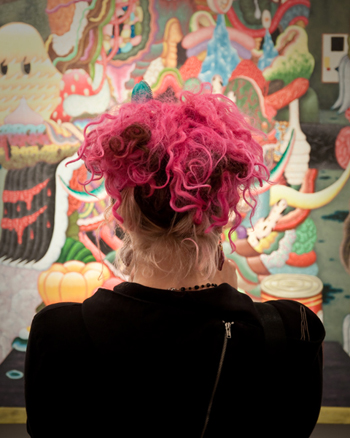 Looks like this guest blends in with Cordero's work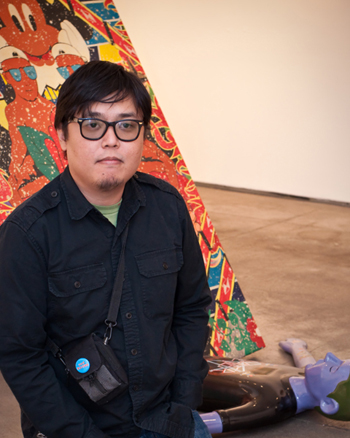 Louie Cordero with his piece, Smash The Cool, no. 4
Louie Cordero's Sacred Bones will remain on view through June 12, 2010 at Jonathan LeVine Gallery
ABOUT THE ARTIST
Louie Cordero was born in Manila Philippines, where he currently lives and works. He is an award-winning painter, sculptor, animator, and creator of Nardong Tae—a self-published underground comic series which he writes and illustrates himself, with cult following in the Philippines and Japan. A graduate of College of Fine Arts at the University of the Philippines, Cordero was a resident artist in the Big Sky Mind artist foundation of the Philippines' residency program from 2002 to 2004 and also held a residency in the United States in 2003 at the Vermont Studio Center. The artist is a recipient of numerous awards including an Ateneo Art Award in 2004, and the Thirteen Artists Award from the Cultural Center of the Philippines in 2006.
Al photos by Josh Roxas