Opening Night Photos: Jeff Soto x Dave Cooper at Jonathan LeVine
Juxtapoz // Wednesday, 07 Jul 2010
1
Lifecycle, is the exhibition by California based artist Jeff Soto. On the other side of the gallery, we see Mangle, new drawings and paintings of twisted ladies, by Ottawa-based artist Dave Cooper.
As the show title suggests, works in Lifecycle refer to birth, death, and the voyage in between. The artist's interest in time, mortality, fatherhood and generational relationships—within his own family and humankind in general—are explored through visual metaphors and symbolism.
Through the challenging, disturbing quality of the imagery in Mangle, Cooper continues to explore themes of libido, hedonism, body image, fantasy, and ambiguity with refined skill and technique. The shapes of these nude or scantily clad figures are often exaggeratedly lumpy, with large heads, bulging eyes, shiny red cheeks and toothy grins. They interact with one another in ways that appear disturbingly violent, suggestively sensual, or both, implying bizarre narratives of perverse scenarios and intense human drama.
Make sure to read our interview with Jeff Soto here, where he talks more in-depth about Lifecycle.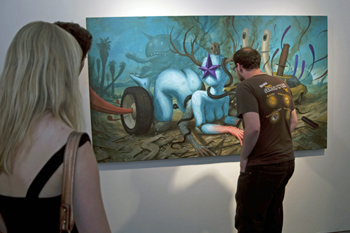 A look at Car Crash by Jeff Soto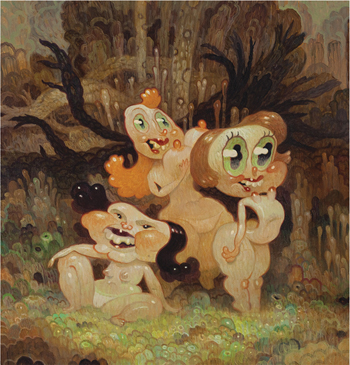 Fallen panel B, Dave Cooper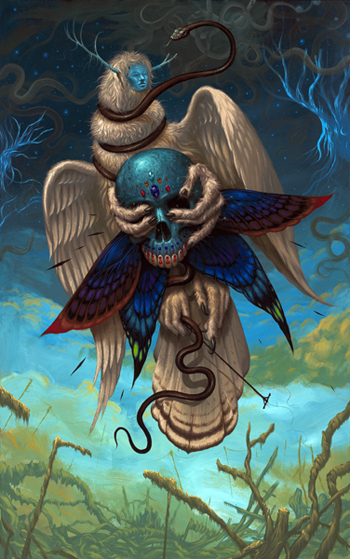 The Escape, Jeff Soto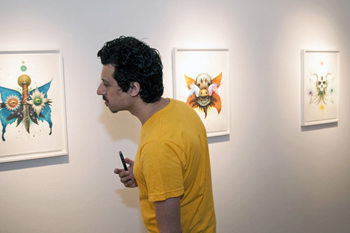 A guest admires Jeff Soto work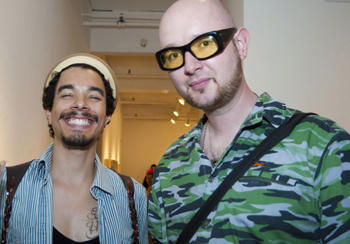 Stylin' guests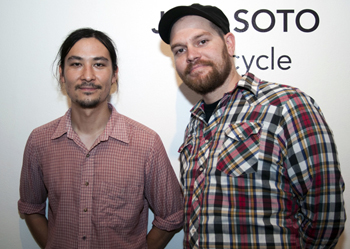 Artist Esao Andrews and Aaron Mason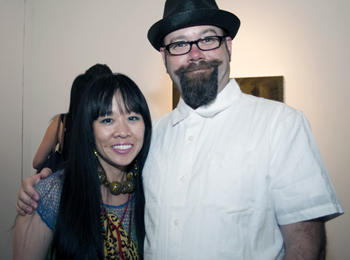 Exhibiting artist Dave Cooper and fan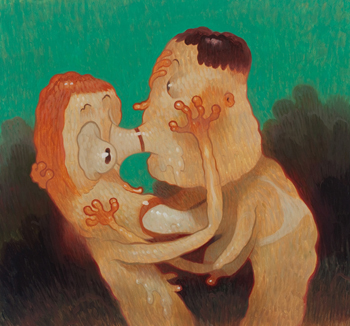 Eye/Boob Suck, Dave Cooper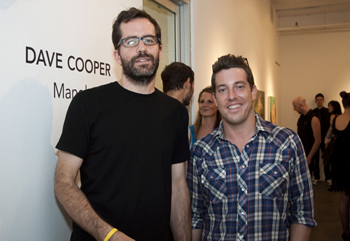 Artist Eric White with Joseph Ian Henrikson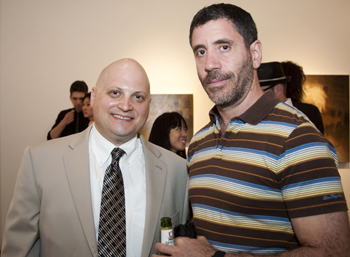 Jonathan LeVine and friend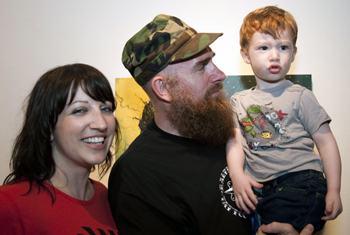 Artist Logan Hicks with wife, Kristen, and son, Sailor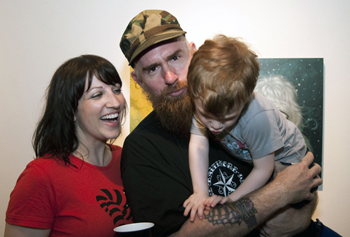 We imagine Sailor is saying, "Enough photos!"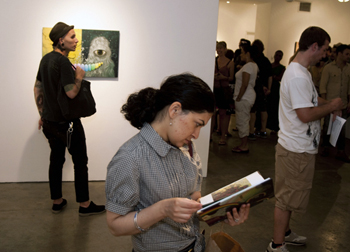 Ryan Jacob Smith, and guest with Soto book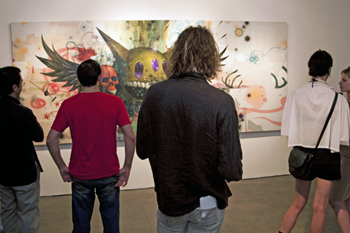 Guests admire Jeff Soto work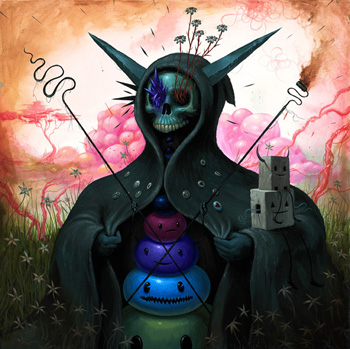 Life Bringer, Jeff Soto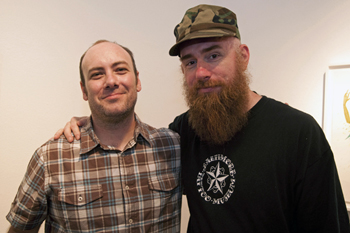 Exhibiting artist Jeff Soto with Logan Hicks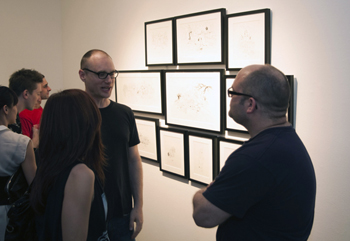 Daniel Davidson and guests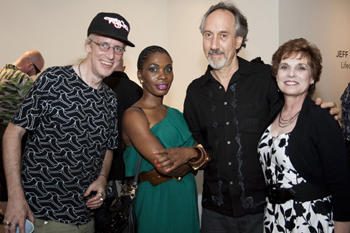 Carlo McCormick, Mr. & Mrs. Jacaeber Kastor, and Lorraine LeVine-Metzgar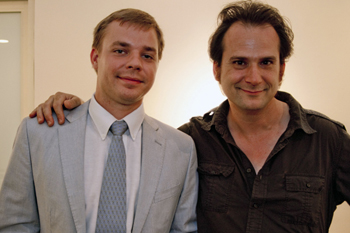 Phil Penberthy and Nicola Verlato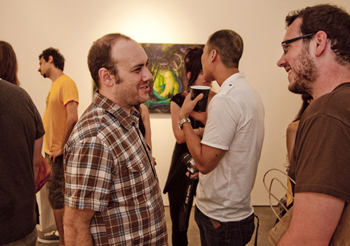 Jeff Soto with fan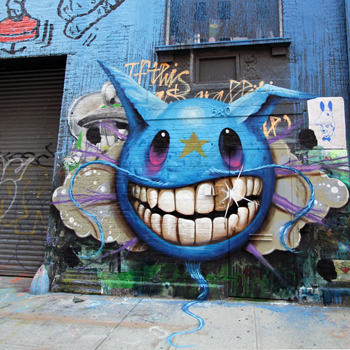 Jeff Soto's mural in NYC in correlation with this show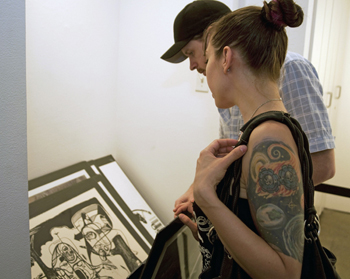 Guests browse through prints for sale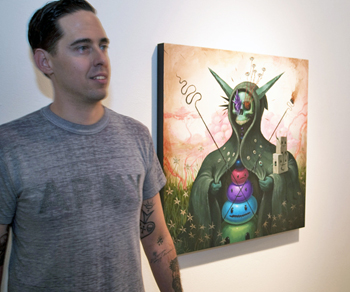 Eric Foss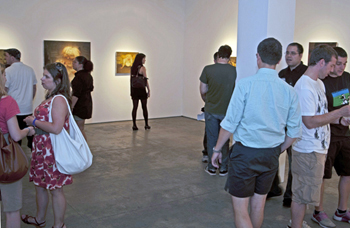 Guests admire Dave Cooper work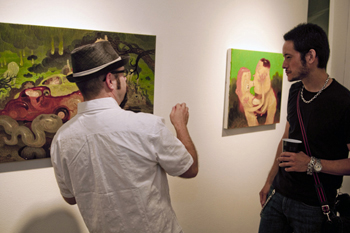 Dave Cooper discusses his work with Steve Lew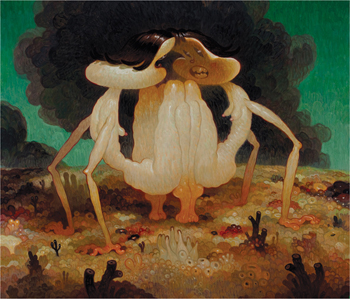 Mangle panel B, Dave Cooper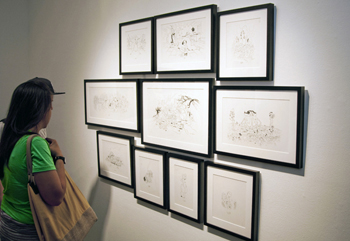 Guests admire Dave Cooper drawings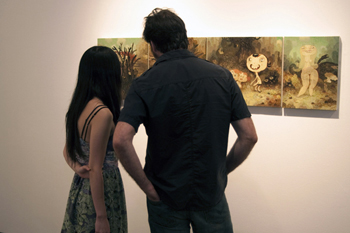 Taking in Dave Cooper
All event photos by Gordon Watts
Artwork photos courtesy Jonathan LeVine Gallery
Jeff Soto's Lifecycle
&
Dave Cooper's Mangle
Solo Exhibitions
June 26—July 24, 2010
Jonathan LeVine Gallery
www.jonathanlevinegallery.com