One Week Left to Bid: Converse's 3 Artists 1 Wall x Juxtapoz
Juxtapoz // Monday, 12 Dec 2011
1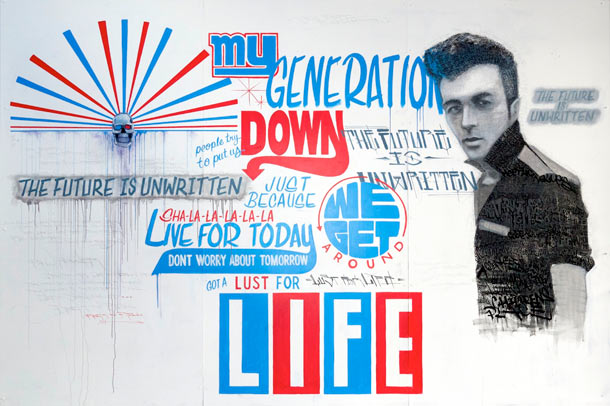 There is only one week left to bid on Converse's 3 Artists 1 Wall x Juxtapoz
project online at Charity Buzz
. Carrying out the collaborative spirit of Converse's Three Artist, One Song series, Converse teamed up with 
Juxtapoz
Magazine and the Children's Cancer Association to create 3 Artist 1 Wall, which brought together three artists of varying backgrounds and training to create art pieces that will be auctioned off with all proceeds going to MyMusicRx. MyMusicRx is the digital expansion of CCA's in-hospital MusicRx® program. CCA has brought joy to children through their innovative in-hospital MusicRx® program for that past 15 years. By infusing the hospital environment with the healing power of music, this program delivers bedside music therapy, hallway performances and an interactive mobile music cart that travels through pediatric units of the hospital.
Invited to create the mural at Converse's Rubber Tracks studio in Brooklyn during the 2011 CMJ Music Marathon, were the artist El Kamino, VIZIE, and Pejman. Together they created a mural inspired by the youthful rebellion of the music in their life.
VIZIE
Originating from Houston, Texas, VIZIE's graffiti career began in middle school, painting his local city streets and eventually gaining more notoriety for his involvement in the American freight train graffiti scene. From Texas he moved to the Midwest, painting around cities like Kansas City, Cincinnati, and Chicago, and from there he went on to the West Coast where he connected with writers in the Bay Area. Traveling and meeting new writers from all over the world, VIZIE's style has continued to develop with the influence of all of his diverse experiences. As an artist, he has worked closely with and assisted follow creative such as POSE, REVOK, and Steve Powers, who strongly influence his interest in sign painting and pop imagery.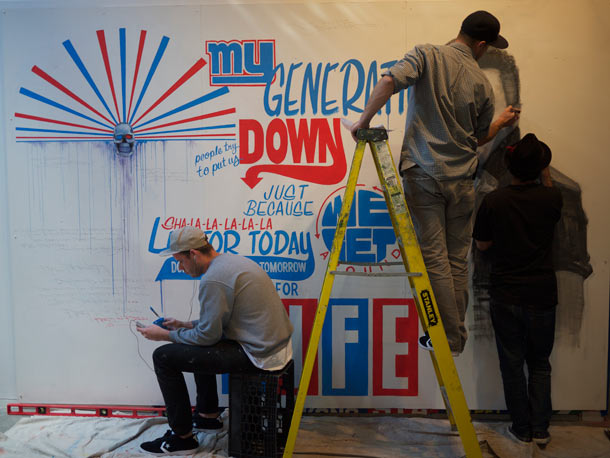 EL KAMINO
El Kamino's painting career began with graffiti in the early '90s. Throughout the years he developed a signature style of painting that has become easily recognizable. Constantly traveling the country to work with other like-minded wall artists, he has taken part in countless small town gallery shows. Living and working in places such as Richmond, Kansas City, Nashville, and Birmingham, El Kamino's work reflects a strong sense of patriotism and an admiration of everyday American life. He's an avid fisherman and outdoorsman whose work combines imagery from the rivers and railroad tracks he frequents with the flea market Americana of his southern roots.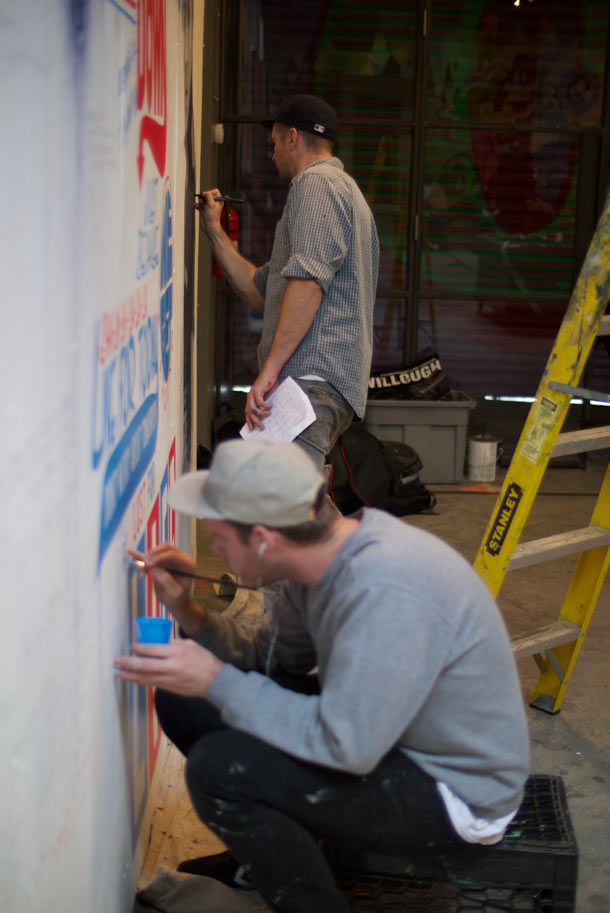 PEJMAN
Pejman Azma grew up in the suburbs of Los Angeles, where he enjoyed skateboarding and listening to punk rock. Ever since he was little, Azma utilized a DIY approach to things, like making his own punk rock t-shirts by personally drawing his own patches or whatever was needed to reflect his aversion to a skating and punk rock lifestyle. This creativity led Pejman to the art of graffiti. He began doodling on the streets in 1998 and was fully engaged in it by 2002, painting highly visible freeways, rooftops, freights, and various urban areas around downtown LA. Most of his work involves normal-looking bubble letters—as he's not really a character type of person. After establishing himself amongst local LA scene, he moved from to New York in 2010 to taste a little something different in the graffiti world.