On Myth and Dreams: Interview with David Hochbaum
Juxtapoz // Monday, 08 Feb 2010
1
Your new series, You Are Not Falling, You Are Floating, addresses the surreal state of consciousness between being awake and asleep. What fascinates you so much about dreams?
I am fascinated by the things we pick up in our waking life that transfer themselves into our sub-conscious and conversely what we recall from dreams and accept as things that happened while we are awake. All the glimpses into our past which are some how manipulated by our minds and end up as memory that we carry and mold our lives and character around.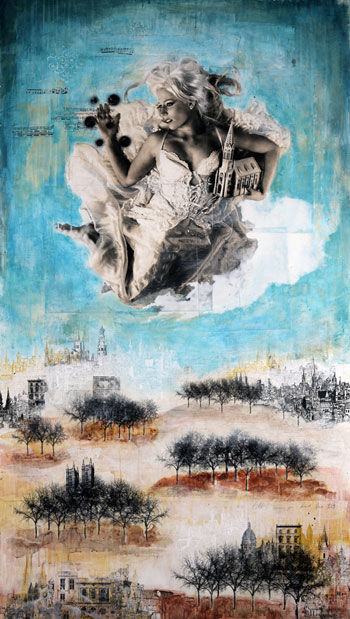 The work in your new collection is all mixed media; you seem to have a strong hold on painting, photography, and sculpture! Tell us a bit about how you mastered all these mediums and why you combine them all into your pieces together.
Well I certainly would not say I have mastered a one, but I do find it necessary to work in many different disciplines and combining them when so compelled to. I create images to articulate something I cannot put into words and at times, a sculpture will convey this more aptly than a more literal photo or drawing.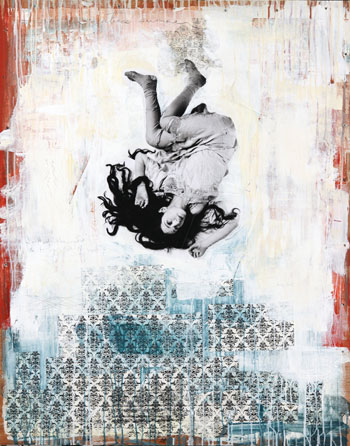 Tell us about your photo shoots. The females in your photos all seem to be falling in mid-air. How did you achieve this sense of motion?
For the most part I work with friends on the shoots. The models are usually friends, as well as my compadre Mark Sobczak who is a lighting genius and Ive know and worked with for over a decade. For the last batch, in order to get some feeling of suspension, I built a platform that was kept at an 45 degree angle on the ground, I stood on a couple of tables roped together and shot from up there. The combined angles of the tripod and platform help to create the illusion of floating and falling.
You seem to utilize a lot of mythology, symbolism, and archetypal references in your work. What attracts you to this form of communication? What do you glean from ancient mythological tales that helps you convey current feelings?
Since I started these photo collage works in 1991 I have been fascinated by ancient myth and I created many literal renditions of Greek, Roman, and Christian icons and deities. Over time the myths became more personal representations from my life and those close to me. I have accumulated symbols that reoccur in my life and contain some importance whose meanings I have been hunting since and I am sure to continue as new one make their way into my life. I do not tend to refer so much to ancient myth any more but the concepts of the symbolism and morals have made their way into my current positioning in this world.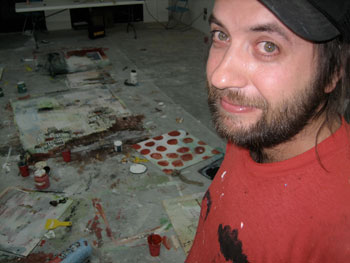 What do you hope the viewer takes away from your work? How have you seen it evolve in recent years and where do you hope to take it?
I would hope that people could manifest some relationship to their own personal experiences or emotion. The work maintains mystery for me which I enjoy since I continue to learn and change my opinion of their meaning after they are "finished". I have found more outlet through sculpture and installation and their relationship to the paintings and collages I make. I hope that the mystery and curiosity continues and I have the chance to experiment more through sculpture, lighting and video.
Open to the public, the reception for David's "You Are Not Falling, You Are Floating" will take place on Saturday, February 13 from 7 to 10pm at Corey Helford Gallery in Los Angeles.
More info on David Hochbaum at www.davidhochbaum.com