Off The Strip Your Favorite Comic Strip Characters Get Naughty
Juxtapoz // Thursday, 08 Jul 2010
1
A truly unique opportunity, Off the Strip gives a rare glimpse at the usually upright citizens of the comic pages as they leap off of their Sunday strips and land in the type of deplorable situations you're more likely to find off the Vegas strip. What scandalous acts could Calvin and Hobbes be capable of? What evil lurks in the hearts of Ignatz and Krazy Kat? The only way to find out is to come and see what they have in store.
As an additional treat, featured in WWA gallery's Project Space will be original art from Charles Schulz, Carl Barks and other legendary comic strip creators, providing a "behind the scenes" look at how their iconic strips were made.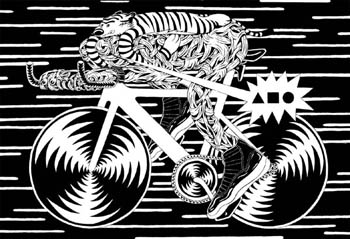 Tommii Lim, Hobbes Ride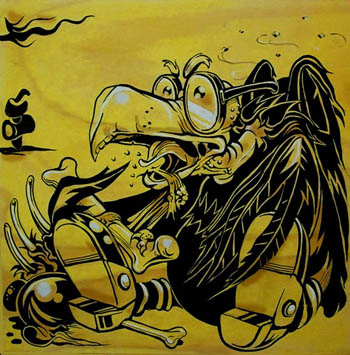 Jeff T Owens, Gaylord
Off The Strip features a diverse line-up of artists including:
Adam Reker, Casey Weldon, Damian King, Daniel Elson, David Bray, David Sheets, David Sossella, Downtimer, Frank M. Hansen, Jan Avendano, Jason Graham, Jeff T. Owens, Jing Wei, Jon Vermilyea, Keith Noordzy, Ken Garduno, Mark Bodnar, Matthieu Bessudo, Nate Van Dyke, Ric Stultz, Scott Stulen, Tommii Lim, Trevor Zammit, and Valery Milovic.
Open to the public, the Off the Strip gallery reception is from 7- 10pm on Friday, July 16th.
The exhibition will run until September 4th.
WWA Gallery
9517 Culver Blvd
Culver City, CA 90232
More info online at wwagallery.com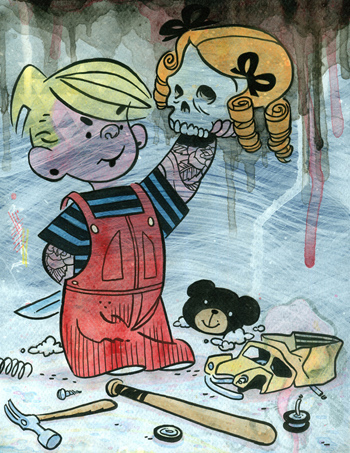 Damian King, Dennis the Menece to Society