October 2010 Edition of Juxtapoz
Juxtapoz // Sunday, 19 Sep 2010
1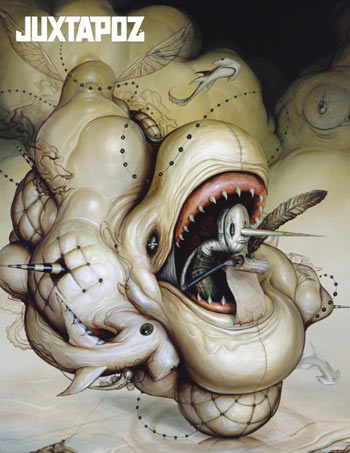 To honor the entry of Fall, we have one of the most prolific and active artists going today, Greg "Craola" Simkins on the cover of the magazine for October 2010 issue. We are pleased he took time out and spoke with contributing writer, J Frede and an epic shoot with Kevin Knight.
We are also excited to have Mac interview Kofie One, Josh Keyes interview Alex Gross, Kristin Farr interview Evah Fan, Evan Pricco interview Rene Almanza, and Alexander Tarrant interview Graffiti Anaylsis' Evan Roth.
We also cover Leonard Nimoy's show at Mass MOCA, Devin Troy Srother's show at Richard Heller, and the new Os Gemeos x Futura mural in NYC. Come Fall come all.
Subscribe to Juxtapoz and save 58% off the newsstand cover price, as well as receive the exclusive subscriber only cover. US, Canadian, and International subscriptions available through our online shop.
Or, grab a digital subscription and never loose, damage, or wait for an issue again! Digital subscriptions available here.