OBEY YOUR MASTER: A VISUAL SALUTE TO METALLICA @ Exhibit A in 2012
Juxtapoz // Wednesday, 24 Aug 2011
1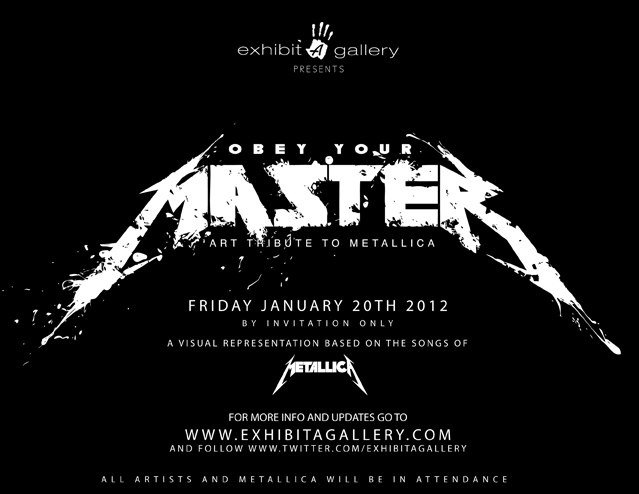 Exhibit A Gallery founder and artist Richard Villa III and skate legend Tony Alva will host the Juxtapoz-sponsored Obey Your Master exhibit, featuring a collection of artists that span the worlds of art, fashion, film, music, and skateboarding paying tribute to Metallica. Each artist has chosen a song by the heroes of metal, and will execute their vision in their individual artistic mediums, based on their interpersonal relationship to Metallica's lyrics and music. The works will represent each chosen song and be on display January 20, 2012 at Exhibit A Gallery to a private reception and on view through March 23, 2012.
Rock music has always inspired fans and creatives alike, empowering and influencing them personally, sonically, and artistically. Shepard Fairey and his politically driven propaganda art count among those influenced by the band's music, connecting Fairey's art and an album like Metallica's…And Justice for All. Starting in the early 1980s, Steve Caballero would correlate his music with his aggressive style during skate competitions, insisting to organizers to turn up the volume and blast songs off Metallica's Kill Em' All album. The diverse group of artists are now leaving their own indelible marks on the world and are driven in part by Metallica's intellectual rebellious lyrics.
For a chance to win an invite to the private opening, follow Exhibit A Gallery on Twitter at www.twitter.com/exhibitagallery.